The accompanying table records the 10 largest construction project starts in Canada in July 2022. Also included is the latest trend graph on starts. This looks at 12-month moving totals of the civil and non-residential building categories in Canada.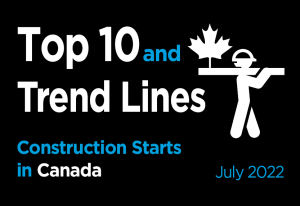 There are several reasons for highlighting upcoming large projects. Such jobs have often received a fair amount of media coverage. Therefore, people in the industry are on the lookout for when job-site work actually gets underway. And, as showcase projects, they highlight geographically where major construction projects are proceeding.
Also, total construction activity is comprised of many small and medium-sized projects and a limited number of large developments. But the largest projects, simply by their nature, can dramatically affect total dollar and square footage volumes. In other words, the timing and size of these projects have an exaggerated influence on market forecasts.
Top 10 construction projects of the month – July 2022
REGION
(East to
West)
TYPE OF
CONSTRUCTION
DESCRIPTION

Sq. Ft.
000s

Dollars
000,000s

Ontario
 
 
London
Civil/Engineering
Highway 401 – Design-Build Major – Five Structure Replacements, Highbury Avenue Interchange Improvements, and Highway 401 Pavement Rehabilitation & Reconstruction
*
$133
 
 
(2 structures) Multiple Locations
 
 
 
 
Ministry of Transportation – Ontario
 
 
 
 
 
 
 
Toronto
Residential
QA (Queen & Ashbridge) Condominium
642 
$122
 
 
(3 structures; 17 storeys; 363 units) 1555 Queen St E
 
 
 
 
RioCan Real Estate Investment Trust/Context
 
 
 
 
 
 
 
Toronto
Residential
400 King St West – Mixed Use Building
461 
$92
 
 
(3 structures; 48 storeys; 612 units) 400 King St W
 
 
 
 
Plazacorp Properties Ltd/Main and Main Developments Inc
 
 
 
 
 
 
 
King City
Institutional
Township Wide Recreation Centre Project (TWRC)
120 
$86
 
 
(2 structures; 1 storey) 1600 15th Sideroad
 
 
 
 
Township of King
 
 
 
 
 
 
 
Gloucester
Residential
Place LUX Multi-Residential & Hotel Development – Phase 1/Tower 3
392 
$75
 
 
(4 structures; 44 storeys; 426 units) 1178 Cummings Ave
 
 
 
 
PMA Architectes (Owner's Rep)
 
 
 
 
 
 
 
Ottawa
Civil/Engineering
Highway 417 – Grading, Drainage, Granular Base, Hot Mix Paving, Electrical, and Structural
*
$55
 
 
(3 structures) Walkley Rd
 
 
 
 
Ministry of Transportation – Ontario
 
 
 
 
 
 
 
Saskatchewan
 
 
 
 
Regina
Industrial
Cargill Canola Processing Facility at the Global Transportation Hub
*
$350
 
 
(2 structures) Dewdney Ave
 
 
 
 
Cargill Limited Canada
 
 
 
 
 
 
 
Prince Albert
Civil/Engineering
Prince Albert Aquatic and Arena Recreation Centre (Phase One)
150
$150
 
 
(3 structures; 1 storey) 1405 Bishop Pascal Pl
 
 
 
 
City of Prince Albert
 
 
 
 
 
 
 
British Columbia
 
 
 
 
Vancouver
Commercial
West Pender Street Office Tower
345 
$85
 
 
(3 structures; 32 storeys) 1166 W Pender St
 
 
 
 
Reliance Properties
 
 
 
 
 
 
 
Vancouver
Institutional
University of British Columbia (UBC) New Recreation Centre
101 
$66
 
 
(2 structures; 2 storeys) 6138 Student Union Blvd
 
 
 
 
UBC Properties Trust
 
 
 
 
 
 
 
TOTALS:
 
 
2,211
$1,214
*A square footage measure does not apply for alteration and engineering work.
Data source and table: ConstructConnect – CanaData.
Trend lines of construction starts in Canada – July 2022
Moving totals of the latest 12 months*
(ConstructConnect Insight Forecast Figures)

*For example, the July 2022 figure is the sum of the monthly numbers for June 2021 through July 2022.
Data source and chart: ConstructConnect Insight – CanaData.
---
Interactive Visual
---
View this video to see how to use the filters in the Interactive Visual.
---
Please click on the following links to download the PDF versions of this month's Top 10 and Trend Lines:
Top 10 largest construction project starts in Canada – July 2022 – PDF
Construction Project Starts Trend Graph – Canada – July 2022 – PDF
---