The accompanying table records the 10 largest construction project starts in Canada in September 2022. Also included is the latest trend graph on starts. This looks at 12-month moving totals of the civil and non-residential building categories in Canada.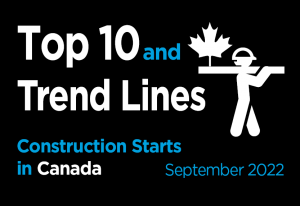 There are several reasons for highlighting upcoming large projects. Such jobs have often received a fair amount of media coverage. Therefore, people in the industry are on the lookout for when job-site work actually gets underway. And, as showcase projects, they highlight geographically where major construction projects are proceeding.
Also, total construction activity is comprised of many small and medium-sized projects and a limited number of large developments. But the largest projects, simply by their nature, can dramatically affect total dollar and square footage volumes. In other words, the timing and size of these projects have an exaggerated influence on market forecasts.
Top 10 construction projects of the month – September 2022
REGION
(East to
West)
TYPE OF
CONSTRUCTION
DESCRIPTION

Sq. Ft.
000s

Dollars
000,000s

Quebec
 
 
 
 
Terrebonne
Institutional
Hôpital Pierre-Le Gardeur Addition and Renovation
426 
$150
 
 
(4 structures; 11 storeys; 246 units) 911 Montée des Pionniers
 
 
 
 
Société Québeçoise des Infrastructures
 
 
 
 
 
 
 
Vaudreuil-Dorion
Commercial
Pôle Municipal Construction in Vaudreuil-Dorion
200
$85
 
 
(4 structures; 3 storeys) rue Émile-Bouchard
 
 
 
 
Ville de Vaudreuil-Dorion
 
 
 
 
 
 
 
Ontario
 
 
 
 
Chalk River
Industrial
Advanced Nuclear Material Research Centre (ANMRC) / Chalk River
109
$500
 
 
(2 structures; 2 storeys) Plant Rd
 
 
 
 
Canadian Nuclear Laboratories
 
 
 
 
 
 
 
Cambridge
Industrial
Blair Industrial Business Park Warehouse – Amazon Fulfillment Centre
1,080
$150
 
 
(1 structure; 1 storey) 140 Old Mill Rd
 
 
 
 
Boccolini Construction Inc (Owner's Rep)
 
 
 
 
 
 
 
London
Commercial
The Gateway Shopping Centre
829 
$110
 
 
(2 structures; 2 storeys) 3130 Dingman Dr
 
 
 
 
PenEquity Realty Corporation
 
 
 
 
 
 
 
Mississauga
Residential
Edge Towers – Tower 3 (Oro)
460 
$88
 
 
(4 structures; 62 storeys; 614 units) 16 Elm Dr
 
 
 
 
Solmar Development Corp
 
 
 
 
 
 
 
Queensville
Institutional
Construction of the Health and Active Living Plaza (HALP)
86 
$86
 
 
(3 structures; 2 storeys) 48 Jim Mortson Dr
 
 
 
 
Town of East Gwillimbury
 
 
 
 
 
 
 
Alberta
 
 
 
 
Redcliff
Civil/Engineering
Wild Rose 2 – Wind Power Project
*
$360
 
 
(1 structure)
 
 
 
 
Capstone Infrasture Corp
 
 
 
 
 
 
 
Edmonton
Institutional
Covenant Wellness Community Health Centre
200 
$95
 
 
(2 structures; 3 storeys) 7319 29 Ave NW
 
 
 
 
Covenant Health Corporate Office
 
 
 
 
 
 
 
Jenner
Civil/Engineering
Buffalo Atlee Wind Farm
*
$105
 
 
(1 structure) 
 
 
 
 
Capstone Infrasture Corp
 
 
TOTALS:
 
 
3,390
$1,709
*A square footage measure does not apply for alteration and engineering work.
Data source and table: ConstructConnect – CanaData.
Trend lines of construction starts in Canada – September 2022
Moving totals of the latest 12 months*
(ConstructConnect Insight Forecast Figures)

*For example, the September 2022 figure is the sum of the monthly numbers for August 2021 through September 2022.
Data source and chart: ConstructConnect Insight – CanaData.
---
Interactive Visual
---
View this video to see how to use the filters in the Interactive Visual.
---
Please click on the following links to download the PDF versions of this month's Top 10 and Trend Lines:
Top 10 largest construction project starts in Canada – September 2022 – PDF
Construction Project Starts Trend Graph – Canada – September 2022 – PDF