In its just-released Fiscal and Economic Update, the government of Newfoundland and Labrador announced that, as a result of a stronger than previously projected fiscal and economic outlook, it was reducing its debt and borrowing requirements. As a result, it was making the first-ever contribution to its recently established Future Fund. This fund provides a mechanism for investing resource revenues and proceeds from major asset sales. The significant improvement in the province's fiscal health stems almost exclusively from the surge in oil prices which has driven the value of the province's exports up by +18% year to date. Sustained U.S. demand for energy has been, by far, the major contributor to the strength.
Record-high job vacancies and a record-low unemployment rate
Consistent with the increase in both external and domestic demand, employment in the province is ahead by +3.6% year to date. This robust pattern of hiring against the background of a record-high job vacancy rate has caused the province's unemployment rate to fall to 8.2% (August), the lowest value it has reached in more than 40 years. As is the case across the country, the accommodation and food services industry, with a job vacancy rate of 12.1%, is experiencing the most difficulty in hiring both skilled and unskilled workers. Other industries unable to source an adequate supply of qualified workers include construction, arts and entertainment, health care and social assistance, real estate, and retail trade.
The Rock's population stops leaving and comes 'from away'
After experiencing a significant exodus of people to other provinces and other countries (mostly the U.S.) over the past four years, Newfoundland and Labrador has started to see a pronounced inflow of international and interprovincial migrants. Over the past four quarters, almost +3,000 individuals have moved to the province from elsewhere in Canada, while the inflow from other countries has totaled +5,000, compared to a net gain of just +300 during the previous four quarters.   
Effects of rising interest rates should cool housing demand into 2024
In Q1 of this year, the combination of the above-noted inflow of foreign and domestic migrants, sustained growth of employment, low interest rates, and the most affordable housing in the country (according to RBC), caused sales of existing homes to hit a record high. Fuelled by this surge in residential property demand, housing starts are up by +34% year to date, with increases in apartment and single-family units more than offsetting declines in semi-detached and row dwelling units.  
Going forward, the effects of rising mortgage rates over the past nine months, which have caused seasonally adjusted existing home sales to retreat from 695 units in January to 467 units in September, will cool home sales further well into 2023. As a result, expect housing starts to total in the range of 600 to 800 units in 2023 and 1,050 units in 2024, compared to an estimated 1,200 units in 2022.  
Rising oil prices to fuel more energy investment
Rising interest rates, plus the eroding impact of inflation on real disposable incomes, have cast a pall over the near-term outlook for housing and consumer spending that could extend into 2023. However, the climbing level of oil prices and the prospect that they will trend higher in the medium term will, according to the Atlantic Provinces Economic Council (APEC), contribute to a rebound in energy investment this year that will persist over the next two to three years.
Specific energy projects likely to contribute to this pickup include the restart of the West White Rose field which was paused during the early stages of the pandemic. Also, the Terra Nova oil platform should soon return to production. Also noteworthy, on June 6th of this year, the federal government gave the go-ahead to the Bay Nord offshore oil project, with an estimated cost of $12.7 billion.
The prospects for non-energy investment have also improved with the start of construction on the Valentine Lake gold mine and the expansion of the Voisey's Bay underground mine, which will source additional deposits of nickel, copper, and cobalt, the demand for which has been revived by the pickup in the electric vehicle market. 
Finally, European countries attempting to find substitutes for Russian natural gas have boosted interest in the development of wind energy projects, the electricity from which will be used to produce hydrogen and/or ammonia.
Bottom Line
Driven by stronger growth of investment, moderate gains in consumer spending and residential construction, and by sustained energy exports, Newfoundland and Labrador's GDP should grow by +1.5% in 2022 and by +1.2% in 2023. This outlook materially darkens if over the next 12 to 18 months, the U.S. Federal Reserve tightens monetary policy more aggressively than currently anticipated to bring inflation south of the border back to its +2% y/y target.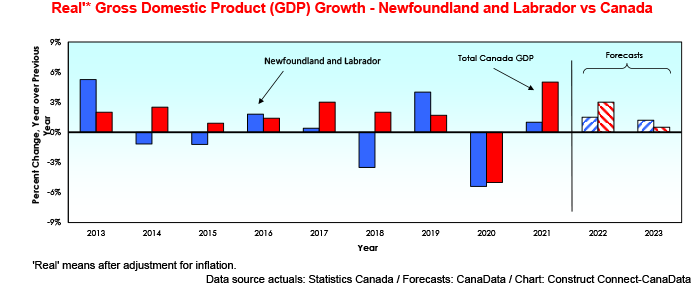 ---
John Clinkard has over 35 years' experience as an economist in international, national and regional research and analysis with leading financial institutions and media outlets in Canada.