A month ago, the Employment Situation report from the Bureau of Labor Statistics (BLS) reported a U.S. total jobs-count increase during September of +263,000. Now, for the month of October, a nearly identical change in total employment has been estimated by the BLS, +261,000 jobs. (By the way, September's figure has just been revised to +315,000.)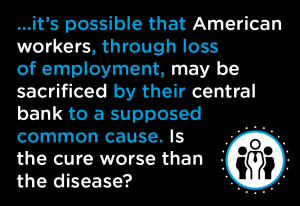 These are strange times indeed. The Federal Reserve isn't being shy about its intentions. Using the blunt instrument of interest rates, it intends to bring the economy to the edge (or beyond) of recession, to put a stop to too-rapid price inflation.
So far, the impact on the U.S. labor market has been minimal. The most recent initial jobless claims number, for the week ending October 29, stayed exceptionally low at 217,000. The seasonally adjusted (SA) unemployment rate currently sits at 3.7%; the not seasonally adjusted (NSA) U rate at 3.4%. Both levels indicate a demand for workers well in excess of supply.
But as the Fed continues along its path of yield hikes, there's going to be a moment when the labor market numbers turn decidedly sour. The Federal Open Market Committee (FOMC), on November 2, implemented its fourth 75 basis point increase this year. Plus, there was an accompanying message that while future increments to the federal funds rate may be cut back somewhat, there are no guarantees about when, or at what level, its peak will be reached.
There's an interesting dynamic at play. No one likes runaway inflation. But it's possible that American workers, through loss of employment, may be sacrificed by their central bank to a supposed common cause. Is the cure worse than the disease? This is a question that's been asked throughout history and the general consensus is that economies do better with a relatively stable price environment, even when that entails occasional periods of labor market pain.
The manufacturing sector made a significant contribution to the total jobs-count increase in September, with hiring of an additional +32,000 workers. Average monthly employment in manufacturing to date this year has been +37,000, comparing favorably with last year's Jan-Oct number of +28,000. The NSA unemployment rate in manufacturing is presently 3.1%.
It appears efforts to re-shore U.S. manufacturing jobs are paying off. Through capital spending on new and expanding production plants, this will have positive carry-forward meaning for construction firms. ConstructConnect's construction starts statistics this year contain an abundance of mega-sized industrial groundbreakings (i.e., individual projects of a billion dollars or more each.)
The construction industry itself had a weak hiring month in October, only +1,000 jobs. But on a happier note, 2022's year-to-date monthly average gain in on-site employment has been +18,000, which is nearly double last year's Jan-Oct pace of +10,000.
Construction's NSA U rate is now 4.1%, up from September's 3.4%, and about on a par with October of last year's 4.0%.
Construction workers, including supervisory personnel, are reaping higher earnings rewards than most employees, however. In September, their year-over-year hourly and weekly wage increases were +5.6% and +5.8% respectively, beating the +4.7% and +3.8% jumps for 'all jobs'.
Leaving out bosses, construction workers as an employee class were even further ahead than all workers on the compensation front in September. Year over year, they received +6.6% hourly and +7.1% weekly to +5.5% hourly and +4.8% weekly for 'all jobs'. 
Some other notable numbers from September's Employment Situation report include: (1) a current 0.8% unemployment rate for workers in the mining and oil and gas extraction sector; (2) a robust +71,000 monthly increase in jobs in health care and social assistance ; and (3) a year-over-year increase in 'hospitality and leisure' employment (i.e., in hotels, bars and restaurants) that, at +7.9%, is more than twice the pickup in total U.S. staffing, +3.6%.
Graph 1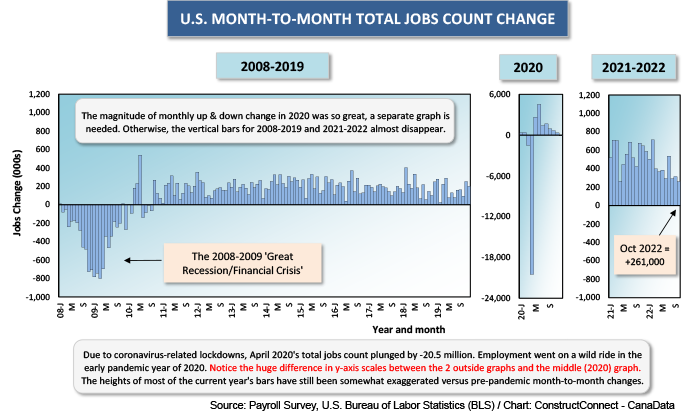 Graph 2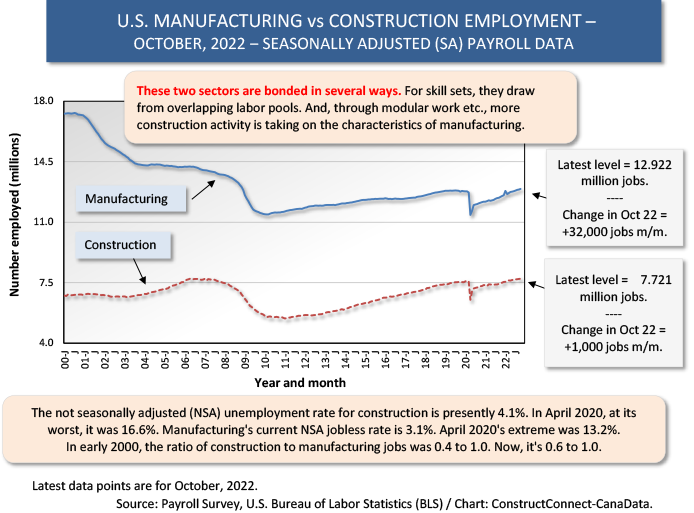 ---
Alex Carrick is Chief Economist for ConstructConnect. He has delivered presentations throughout North America on the U.S., Canadian and world construction outlooks. Mr. Carrick has been with the company since 1985. Links to his numerous articles are featured on Twitter @ConstructConnx, which has 50,000 followers.