Fighting through the headwinds of more restrictive interest rates, the U.S. economy managed another good month of jobs creation in December, +223,000 according to the BLS. It should be noted, however, that the month-to-month increase in nation-wide employment has been gradually diminishing over the past six months.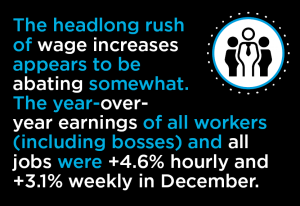 In fact, as is made clear in Graph 1, with the exception of July's surge in hiring, month-to-month employment gains have been shrinking since early in 2022. The monthly average of new jobs creation throughout 2022 was off by a third compared with 2021, +375,000 versus +562,000.
The U.S. seasonally adjusted (SA) unemployment rate in December was 3.5%, down a smidge from 3.6% in November. The not seasonally adjusted (NSA) unemployment rate in the latest month was a mere 3.3%, also tightening a tad from the previous month's figure, 3.4%.
The construction sector should be pleased with its performance in December. Staffing increased by +28,000 jobs, mainly in the sub-trades, +17,000. The NSA unemployment rate came in at 4.4%, lower than the 5.0% recorded a year prior in December 2021.
U.S. construction's monthly average jobs gain throughout 2022 was +19,000, ahead by more than a fifth (+22.2%) versus 2021's comparable figure of +16,000.
Manufacturing added only 8,000 jobs in the latest month, but its NSA unemployment rate was a miniscule 1.8%. The manufacturing sector has been the source of a plethora of mega-sized construction projects during the past 12 months. When these projects are completed in a couple of years, they will become sources of numerous new job opportunities. 
Among other major sectors, the biggest December-versus-November bumps in personnel counts occurred in leisure and hospitality, +67,000 jobs, and in health care, +55,000.
The headlong rush of wage increases appears to be abating somewhat. The year-over-year earnings of all workers (including bosses) and all jobs were +4.6% hourly and +3.1% weekly in December. Construction workers, at +5.8% and +3.9%, did better. This may well have been a factor in the sector's recent hiring success. 
Concentrating only on production workers and excluding bosses, y/y all-jobs earnings were +5.0% hourly and +4.1% weekly, with construction workers as a subset at +6.1% and +4.2%.
The Federal Reserve is probably a little frustrated that its hawkish monetary actions have not, as yet, put much of a crimp in the labor market's bravado. But if that's the case, consider how the Bank of Canada, which has also been pushing higher rates, must be feeling.
According to Statistics Canada, employment creation north of the border in December was +104,000 jobs, with most of the new positions being full- as opposed to part-time (+85,000 to +19,000).
Based on suppositions contained in a preponderance of media reports, the construction sector in Canada should be reeling from a cutback in housing starts. Instead, the sector went against all expectations and added +35,000 jobs.
Provincially, the +105,000-job gain overall arose mainly in Ontario (+42,000), Alberta (+25,000) and British Columbia (+17,000).
Graph 1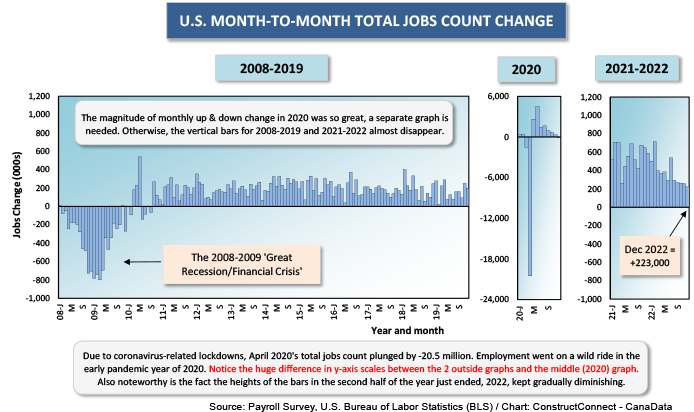 Graph 2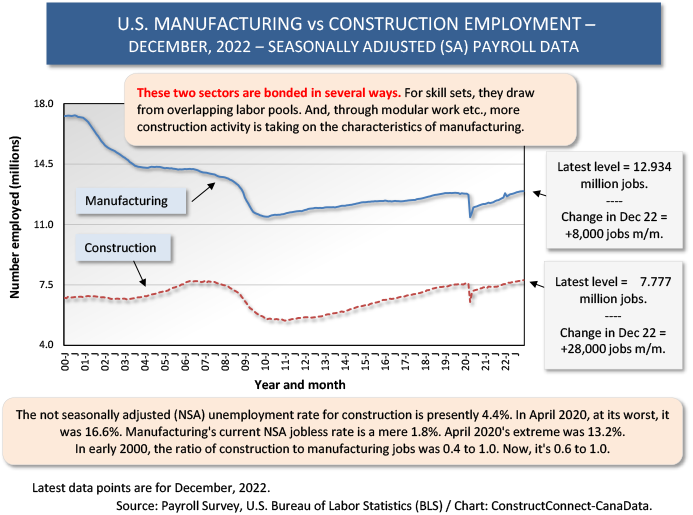 Graph 3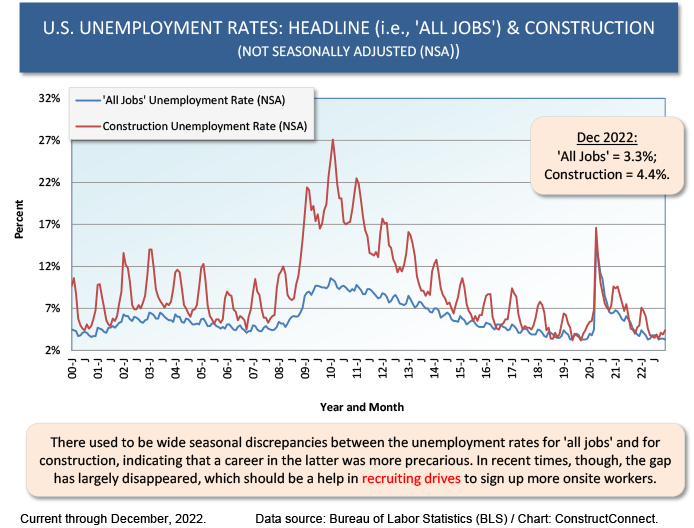 ---
Alex Carrick is Chief Economist for ConstructConnect. He has delivered presentations throughout North America on the U.S., Canadian and world construction outlooks. Mr. Carrick has been with the company since 1985. Links to his numerous articles are featured on Twitter @ConstructConnx, which has 50,000 followers.