Following a gain of 285,000 individuals in the second quarter of 2022, Canada's population increased by an unprecedented and hold-your-breath 362,000 in the third quarter. This gain was driven primarily by a record inflow of 225,000 non-permanent residents (NPRs). These are individuals legally granted the right to live in Canada for a limited period under the authority of a temporary resident permit. They include individuals holding work permits, visitor permits, student permits, special temporary resident permits, and individuals seeking refugee status, including Ukrainians fleeing the invasion of their country by Russia.
However, consistent with near-record-high job vacancy rates across the country, most of the gain was driven by immigrants with work permits. It is worth noting that in an article titled Just how temporary were temporary foreign workers?, Statistics Canada reports that although the majority of temporary foreign workers traditionally leave within two years of obtaining their first work permit, a growing number of them are staying longer and obtaining permanent resident status.   
In 2022's third quarter, Canada admitted 122,000 permanent residents, the second-highest number since 1946, when quarterly data first became available. Through Q3 2022, the number of permanent residents admitted to Canada totaled 352,000, up +32% versus the first nine months of 2021.
Atlantic provinces seeing record inflows
Across the country, 2022's Q3 population estimates highlighted three key trends. First, over the past year, population growth in the Atlantic Provinces (+2.8% y/y) has significantly outpaced the country as a whole (+2.3%). In percentage-change terms, the volume of international migrants landing in the Atlantic Provinces increased by an unprecedented +122% due to a 12,300 increase in temporary immigrants and a 12,000 rise in permanent residents, the majority of whom landed in Nova Scotia.
Drawn by the region's more affordable housing and the increasing ability of individuals to work remotely, the Atlantic Provinces have also attracted an outsized volume of migrants from other provinces. Over the past three-quarters, net interprovincial migration has totaled 23,000, up approximately +30% year to date.  
Alberta's record population growth is driven by oil and gas
The second key trend is the rapid acceleration of Alberta's population growth over the past four quarters from +1% y/y to +3% y/y. Since January of 2022, Alberta's population has increased by 125,000 due to an unprecedented inflow of 34,000 non-permanent immigrants, 34,000 permanent residents, and 57,000 migrants from other provinces.
As occurred in Alberta's previous commodity-driven economic cycles, surging demand for oil and natural gas "fuelled" a rebound in energy investment. This in turn triggered a sharp escalation in the demand for labour, driving job vacancy rates in the province to record levels.
The outlook for energy investment in the province remains bright given efforts by most western countries to restrict oil purchases from Russia. This should put upward pressure on oil prices for the next several years. Looking further ahead, a recent paper by the C.D. Howe Institute, titled Last Barrel Standing? Confronting the Myth of "High-Cost" Canadian Oil Sands Production dispels the widely held view that oil sourced from the oil sands is not cost-competitive. It makes a strong case that most Canadian producers will maintain their output as long as the price remains north of $40 USD per barrel. 
Net migration and Ontario's housing market
And finally, trend three. With the deepest labour pool in the country, Ontario is the go-to province for most permanent and non-permanent residents coming to Canada. Over the past 12 months, 47% of the international immigrants arriving in Canada landed in the "land of lakes". This unprecedented inflow of 390,000 immigrants is roughly equivalent to the population of Windsor, Ontario, and is in part the result of the Liberal government's immigration plan, announced in October of 2020, to boost the number of permanent immigrants by 50,000 per year between 2021 and 2023.  
The impact of this surge in net migration, combined with mortgage rates near zero, gave a temporary boost to housing demand that caused sales of existing homes to hit a 35-year high in 2021. However, after peaking in early 2021, sales have gradually trended lower. The fact that home sales are slowing against this background of strong population growth indicates that, for now, higher mortgage rates are offsetting the recent strong inflows of permanent and temporary immigrants. We expect further increases in mortgage rates to cause this trend to persist into the second half of the current year.
However, the federal government's recent  announcement of plans to admit 465,000 new permanent residents in 2023, 485,000 in 2024, and 500,000 in 2025 will contribute to an increase in pent-up demand for housing that threatens to cause house prices to escalate sharply in 2024 or 2025.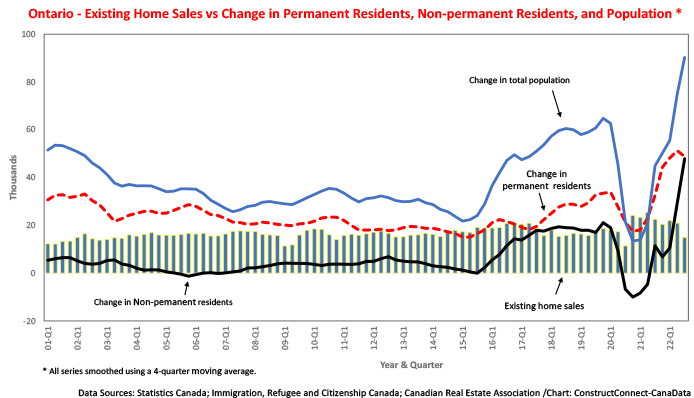 ---
John Clinkard has over 35 years' experience as an economist in international, national and regional research and analysis with leading financial institutions and media outlets in Canada.