The U.S. total number of jobs count rose by more than half a million in January, according to the latest Employment Situation report from the Bureau of Labor Statistics (BLS). The climb in employment of +517,000 positions was double the increase in the preceding month of December.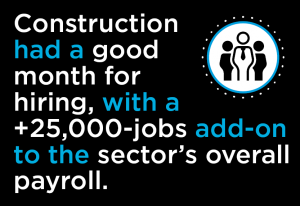 There were only two months last year when the month-to-month increase in jobs was higher, in February (+904,000) and July (+568,000).
The seasonally adjusted (SA) unemployment rate in the first month of 2023 dipped to 3.4% from 3.5% the month prior.
The tighter interest rate regime being imposed by the Federal Reserve is having an impact on portions of the economy, such as single-family housing starts, but it is clearly not doing much to slow the juggernaut that is U.S. jobs creation.
By industry category, the biggest increases in employment in the latest month occurred in leisure and hospitality (+128,000 jobs), professional and business services (+82,000), health care and social assistance (+79,000), and government (+74,000).
The gains in government employment came at the state (+39,000 jobs) and local (+30,000) levels. Washington's addition to staffing was comparatively minor (+5,00).
Construction had a good month for hiring, with a +25,000-jobs add-on to the sector's overall payroll. Two-thirds of that jobs bump (+17,000) was recorded by nonresidential sub-trade contractors.
The success firms had in taking on more construction workers likely had much to do with robust compensation increases in the industry. Whereas hourly wages for 'all workers' in the economy, including bosses, were +4.4% year over year in January, they were +5.5% for construction workers. And the weekly earnings comparison was +4.7% for all jobs, falling well short of +6.9% for construction workers.
Leaving out bosses and concentrating on production workers only, the 'all jobs' hourly earnings increase in January was +5.1%, again underperforming versus workers in construction, who managed +6.2%. And weekly, it was +5.4% for 'all jobs', falling short of +7.2% for construction workers.
It's worthwhile to also track earnings improvements being achieved by workers in manufacturing. Production line workers make less hourly and weekly than construction workers and they are also not seeing the same kinds of compensation jumps. Including bosses, manufacturing workers in January earned +3.2% y/y hourly and +3.8% y/y weekly. Excluding bosses, they were at +5.3% hourly and +4.8% weekly.
The faster pickup in construction wage gains should serve the industry well in recruiting drives.
The more than just solid increase in total U.S. employment (+517,000 jobs) was foretold by the latest string of initial jobless claims numbers, which have been exceptionally low (see Graph 1).
As for GDP growth, there's no disputing that Q1 and Q2 of last year were disappointing, -1.6% and -0.6% annualized respectively. But there was little to be upset about concerning Q3 and Q4, +3.2% and +2.9% (see Graph 2).
For 2022 as a whole, the annual 'real' (i.e., inflation-adjusted) GDP growth rate of +2.1% was just about in line with the average yearly advance over the past two decades.
Inflation is slowing and the Fed is no longer quite as gung-ho about raising rates, putting through an increase of only 25 basis points in its latest move. The stock markets had a good month in January (see Table 1). The notion of a soft economic landing in 2023 isn't far-fetched.   
Graph 1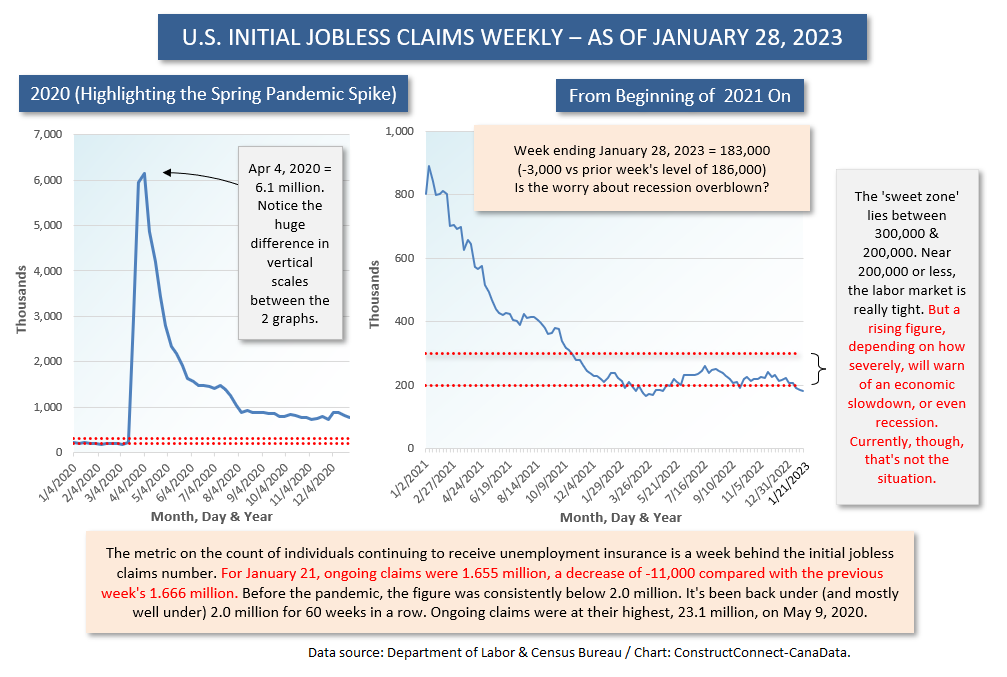 Graph 2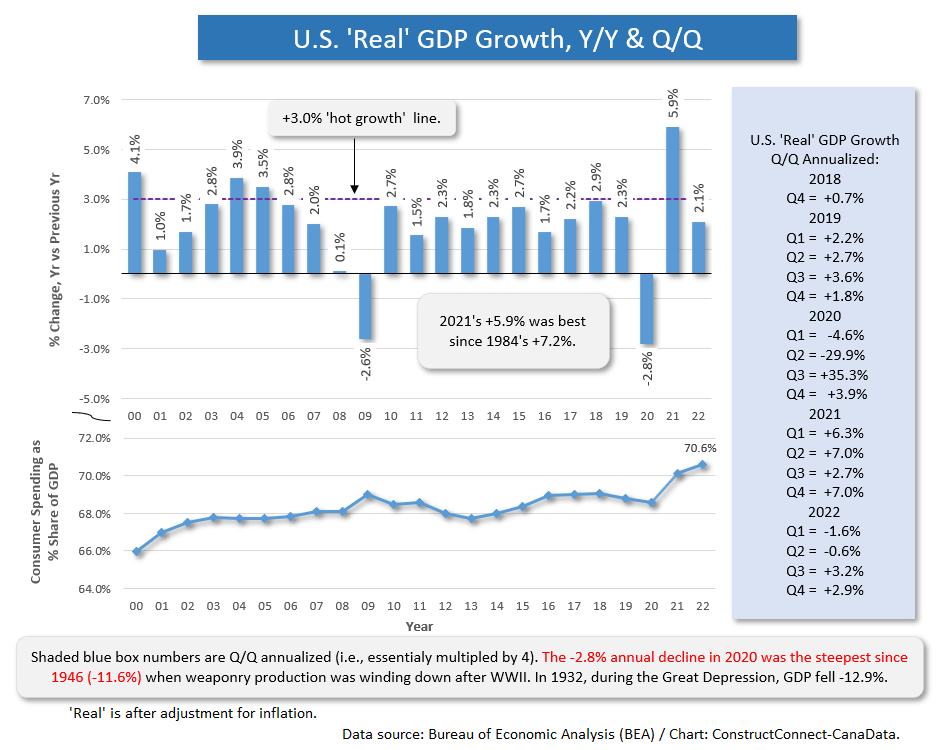 Table 1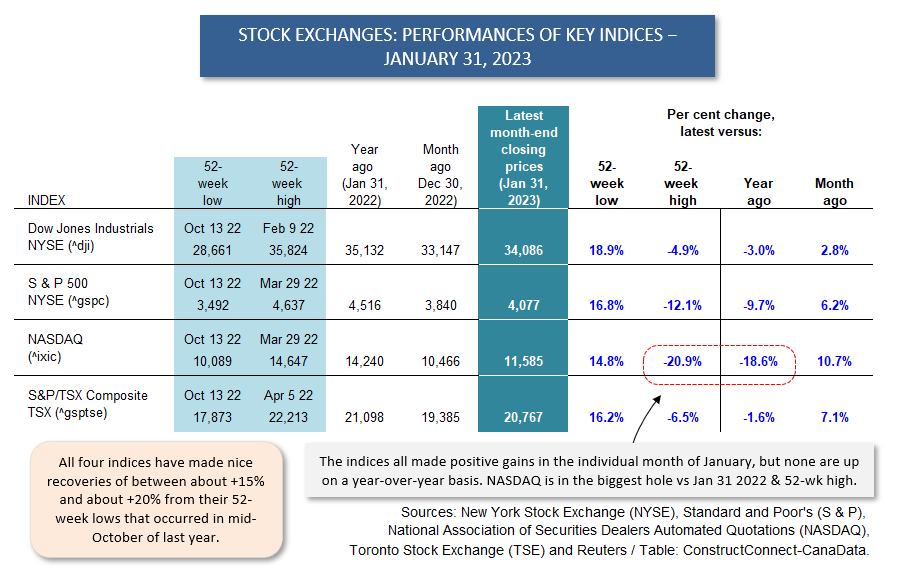 ---
Alex Carrick is Chief Economist for ConstructConnect. He has delivered presentations throughout North America on the U.S., Canadian and world construction outlooks. Mr. Carrick has been with the company since 1985. Links to his numerous articles are featured on Twitter @ConstructConnx, which has 50,000 followers.