According to Statistics Canada's recently released population data for sub-provincial areas, Toronto's population increased by an unprecedented +138,240 people between July 1, 2021, and July 1, 2022. This was significantly above the Covid-depressed increases of +88,200 and +8,754 in the previous two years.
The major contributor to the population gain was a record +147,000 jump in net international migration, stemming from an inflow of +159,000 permanent and +66,000 non-permanent residents. Partial offsets came from outflows of -21,400 individuals to provinces other than Ontario (net interprovincial migration) and -78,000 to census metro areas (CMAs) in Ontario outside the Toronto CMA (net intra-provincial migration).
Negative inter- and intra-provincial migration
 A recent article in the Financial Post, titled People are Leaving Canada's Biggest Cities Amid a Housing Crunch, holds that higher house prices are contributing to the increased exodus of individuals out of Toronto, Vancouver, and Montreal. The fact that the Canadian Real Estate Association (CREA)'s House Price Composite Index for Toronto was up by +33% y/y in March of 2022 highlights the extent to which house prices have increased, leading to a marked deterioration in affordability. In turn, less affordable housing has forced more first-time home buyers to seek less expensive accommodation outside the Toronto CMA.
Given the steady deterioration in affordability, it is not surprising that the outflow of individuals to other parts of the province (intra-provincial migration) and to other provinces (inter-provincial migration) has been trending steadily higher over the past several years.
Other factors contributing to this increased outflow of individuals include a more attractive climate, lower taxes, and more employment opportunities. The increased propensity for individuals to work remotely, thereby avoiding long commutes, has also driven a larger number of people to locate on the outskirts of the CMA.   
Record Inflow of international migrants swamps Toronto CMA
While the outflow of individuals from the Toronto CMA reached a new high in 2022, it pales when compared to the unprecedented inflow of +216,000 permanent and net non-permanent residents. They will have a profound impact on the demand for rental, and to a lesser extent, ownership accommodation in the medium term.
In the near term, the impact of recent interest rate hikes is likely to depress sales of existing homes through the middle of this year. In addition, we expect a slowdown of full-time employment will temporarily dampen the inflow of permanent and temporary residents into the second half of the year.
Looking ahead, and assuming the Bank of Canada adopts a less restrictive policy stance leading to lower interest rates late this year or early in 2024, the combination of weaker demand and an increased inventory of dwelling units under construction (they were at a record high in December of 2022) should improve affordability and rekindle housing demand.
Greenbelt boundary change unlikely to improve affordability
Looking beyond this cyclical downturn and assuming one-third of international migrants continue to arrive in the Toronto CMA, there is an increased risk that the recent immigration-fueled surge in population, plus a gradual pickup in employment and a decline in mortgage interest rates, will contribute to a strong rebound in rental and ownership housing demand. The flow-through impact is likely to be an acceleration in rents and both new and existing house prices.
This prospect is amplified by the federal government's plan to raise the target for the admission of permanent residents to Canada from +411,000 in 2022 to +500,000 by 2025. The recent plan put forward by the provincial government to add 9,400 acres to the Greenbelt while, at the same time, permitting residential development on 7,400 acres, is expected to result in the construction of 50,000 dwelling units within the Greater Toronto commuter shed and possibly take some of the pressure off house prices in the GTA.    
However, given the projected outsized increase of net migration into the GTA, the impact of this modest increase in supply is unlikely to have a lasting positive impact on house affordability.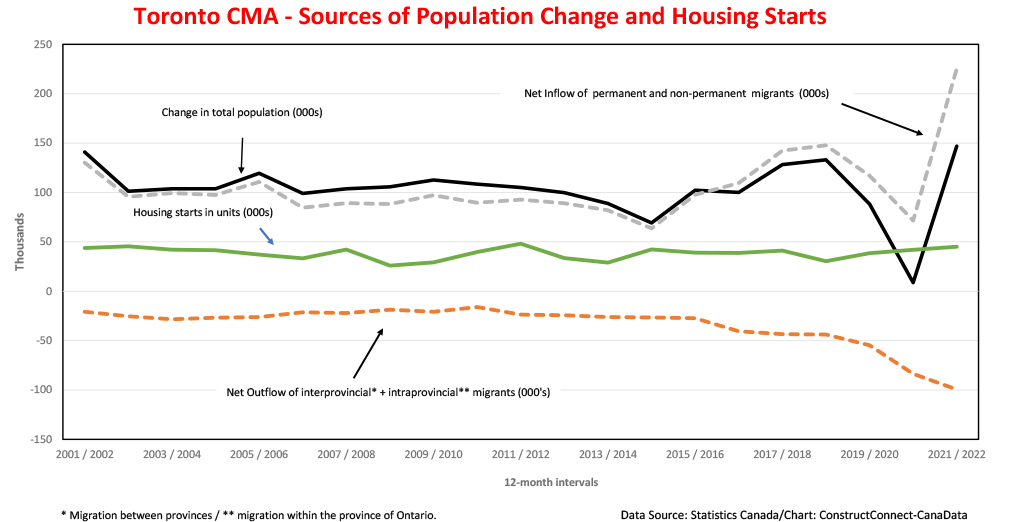 ---
John Clinkard has over 35 years' experience as an economist in international, national and regional research and analysis with leading financial institutions and media outlets in Canada.