The near-term outlook for the Nova Scotia economy is similar to what it was a year ago. Then, the consensus expectation was that the combination of efforts by the Bank of Canada and the U.S. Federal Reserve to rein in inflation with higher interest rates would cause economic activity on both sides of the border to slow sharply, bringing on either a soft landing or an economic contraction (i.e., a recession).
While there is evidence that Nova Scotia's growth slowed to between +1.3% and +1.8% in 2022 following an unsustainably strong gain of +6.2% in 2021, the worst-case scenario has, so far, been avoided. However, with inflation on both sides of the border above the +2% y/y target established by the central banks and both economies' rates of job creation still in high gear, there is a significant risk that interest rates will go higher, causing economic activity in Canada and the U.S. to stall by mid-year.
US Exports and record net migration fuelled growth in 2022
Two major drivers contributed to Nova Scotia's slower but still positive economic growth over the past year. First, despite a slowdown in the U.S., the market for 65% of its foreign sales, N.S.'s exports rose by +5.7% y/y following a gain of +11.5% in 2021. Commodities, including metal ores, contributed to the increase as did electronics, and 'motor vehicles and parts'. Second, after posting a modest +0.9% increase in 2021, net migration into the province from outside Canada (+25,900) and from other provinces (+12,217) accelerated sharply, boosting the province's population by a record +2.6% in 2022.
An aging population puts drag on the labour force
Against the headwind of higher interest rates and slowing U.S. growth, full-time employment in the Bluenose province is up by +2.6% year to date. Also, the fact that the province's job vacancy rate at 4.9% is well above its seven-year average of 3.1% is evidence that demand for labour in the province is outpacing supply.
A recent paper by the Atlantic Provinces Economic Council (APEC) titled Where Have All the Workers Gone? highlights this shortfall. According to APEC, despite the robust growth of net migration, the number of people entering the labour force has been more than offset by the number retiring due to age.
Between 2019 Q4 and 2022 Q3, labour demand (i.e., the sum of the change in employment plus the change in job vacancies) exceeded the growth of the labour force by +23,000. Given the prospect that the province's supply of labour will continue to lag behind its demand for labour, this gap will likely exert more drag on the province's growth in the near term. Industries experiencing acute shortages of workers include accommodation and food services, health care and social assistance, and construction.
Higher interest rates put damper on residential construction
Sales of existing homes in Nova Scotia are down by just over -30% year to date, which indicates that the positive effects of solid employment growth and a record inflow of migrants from outside the province are being outweighed by the steady increase in interest rates and the deterioration in affordability that has occurred over the past 13 months. Not surprisingly, total housing starts (in units) are down by -44% year to date while single- and multi-family building permits (also in units) are off by -8% and -21% respectively in the past six months versus the same period a year earlier.
Looking a distance down the road, however, the outlook for residential construction does brighten given the above-noted record inflow of individuals into the province and the region's record low apartment vacancy rate.
Green projects brighten CAPEX Outlook in 2024/2025
Based on Statistics Canada's most recent nonresidential Capital and Repair Expenditures (CAPEX) Survey, investment in Nova Scotia is projected to contract slightly (-1.5%) in 2023, following a strong rise (+21.1%) in 2022. Despite this overcast outlook, and the fact that no country is yet exporting green hydrogen, the prospects of go-aheads for two large projects have recently picked up.
First, on February 7 of this year, the provincial government approved plans for the EverWind Green Hydrogen and Ammonia Plant with a projected cost of $8 billion. Second, the Bear Head Energy Project, with an estimated cost of $4 billion, recently received assessment approval from the N.S. Department of Environment and Climate Change for its green hydrogen and ammonia production facility. Also aiding these prospects will be improved tax credits in the recent federal budget.
Bottom Line
After expanding by an estimated +6.2% in 2021 and +1.6% in 2022, we expect that the effects of slower residential construction, a retreat in non-residential construction, and slower growth of exports will cause Nova Scotia's growth to range from +0.7% to +1.5% over the next two years.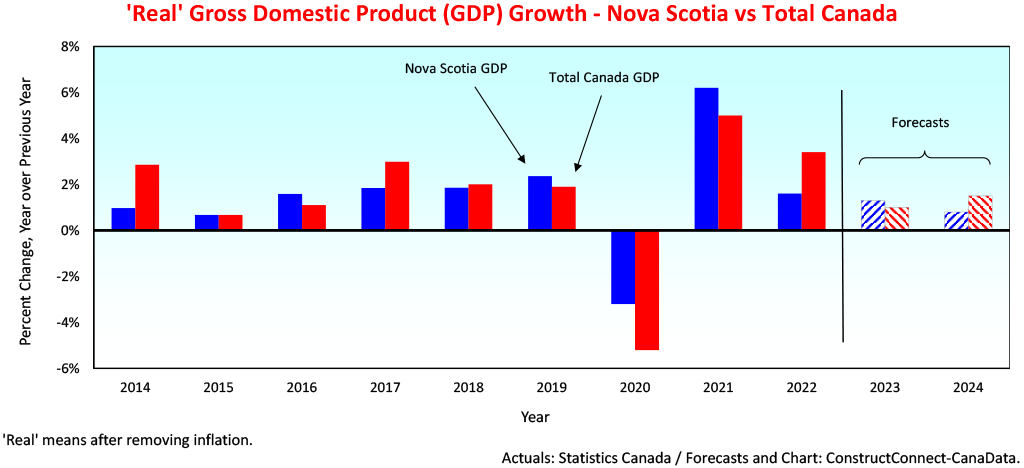 ---
John Clinkard has over 35 years' experience as an economist in international, national and regional research and analysis with leading financial institutions and media outlets in Canada.