Driven by a 600,000 square foot increase in new office space, a 4.0 million square foot increase in vacant office space, and despite a 1.6 million square foot rise in leasing activity, the office vacancy rate for major urban areas in Canada increased from 15.9% in Q4 2022 to a 30-year high of 16.4% in the first quarter of 2023.
Over the past year, according to Cushman Wakefield, the office vacancy rate in Canada has risen by 2.1 percentage points despite a +4.5% y/y increase in desk-bound employment. This increase in hiring, accompanied by the decline in absorption, highlights the significant proportion of the workforce that is still working from home more than two years after the initial onset of COVID-19.
Canada's share of work-from-homers exceeds U.S.
According to a Statistics Canada report titled Working from home during the COVID-19 pandemic: How rates in Canada and the US compare, in May of 2020 the overall percentage of employees working from home in Canada and in the United States averaged 36.7% and 36.5% respectively. However, by the end of the next year, 2021, the percentage of work-from-homers in the U.S. had dropped to 11.6% while the percentage in Canada stood at 22.3%.
The fact that the incidence of working from home is higher in Canada than in the U.S. suggests that firms in Canada are more willing to accede to their employees' wishes than are firms in the U.S., where the unemployment rate (currently 3.5%) is significantly below that of Canada's (now at 5.0%).
Working from home has hidden costs – particularly for younger workers
Across the country, there is lingering resistance by employees, especially older employees, to move back to the office full-time. At the same time, an increasing number of firms are finding that remote work contributes to a loss of productivity and cuts down on idea generation.
According to a recent study by economists from WFH Research, which has ties to Stanford University, those that "pay" the most for working remotely are younger workers and female workers who are foregoing the mentoring they would have received in the past from older, more experienced workers. Jamie Dimon, Chairman and CEO of JPMorgan Chase, and Dave McKay, CEO of RBC, share the view that working from home is not beneficial for younger staff.
Inventory overhang to depress demand for office space
Several factors appear likely to continue to depress the demand for office space in Canada through the remainder of this year and well into 2024. First, although office-based hiring is up by +4.5% year to date, uncertainty regarding the outlook for the economy, plus the lingering impact of remote work, will cause a growing proportion of firms to shelve and/or possibly cancel their plans to relocate or expand their existing footprint. Second, although the volume of office space under construction shrank slightly in Q1 to 14.3 million square feet, the total volume of vacant space is at a record high.  
Outlook for office space brighter in energy and tech-driven centers
Among Canada's 11 largest census metro areas, the office vacancy rate in St. John's Newfoundland is highest, at 27.9%. That said, higher energy prices and a stronger investment outlook brighten the prospects for leasing in the St. John's CMA in 2024.
Despite experiencing a strong +17.8% increase in office-based hiring and a steady improvement in leasing activity over the past several quarters, the effects of persisting negative absorption have caused the office vacancy rate in Calgary to hold above 27% since Q1 2022. As with St. John's, the effects of higher resource prices and stronger population growth will likely cause Calgary's leasing activity to gain momentum heading into next year.
The combination of a gradual pickup in leasing activity, consistent with a country-leading increase in office-based hiring will cause Kitchener's office vacancy rate to trend lower during the second half of this year and through 2023.
Ill tidings for office construction
Given the above-noted excess supply of vacant office space, it is not surprising that some developers are scaling back their construction plans. Worst among Canada's major communities for office construction cutbacks is Ottawa-Gatineau, where the value of commercial building permits issued in the last six months has dropped by -57% compared to the same period a year earlier. The fact that a key demand of striking federal workers is greater remote work protection raises the risk that more employees, both inside and outside the public sector, will attempt to do so.
A gradual increase in formalized full-time remote work arrangements and part-time (hybrid) arrangements is likely to further erode demand for commercial space and ultimately put a damper on office construction in several other major centers including Toronto, Montreal, Edmonton, and Vancouver.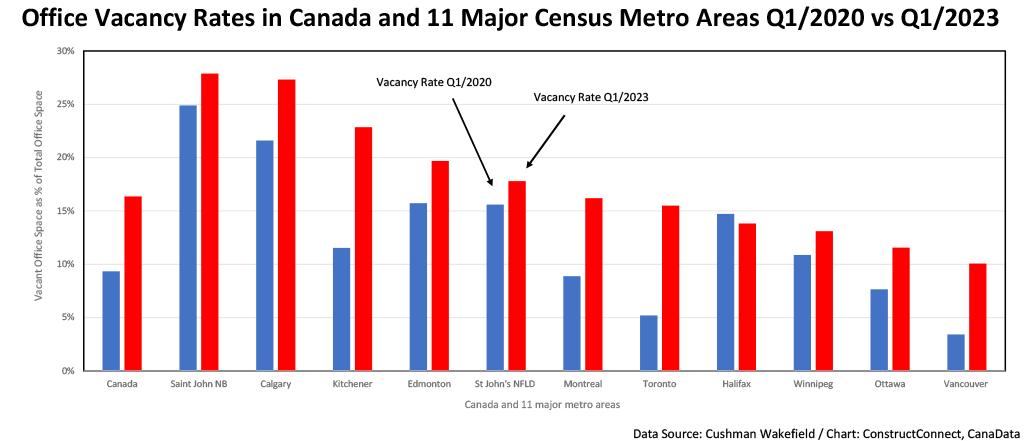 ---
John Clinkard has over 35 years' experience as an economist in international, national and regional research and analysis with leading financial institutions and media outlets in Canada.