Quebec's housing market is bearing the brunt of the steady increase in interest rates over the past year- and-a-half which the Bank of Canada is using to try and cool inflation, currently at +4.0%, well above its +2.0% target. Since the beginning of this year, sales of existing homes in the province have retreated by -18%. Consistent with this softening in sales, over the same period, housing starts have dropped by a breathtaking -47% due to declines in starts of single (-47%), semi-detached (-50%), row (-64%), and apartment (-40%) units.
The -27% drop in the volume of residential building permits issued during the last eight months suggests housing starts this year will total in the range of 38,000 to 41,000 units. Also, the year-to-date drop in the inflow of permanent residents will serve to depress housing starts through much of 2024, along with the lingering impacts of high-interest rates and an acute shortage of skilled labour.
Slower growth in US and China will chill exports
After posting a solid rebound in 2022, driven by the persisting strength of exports to its largest trading partners, the United States and China, there are signs Quebec's external economic climate is starting to cool. Compared to the first seven months of 2022, which saw total exports grow by +15%, Quebec's foreign sales year to date are up by just +2.3%. Exports to the U.S. have been weighed down by weaker shipments of aluminum, newsprint, and electricity.
Looking ahead, mounting headwinds in the U.S., plus dimming prospects for the Chinese economy, are likely to limit the contribution that exports make to Quebec's growth over the next 12 to 18 months.
Softening of staffing plans
Consistent with the retreat in residential construction and the above-noted slowdown in exports, the Canadian Federation of Independent Business recently reported that full-time staffing plans in Quebec have weakened since mid-year. Also, after hitting a high of 6.1% in late 2021, the province's average job vacancy rate dropped to a two-year low of 4.6% in June. Consistent with this softening in hiring, over the past seven months the inflow of individuals seeking permanent residency in the province has tumbled by -30%, with the most significant declines occurring in Montreal (-33%), Quebec City (-26%) and Sherbrooke (-24%).
Interest rates, inflation, and slower job growth hobble consumers
While higher interest rates do not appear to have negatively impacted consumer spending as much as residential construction, growth of retail sales in H1 of this year was half (+4.5%) what it was a year earlier. Major contributors to this year-to-date slowdown include interest-sensitive expenditure components such as building materials (-10.8%), furniture and home furnishings (-3.7%), and floor and window coverings (-4.2%).
According to the Conference Board in Canada, consumer confidence in Quebec notched up slightly to 98 in July after hitting a six-month low of 88 in June. However, a closer look at the details of the report reveals that the share of respondents expecting more jobs and more spending declined compared to the previous month. Based on this report, we expect consumer spending to remain depressed well into 2024.
But prospects for nonresidential construction remain bright
The outlook for non-residential construction is considerably more upbeat than it is for residential construction. Based on the most recent Statistics Canada Capital Expenditures Survey, spending on public and private investment projects is projected to post its third consecutive double-digit (+10.3%) increase this year following gains of +11.1% and +11.6% in 2021 and 2022.
Across major industrial sectors, above-average gains in spending are projected to occur in manufacturing (+29.8%), public administration (+20.8%), and utilities (+22.9%). Major capital projects on the drawing boards in Quebec include: the Third Link between Quebec and Levis and the Quebec Levis Tunnel; the modernization of the Maisonneuve-Rosemont Hospital; and the Gatineau Light Rail System connection to the Ottawa Rapid Transit Network. A critical factor that will affect the progress of these projects, and indeed all non-residential and residential construction projects in Quebec over the next several years, is the availability of skilled labor.
Bottom Line
The lingering effects of high interest rates, slower growth of exports, and the eroding impact of inflation on consumer spending will cause GDP growth in Quebec to slow to +0.7% in 2023 from an estimated pace of +2.6% in 2022. Furthermore, the persistence of these negative influences will cause the province's GDP growth in 2024 to be in the range of +0.3% to +0.9%.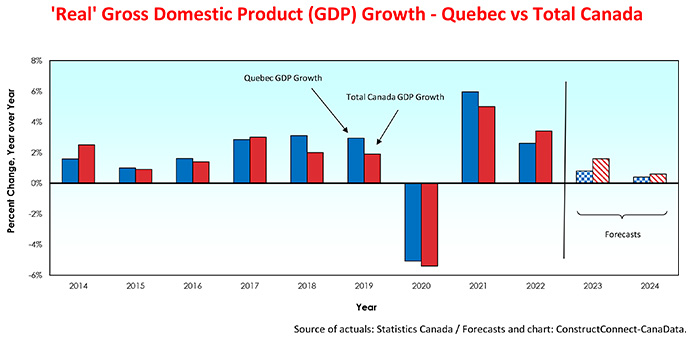 ---
John Clinkard has over 35 years' experience as an economist in international, national and regional research and analysis with leading financial institutions and media outlets in Canada.