The latest Employment Situation Report from the Bureau of Labor Statistics speaks of a +150,000 gain in the total number of U.S. jobs in October. That figure on its own is ho-hum. It is the second lowest monthly increase since pandemic days. (June of this year was weaker at +105,000).
The gain of +150,000 overstates the buoyancy. Versus the total jobs count of 156.874 million reported for September a month ago, October's figure of 156.923 million was ahead by only +49,000 jobs. In the October report, September was revised down by -101,000 jobs.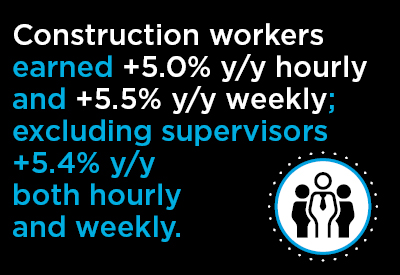 The net result is that U.S. hiring is now as close to being flat as it has been in nearly three years.
The seasonally adjusted (SA) unemployment rate ticked up a notch to 3.9% from 3.8% in September and 3.7% in October of last year. The not seasonally adjusted (NSA) unemployment rate stayed the same as in the month prior, at 3.6%. In October 2022, the NSA U rate was 3.4%.
Construction was one of the few industrial sectors showing decent jobs growth in October, +23,000 (including +10,000 by residential sub-contractors). By way of comparison, payrolls in manufacturing took a beating, -35,000 jobs.
Construction's NSA U rate in October was 4.0%, a little higher than September's 3.8%, but a shade under October 2022's 4.1%.
Year-over-year wage increases for 'all jobs' have been sliding somewhat of late. Including bosses, they were +4.1% hourly and +3.2% weekly in October. Excluding bosses, they were +4.4% hourly and +3.5% weekly.
Construction workers, though, are continuing to enjoy faster compensation hikes. Including supervisory personnel, construction workers earned +5.0% y/y hourly and +5.5% y/y weekly; excluding supervisors, +5.4% y/y both hourly and weekly.
The Federal Reserve has been giving off a vibe that there may be no more interest rate hikes on its agenda, provided inflation does not begin to spike again. CPI inflation in the U.S. and Canada has dropped below +4.0% y/y. Perhaps most important, in that it has such an impact on everyone's capacity to survive happily, has been the moderation in the price of food.
'Food at home' as a sub-index in the U.S. CPI is now only +2.4% y/y.
Not all is smiles on the inflation front, however. For example, in both the U.S. and Canada, rent as a crucial cost of living for many individuals is above +7.0% y/y.
Similar to the U.S., Canada's jobs record in October was lackluster, an employment climb of just +18,000. The SA U rate moved up to 5.7% from 5.5% in September. The NSA U rate loosened to 5.3% from 5.2%.
The Canadian U rate (a.k.a., R-3), calculated according to the same methodology as is utilized in America, was 4.5% (i.e., versus the U.S. figure of 3.6%).
Also mirroring the U.S., employment in the Canadian construction sector was upbeat in October, +23,000 jobs, while manufacturers cut payrolls, -19,000 jobs.
There is an epic contest underway in the Canadian homebuilding market. The jacking up of interest rates has, no doubt, acted as an inhibitor. But there is a counterbalancing force that, long term at least, will not be contained, an extraordinary rate of population growth.
In the latest population numbers, the Canadian resident count was +3.0% y/y, far outdistancing the U.S. figure of +0.4%. The numerical increase in the past year has been +1.2 million individuals. There are a lot of additional people living in the country who require accommodation.
In October, total Canada housing starts rose to 270,000 units seasonally adjusted and annualized (SAAR), up from 250,000 units in September, and at a level second highest for the year so far. Canada's long-term average monthly figure (SAAR) has been 200,000 units. It will soon need to move above 300,000 units. Expect that to happen once the Bank of Canada eases up on its 5.00% overnight rate, thought to be slated for mid-2024.
The y/y hourly and weekly pay hikes for all jobs in Canada are now +4.8% and +4.6% respectively, according to Statistics Canada. Extra momentum will come from new contract settlements that are lifting compensation rates for union workers.
---
Alex Carrick is Chief Economist for ConstructConnect. He has delivered presentations throughout North America on the U.S., Canadian and world construction outlooks. Mr. Carrick has been with the company since 1985. Links to his numerous articles are featured on X/Twitter @ConstructConnx, which has 50,000 followers.