Looking for a classic double whammy? Well, look no further than Alberta. The combination of U.S. President Biden's Keystone Pipeline cancellation and a country-leading spike in cases of COVID-19 have hit the province with the country's second-highest unemployment rate extremely hard.
Going forward, both events will exert a significant drag on the province's near-term prospects. However, there are several other factors that will moderate the negative impact. First, the Keystone cancellation was no surprise. This is the second time the pipeline has been waylaid. Leading up to his election, Biden was quite clear that stopping it was high on his list of priorities.
Second, after the first wave of COVID-19 in March of last year, capital spending plans for 2020 in Alberta fell by -19% to $48.1 billion, their lowest level in more than 14 years. The Keystone cancellation will exacerbate this pullback in non-res capital spending. However, the precipitous drop is being partially offset by a pickup in residential construction, fuelled by the country-wide surge in housing demand.
Two recent indicators suggest the impact of the second wave of COVID-19 on the Alberta economy has been more muted than the first. To begin with, the labour market has weathered the impact of the second wave of COVID much better than it did the prior one. In response to the first wave, in early spring 2020, authorities locked down the economy causing total employment to drop by a breathtaking -336,000 jobs in March and April. As a result, the unemployment rate rose from 7.8% in January to almost 16% in June.
A second big wave of COVID-19 cases struck in early December of last year. Despite this surge, the resulting round of lockdowns caused hiring to drop by just -27,100 jobs in the final two months of the year. Subsequently, Alberta posted a gain of +21,000 jobs in January. Also, while the province's current unemployment rate of 10.7% is still high, it has been trending lower since mid-2020.
Also, over the past three months, sales of existing homes in the province have been up by +40% compared to a year earlier due in large part to the combination of a surge in pent-up demand and record low mortgage rates. In January, average house prices in Alberta rose by +9% y/y while the inventory of homes for sale hit a fourteen-year low. The surge in demand has driven January housing starts up by +46% y/y.
Given the above-mentioned drop in nonresidential construction, it's clear that the 20% increase in construction employment over the past seven months has been primarily due to the rebound in residential building which, given the +9% increase in building permits in the final quarter of last year, will persist well into the second half of this year. The improved outlook for hiring, a continuation of low-interest rates and a pickup in immigration should cause housing starts to total in the range of 24,000 to 27,000 units this year and to reach between 26,000 and 29,000 in 2022. In 2020, they were 24,000 units.
Alberta's external economic environment has also brightened considerably over the past six months. The expected passage of President Biden's $1.9 trillion fiscal stimulus package, together with the faster than expected rollout of COVID vaccines, will give a significant boost to the U.S. economy, the market for 82% of the province's exports. Also, Alberta's oil production rose by +1.8% in December to a record 18.7 million cubic meters and the price of Western Canada Select has recently hit $50 USD, its highest level since April 2019.
Going forward, the solid +12.9% y/y increase in business incorporations in December suggests confidence in the province's future economic health is improving. Also, although active rig counts in Alberta remain depressed, the above-noted increase in oil prices and reduced constraints on pipeline capacity should 're-energize' drilling activity later in the year.
Projects shelved by low oil prices which may be reactivated later this year include the Aspen Oil Sands Project, Suncor's Voyager South Mine and TC Energy's Heartland Pipeline Project. The Canadian Association of Petroleum Producers is calling for investment in exploration and production in Alberta to increase by +18% to $11.8 billion from an estimated $10 billion in 2020. It should be noted that this outlook for stronger growth is contingent on the province being able to obtain and successfully distribute vaccines that will reduce the spread of the COVID-19 virus as quickly as possible.
John Clinkard has over 35 years' experience as an economist in international, national and regional research and analysis with leading financial institutions and media outlets in Canada.
Real* Gross Domestic Product (GDP) Growth — Alberta vs Canada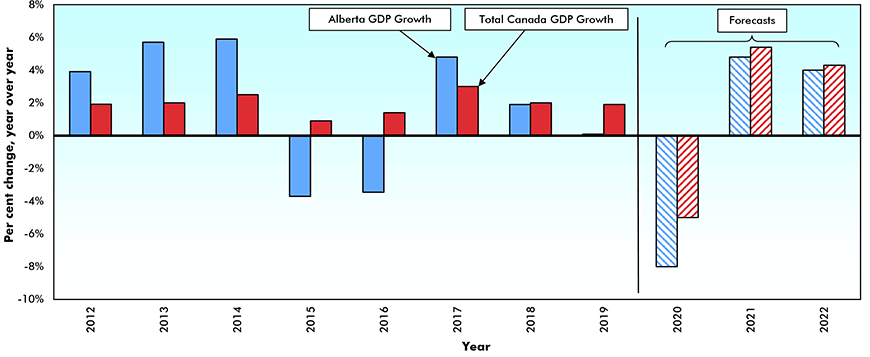 * "Real" is after adjustment for inflation.
Data Sources: Actuals — Statistics Canada; Forecasts — CanaData/Chart: ConstructConnect — CanaData.