ConstructConnect announced today that August 2021's volume of construction starts, excluding residential work, was $33.0 billion, a decrease of -14.2% vs July 2021's level of $38.5 billion (originally reported as $37.6 billion).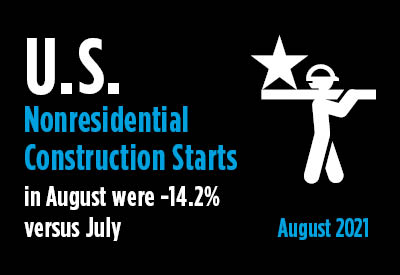 Click here to read the complete August 2021 Industry Snapshot article, August's Nonresidential Construction Starts -14% M/M, -11% Y/Y, & -6% YTD – below is a short excerpt.
Compared with August 2020, the latest month's nonresidential starts were -11.1%. On a year-to-date basis, they were -6.4%. GRAND TOTAL starts in August 2021 (i.e., including residential activity) were -2.3% m/m, +4.5% y/y and +6.0% ytd.   
Several of the biggest construction project initiations in the latest month were carried out by the high-tech giants. The 'Top 10' projects list (see Top 10 Project Starts in the U.S. – August 2021) of this report records go-aheads for two Facebook data centers, one in Mesa, Arizona and the other in Prineville, Oregon, plus a Google data center in Kansas City, Missouri. Among the next ten biggest project starts in August—in other words, projects that would have appeared if the list had been expanded to become a Top 20 list—were three Amazon fulfillment centers, in Pataskala, Ohio; Sioux Falls, South Dakota; and Rochester, New York. Each of the Amazon projects is projected to exceed a million square feet.
During the pandemic, low-rise light industrial and commercial building construction has flourished. Elaborating further there's been strong owner support for data and distribution centers. Demand for new shopping malls, however, has been skimpy.
The standout project started in August of last year was the $2.3 billion motor vehicle battery plant in Warren, Ohio green-lighted by General Motors Corporation.

View this information as an infographic.
Click here to download the complete Construction Industry Snapshot Package – August 2021 PDF.
Three Divergent Construction Paths
Starts year to date in 2021, according to the three major type-of-structure categories, have diverged markedly. Residential starts have been ahead by a quarter, +24.6%; heavy engineering/civil starts have been flat, +0.8%; and nonresidential building starts have had trouble finding the light, -10.9%.  
On a month-to-month basis in August, residential starts continued to forge ahead, +12.9%; engineering retreated significantly, -25.9%; and nonresidential building pulled back only a little, -3.5%.
Click here to download the Construction Industry Snapshot Package – August 2021 PDF.
Click here for the Top 10 Project Starts in the U.S. – August 2021.
Click here for the Nonresidential Construction Starts Trend Graphs – August 2021.
---
Alex Carrick is Chief Economist for ConstructConnect. He has delivered presentations throughout North America on the U.S., Canadian and world construction outlooks. Mr. Carrick has been with the company since 1985. Links to his numerous articles are featured on Twitter @ConstructConnx, which has 50,000 followers.
---
Interactive Visual
---
View this video to see how to use the filters in the Interactive Visual.