The accompanying table records the 10 largest construction project starts in Canada in September 2021. Also included is the latest trend graph on starts. This looks at 12-month moving totals of the civil and non-residential building categories in Canada.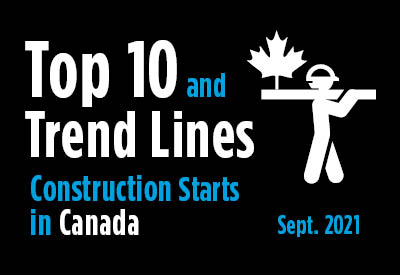 There are several reasons for highlighting upcoming large projects. Such jobs have often received a fair amount of media coverage. Therefore, people in the industry are on the lookout for when job-site work actually gets underway. And, as showcase projects, they highlight geographically where major construction projects are proceeding.
Also, total construction activity is comprised of many small and medium-sized projects and a limited number of large developments. But the largest projects, simply by their nature, can dramatically affect total dollar and square footage volumes. In other words, the timing and size of these projects have an exaggerated influence on market forecasts.
Top 10 construction projects of the month – September 2021
REGION
(East to
West)
TYPE OF
CONSTRUCTION
DESCRIPTION

Sq. Ft.
000s

Dollars
000,000s

Quebec
Drummondville
Institutional
Drummondville High School – Project # 524396
206
$64
(2 structures; 4 storeys) 135, rue Charlemagne
Centre de Services Scolaire Des Chênes
Montréal
Engineering/Civil
Montreal / Poste Des Irlandais – Lot 1: Construction of Buildings and Civil Works
*
$48
(2 structures) chemin des Moulins
Hydro-Québec
Ontario
Toronto
Residential
The Well Mixed-Use Development – Phases 3A and 3B
562
$200
(3 structures; 40 storeys; 659 units) Front St W
Diamond Corp/Allied Properties REIT/RioCan Real Estate Investment Trust
Campbellville
Engineering/Civil
Britannia Road (Regional Road 6) Widening from James Snow Parkway (Regional Road 4) to Highway 407, in the Town of Milton
*
$88
(2 structures) Britannia Rd
Halton Region
Ottawa
Residential
SmartCentre/Groupe Selection Mixed Use Residential Apartment Building & Seniors Care
287
$57
(4 structures; 15 storeys; 402 units) 1357 Baseline Rd
Réseau Sélection/SmartCentres REIT Inc
Etobicoke
Engineering/Civil
Richview Pumping Station and Reservoir Rehabilitation and Standby Power Installation
*
$49
(2 structures) 551 Martin Grove Rd
City of Toronto
Georgetown
Engineering/Civil
Trafalgar Road (Regional Road 3) Widening and South Georgetown Servicing Watermain in the Town of Halton Hills
*
47
(3 structures) Trafalgar Rd
Halton Region
Alberta
Bassano
Engineering/Civil
Jenner Wind Power Projects
*
$600
(1 structure) Township Rd 212
Potentia Renewables Inc
Edmonton
Institutional
RFP Construction Manager – Dentistry Pharmacy Building Fit-Out
*
$49
(1 structure) 116 St 84 Ave
University of Alberta
British Columbia
Richmond
Commercial
Capstan Station on SkyTrain Canada Line
*
$52
(2 structures) Capstan Way & No 3 Rd
TransLink
TOTALS:
1,055
$1,254
*A square footage measure does not apply for alteration and engineering work.
Data source and table: ConstructConnect – CanaData.
Trend lines of construction starts in Canada – September 2021
Moving totals of the latest 12 months*
(ConstructConnect Insight Forecast Figures)
*For example, the September 2021 figure is the sum of the monthly numbers for October 2020 through September 2021.
Data source and chart: ConstructConnect Insight – CanaData.
---
Interactive Visual
---
View this video to see how to use the filters in the Interactive Visual.
---
---
Please click on the following links to download the PDF versions of this month's Top 10 and Trend Lines:
Top 10 largest construction project starts in Canada – September 2021 – PDF
Construction Project Starts Trend Graph – Canada – September 2021 – PDF
---