+199,000 Net Jobs Gain in U.S.
The increase in the total number of jobs in the U.S. between the two finishing months of 2021, November and December, according to the latest Employment Situation report from the Bureau of Labor Statistics (BLS), was +199,000.
The U.S. jobs recovery ratio (or 'clawback' ratio) with respect to the huge drop in employment that occurred between February and April 2020, is now 84.0%.
U.S. total employment is -2.3% compared with its level in February 2020, which was the last 'normal' month before the dire health consequences tied to the coronavirus began kicking the stuffing out of the economy.
The sector adding the most net new jobs in December was 'leisure and hospitality', +53,000, with 'food services and drinking places' taking on staff to the tune of +43,000. This sector's likely to see quite a reversal in January, due to the flare up in COVID cases resulting from the Omicron variant.
The December net jobs increases in manufacturing and construction were about the same, +26,000 and +22,000. The not seasonally adjusted (NSA) unemployment rate in manufacturing, however, at 2.8%, has become tighter than in construction, 5.0%.
Construction's NSA U rate has moved higher to 5.0% in December from 4.7% in November, but it has downshifted from 9.6% in December 2020.
Construction's +22,000 month-to-month gain in jobs in the latest reporting month originated about half and half with heavy engineering contractors and nonresidential specialty trade contractors.
The national seasonally adjusted (SA) unemployment rate improved to 3.9%, not much above this century's 3.5% low point recorded in three months between September 2019 and February 2020.
The NSA national unemployment rate fell to just 3.7% in December, down from 3.9% in November. The lowest the NSA U rate has fallen this century was to 3.3% in four months between April and November 2019.
Total U.S. employment is presently +4.5% year over year, led by 'leisure and hospitality', +19.5%, and 'transportation and warehousing', +6.6%. The latter is in response to an urgent need to break up the logistical logjam that has been causing extreme supply chain shortages. 
Hiring by the manufacturing sector is +2.9% y/y and by the construction sector, +2.2% y/y.
Year-over-year compensation rates stayed around +5.0% to +6.0% in December, with construction workers doing a little bit better. 'All jobs' earnings (including supervisory personnel) were +4.7% y/y both hourly and weekly. The construction labor force, as a subset of 'all jobs', realized roughly the same compensation gains, +4.6% hourly and +4.9% weekly.
Leaving out bosses, the 'all jobs' earnings hikes were +5.8% y/y both hourly and weekly. For construction workers, setting aside bosses, the paycheck increases were +5.3% hourly and +6.1% weekly.
Canada Adds +55,000 Jobs
North of the border, December's Labour Force Survey results issued by Statistics Canada speak of a +55,000 increase in total jobs. That's a year-over-year gain of +4.8%.
Manufacturing's net jobs figure in December was +10,000. Construction did better at +27,000. In November, Canadian housing starts soared into the stratosphere once again, climbing slightly above 300,000 units seasonally adjusted and annualized (SAAR).
(Prior to 2021, 300,000 units SAAR for housing starts was a far distant target. But it was beaten in January, March and November of last year.)
Analysts will be delighted by the breakdown of Canada's +55,000 gain in total employment, since more desirable full-time jobs rose by +122,000, while part-time work retreated by -67,000. The 'more desirable' descriptor has been used with respect to the good of the whole economy, because full-time jobs are usually higher-paying and more stable.
December notwithstanding, Canadian part-time jobs are now +6.0% y/y, beating the performance of full-time jobs, +4.5% y/y.
Quebec is the province with the lowest SA unemployment rate, 4.6%. Not far behind are Manitoba, 5.2%; British Columbia, 5.3%; and Saskatchewan, 5.4%. The SA U rates for Ontario and Alberta are 6.0% and 7.3% respectively.
Ontario's jobs creation efforts, though, should not be undervalued. It has provided only a little less than half of Canada's total increase in employment over the past 12 months.
Graph 1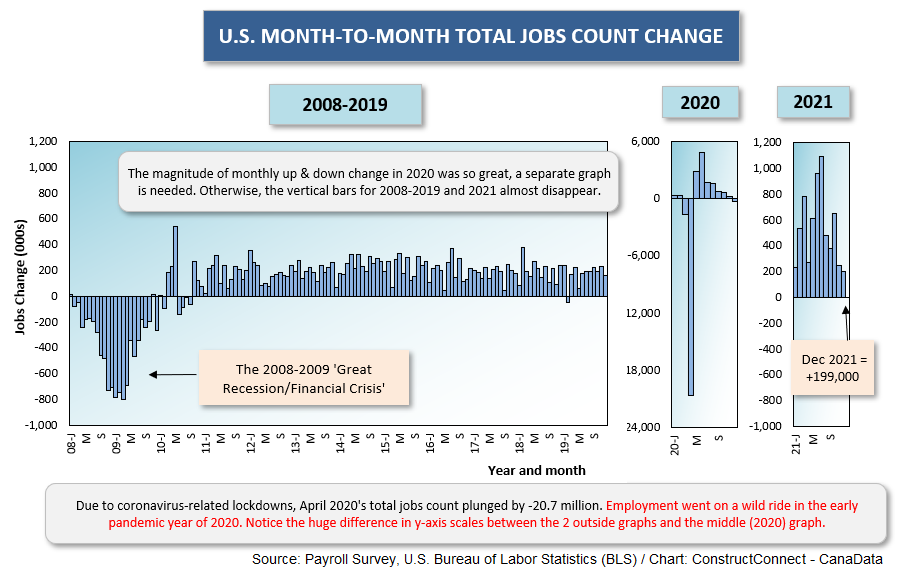 Graph 2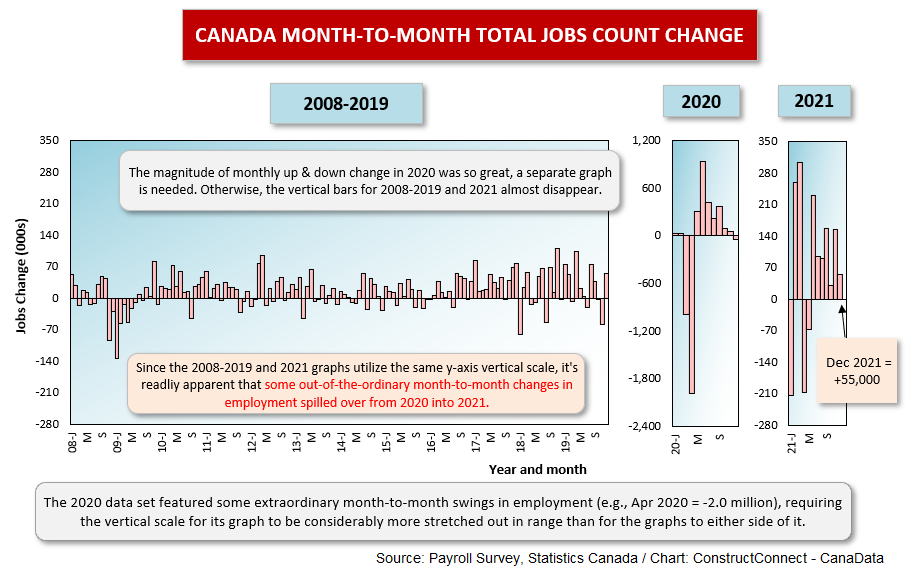 ---
Alex Carrick is Chief Economist for ConstructConnect. He has delivered presentations throughout North America on the U.S., Canadian and world construction outlooks. Mr. Carrick has been with the company since 1985. Links to his numerous articles are featured on Twitter @ConstructConnx, which has 50,000 followers.