September's Employment Situation report from the Bureau of Labor Statistics (BLS) says that the total number of jobs in the U.S. economy rose by +263,000 last month. The gain in employment of a quarter of a million jobs was the weakest showing among all the months of this year so far, but it was still a pretty decent number. It's not the sort of figure one would expect if the economy were becoming mired in a recession. That may still happen, but it isn't necessarily here yet.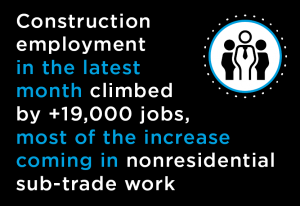 Furthermore, the headline unemployment rate (i.e., the seasonally adjusted or SA rate) dropped back to about as low as it ever goes in the latest month, receding to 3.5% in September from 3.7% in August. In September of last year, the SA U rate was 4.7%.
The not seasonally adjusted (NSA) unemployment rate is now only 3.3%. In August, it had been 3.8%, and in September 2021, 4.6%.
The two sectors providing the biggest gains in staffing in the latest month were 'education and health services', +90,000 jobs, and 'leisure and hospitality', +83,000 jobs.
Two-thirds of the 'education and health services' employment increase was in health care (+60,000 jobs), with the hiring of hospital workers heating up. In the hospitality sector, 'food services and drinking places' (i.e., bars and restaurants) were responsible for most of the hiring (+60,000 jobs).
U.S. manufacturing employment in September rose by +22,000 jobs. The SA unemployment rate in the sector now sits at only 2.8%.
Construction employment in the latest month climbed by +19,000 jobs, most of the increase coming in nonresidential sub-trade work (+11,000). Construction's SA U rate is presently 3.4%, lower than August's 3.9% and down by more than a percentage point from September 2021's 4.5%.
The monthly average increase in construction employment through the first three quarters of the current year has been +19,000 jobs, more than doubling the pace of last year's Jan-Sept average pickup of +8,000.
Wage increases, especially for production and non-supervisory personnel (i.e., excluding bosses) are continuing to set a torrid pace. The 'all jobs' hourly earnings increase year over year in September was +5.8%, with construction workers as a subset doing even better, +6.7%. Weekly earnings y/y weren't quite as frothy, +4.8% for 'all jobs' and +4.4% for construction.
One reason for thinking that the total jobs number in September might not be as upbeat as it eventually proved to be (+263,000) is that the 'openings' figure from August's JOLTS report fell the most since the initial stage of the pandemic.
What readers will find most interesting, though, is that while many sectors experienced substantial declines in 'openings' in August, construction swam against the tide. It saw a nice uptick in number of positions becoming available (see Cluster Chart 1).  
From the Job Openings and Labor Turnover Survey (JOLTS), the openings-to-hires ratio indexed over time (with July 2009's value set equal to 100.0) yields an easy-to-assess visual representation of how acute the worker shortage has become in each sector.
Graphs 1 to 5 establish that while the openings-to-hires discrepancy has become severe for several sectors, construction is pretty much in a league of its own for distress on this count.
Cluster Chart 1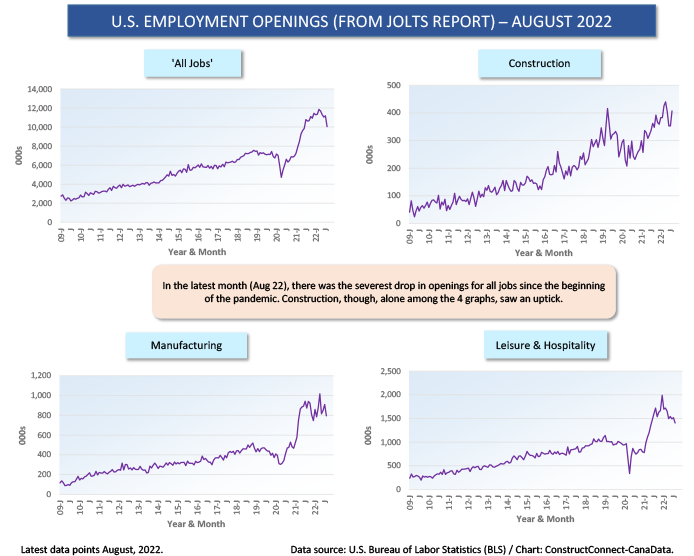 Graph 1
Graph 2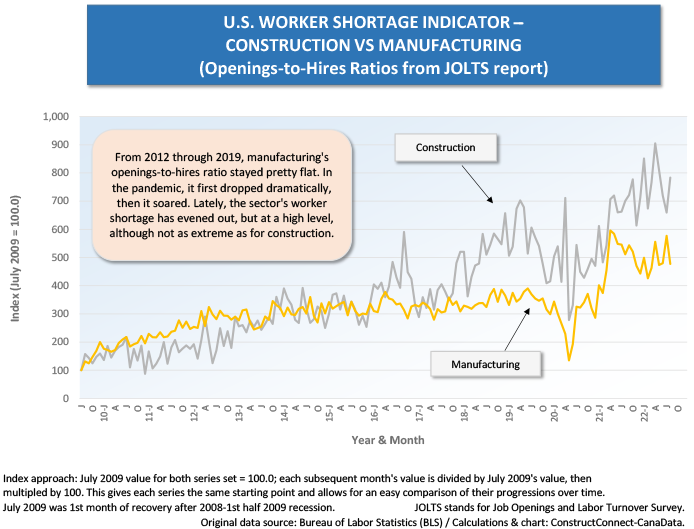 Graph 3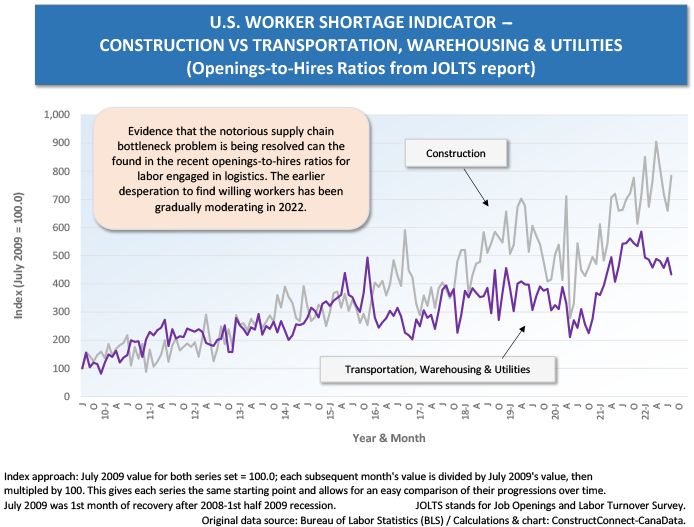 Graph 4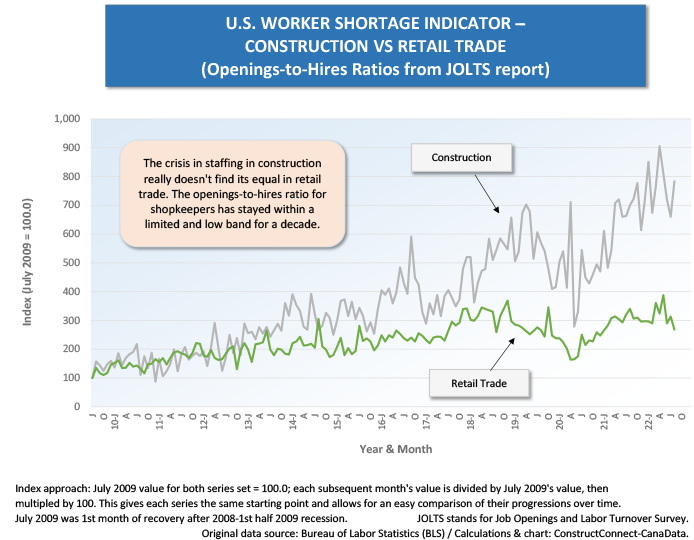 Graph 5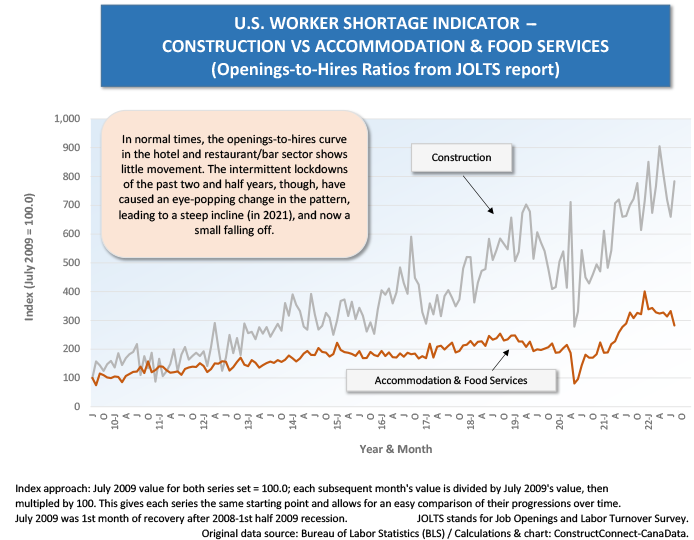 ---
Alex Carrick is Chief Economist for ConstructConnect. He has delivered presentations throughout North America on the U.S., Canadian and world construction outlooks. Mr. Carrick has been with the company since 1985. Links to his numerous articles are featured on Twitter @ConstructConnx, which has 50,000 followers.