Consumer spending, housing and exports fueled 2021 growth
New Brunswick's economic engine picked up speed in 2021 after being sideswiped by Covid-19 in early 2020. Three key expenditure components were responsible for the improved performance. First, the combination of a rebound in job growth and rising confidence supported a pickup in retail sales, which rose by +13% in 2021 after a Covid-depressed gain of just +1% in 2020. Major contributors to the improvement in 2021 included motor vehicles (+36%), home furnishing (+56%), and building materials and garden equipment (+39%).
Second, fuelled by near record-low interest rates, an unprecedented inflow of international and interprovincial migrants, and the above-noted healthier level of employment, sales of existing homes in the province rose by +22% in 2021 following a gain of +14% in 2020. As a result, existing house prices jumped on average by +25% from $176,000 in 2020 to $195,000 in 2021. This was more than twice the +11% increase that occurred during the previous year. The combination of strong demand and rising prices gave a solid boost to housing starts. Following a gain of +15% in 2020, new home starts in N.B. in 2021 rose by +30.2% to reach 3,800 units, a ten-year high.
The third key contributor to New Brunswick's stronger economic performance in 2021 was an exceptionally large (+43% y/y) surge in the province's export sales, almost all of which (95.5%) were shipped to the United States. Across commodities, light oil and petroleum products accounted for 68% of the gain, followed by lobsters and seafood (18%), and lumber (7.4%).
Record net migration and good capital spending help drive NB in 2022
 Heading into 2022 and faced with a spike in cases of Covid-19, the New Brunswick government imposed a two-week lockdown that put a damper on consumer spending and small business confidence, as reflected in the Business Barometer of the CFIB (Canadian Federation of Independent Business).
While the brief lockdown cooled spending and business confidence, it had no impact on migration into the province. Following a net gain of 4,441 individuals in the first quarter of 2021, the province welcomed an unprecedented 9,700 migrants in the second quarter; 5,400 were from outside Canada and 4,400 moved in from other provinces (also a record).
Consistent with the strong pattern of net migration over the past year, apartment vacancy rates in the province hit a 30-year low of 1.7% at the end of 2021 (the most recent data available). Fuelled by this strong pattern of demand, apartment starts are up by +60% year to date.
After a modest post-COVID-19 gain of +1.4% in 2021, planned public and private non-residential capital spending in New Brunswick is projected to increase by +7.2% in 2022, according to Statistics Canada. This positive view for capital spending is consistent with the Atlantic Provinces Economic Council (APEC)'s 2022 investment outlook. It reports a 20% increase in major project investments to a ten-year high of $2.7 billion. APEC attributes the strength to increased investment in electricity, transportation, housing, and public infrastructure. Specific projects include the Burchill Wind Energy Project, repairs to the TransAlta Wind Farm, and the Atlantic Science Enterprise Centre.
Factors applying the brakes on NB's growth in 2023
What are the key factors likely to affect New Brunswick's economic health during the remainder of this year and well into 2023?  First, slower growth, and a possible recession, in the United States, the market for 95% of N.B.'s exports, are likely to exert a significant drag during the next 12 to 18 months.
Second, as noted in Snapshot #18 titled Inflation that Persists Raises Risk of Deeper Longer Recession, rising interest rates will cause consumer spending and existing home sales to trend lower.
Third, high job vacancy rates in construction may cause firms to slow work on existing projects, plus postpone some new initiatives. Assuming the Bank of Canada can bring headline inflation back to its +2% y/y target by mid- to late-2023, there will be an easing of interest rates that will give a boost to both consumer and investor confidence. This will spark interest-rate-sensitive spending on big-ticket consumer goods and on housing midway through 2024.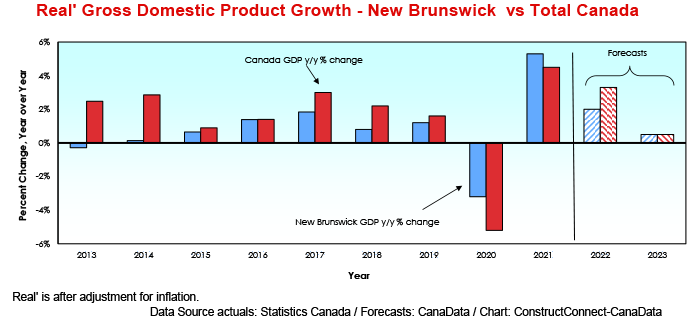 ---
John Clinkard has over 35 years' experience as an economist in international, national and regional research and analysis with leading financial institutions and media outlets in Canada.