The accompanying table records the 10 largest construction project starts in Canada in October 2022. Also included is the latest trend graph on starts. This looks at 12-month moving totals of the civil and non-residential building categories in Canada.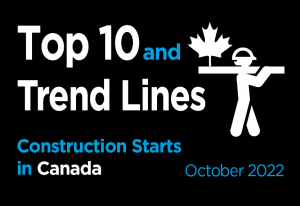 There are several reasons for highlighting upcoming large projects. Such jobs have often received a fair amount of media coverage. Therefore, people in the industry are on the lookout for when job-site work actually gets underway. And, as showcase projects, they highlight geographically where major construction projects are proceeding.
Also, total construction activity is comprised of many small and medium-sized projects and a limited number of large developments. But the largest projects, simply by their nature, can dramatically affect total dollar and square footage volumes. In other words, the timing and size of these projects have an exaggerated influence on market forecasts.
Top 10 construction projects of the month – October 2022
REGION
(East to
West)
TYPE OF
CONSTRUCTION
DESCRIPTION

Sq. Ft.
000s

Dollars
000,000s

Newfoundland & Labrador
 
 
 
 
Millertown
Civil/Engineering
Valentine Gold Project
* 
$305
 
 
(1 structure)
 
 
 
 
Marathon Gold Corporation
 
 
 
 
 
 
 
Québec
 
 
 
 
Laval
Civil/Engineering
D/B Laval Aquatic Complex
150
$125
 
 
(3 structures; 3 storeys; 500 units) ave Terry-Fox
 
 
 
 
Vill de Laval, Commission Scolaire Sir-Wilfrid-Laurier, Mouvement Aquatique Laval
 
 
 
 
 
 
 
Ontario
 
 
 
 
Etobicoke
Commercial
Eglinton Crosstown West Extension (ECWE) – Line 5
*
$604
 
 
(2 structures) Multiple Locations
 
 
 
 
Metrolinx, Infrastructure Ontario
 
 
 
 
 
 
 
Grimsby
Institutional
RFP D/B – Design Build Finance – West Lincoln Memorial Hospital Redevelopment Project
* 
$200
 
 
(1 structure; 5 storeys) 169 Main St E
 
 
 
 
Hamilton Health Sciences, Infrastructure Ontario
 
 
 
 
 
 
 
Scarborough
Residential
Birchley Park Condominium, Retail Building Mixed Use Development
650 
$120
 
 
(4 structures; 6 storeys; 1052 units) 411 Victoria Park Ave
 
 
 
 
Habitat For Humanity/Diamond Kilmer Developments
 
 
 
 
 
 
 
Brampton
Institutional
Jeevan Niwas Retirement Village / Brampton
127 
$80
 
 
(4 structures; 12 storeys; 156 units) 9664 Goreway Dr
 
 
 
 
Jeevan Niwas Retirement Village/Chacon Developments
 
 
 
 
 
 
 
Manitoba
 
 
 
 
Neepawa
Institutional
Neepawa Health Centre
180 
$127
 
 
(2 structures; 3 storeys; 63 units) 500 Hospital St
 
 
 
 
Winnipeg Regional Health Authority, Shared Health Corporated Office
 
 
 
 
 
 
 
Alberta
 
 
 
 
Edmonton
Industrial
Air Products New Hydrogen Complex
*
$1,300
 
 
(1 structure) 13130 25 St NE
 
 
 
 
Air Products Canada Ltd
 
 
 
 
 
 
 
Cold Lake
Industrial
Imperial Oil – Cold Lake Enhancement Project – Grand Rapids Reservoir
* 
$450
 
 
(1 structure)
 
 
 
 
Imperial Oil Ltd
 
 
 
 
 
 
 
Aldersyde
Civil/Engineering
Saddlebrook Solar + Storage Project
* 
$146
 
 
(2 structures) AB-2A & Township Rd 200
 
 
 
 
TC Energy
 
 
 
 
 
 
 
TOTALS:
 
 
1,107
$3,457
*A square footage measure does not apply for alteration and engineering work.
Data source and table: ConstructConnect – CanaData.
Trend lines of construction starts in Canada – October 2022
Moving totals of the latest 12 months*
(ConstructConnect Insight Forecast Figures)

*For example, the October 2022 figure is the sum of the monthly numbers for September 2021 through October 2022.
Data source and chart: ConstructConnect Insight – CanaData.
---
Interactive Visual
---
View this video to see how to use the filters in the Interactive Visual.
---
Please click on the following links to download the PDF versions of this month's Top 10 and Trend Lines:
Top 10 largest construction project starts in Canada – October 2022 – PDF
Construction Project Starts Trend Graph – Canada – October 2022 – PDF