The Vancouver Island Construction Association (VICA) is aiming to get ahead of the opioid crisis gripping British Columbia.
The association is running workshops and promoting awareness of the opioid addiction epidemic affecting citizens across Vancouver Island, including the friends and family of construction workers.
"It's our response to the social crisis of the opioid epidemic that's plaguing the province," said VICA CEO Rory Kulmala. "We have a similar demographic in our workforce to those at risk, so it's an opportunity for education and awareness."
Recent studies by Fraser Health indicated men aged 19 to 55, and particularly those in the trades, are at a higher risk of opioid addiction and of overdoses.
"Through us, workers will have a platform to get an education on how the opioid crisis came to be, who is affected and how it could affect them," Kulmala said. "Males aged 19 to 55 are a hard to reach demographic, and to some degree, we have a captive audience."
Dr. Paul Hasselback of Island Health agreed on the difficulty of reaching men in the most at-risk demographic.
"From a communications perspective, they're the toughest group to reach. It's already an uphill battle to get a message to them," Hasselback said.
"Men are not great at seeking out help and care."
Participating construction sites will also be equipped with naloxone, a medication to combat opioid overdoses, though Kulmala added he doesn't know of any cases of an overdose happening on a construction site.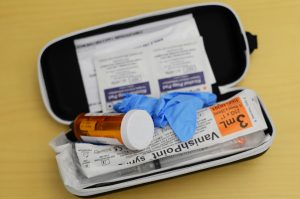 "The majority of overdose deaths are after hours in private residences," he said. "We see it as a social issue affecting the community which we are a part of.
"We know there's a focus on construction, but we're not overrun by opioids. But we can't be blind to the social issue."
He cited workers on downtown Victoria sites, where there is a greater incidence of at-risk individuals in the surrounding community, as one example of the importance of industry awareness of the opioid crisis.
VICA has already hosted two workshops in Nanaimo and two in Victoria, with plans to hold more workshops on a monthly basis.
"We're the first association to do this in B.C.," Kulmala stated, "and Island Health wants to use this model for other industries."
"We've established a strong foundation with the construction industry and we'll continue to partner with them," said Hasselback.
"Because of where we're situated, we're starting initial conversations with the forestry sector and we're also looking at oil and gas and similar occupations with this demographic."
Hasselback also stated worksite drug testing is not a solution to the crisis.
"This is not about drug testing, or kicking people out of the workplace. Meaningful employment is a key component of avoiding dependency," he said.
The current crisis began in 2013, Hasselback explained, when fentanyl was incorporated into the supply of heroin circulating in the province. Nanaimo saw its first increase in overdose deaths in 2013. By the end of 2015, the pace of overdoses accelerated. On April 14, 2016, B.C. provincial health officer Dr. Perry Kendall declared the opioid crisis a public health emergency.
"It (fentanyl) was introduced because it's cheaper and easier to smuggle into the region as it's from southeast Asia. Heroin poppies primarily came from central Asia," Hasselback said. "It started as a small percentage of overdose deaths and now it's 85 to 90 per cent."