Eugene Ng, MNP's cyber security leader for eastern Canada, spoke to the Vancouver Regional Construction Association's Construction Leadership Forum in Whistler, B.C on May 5.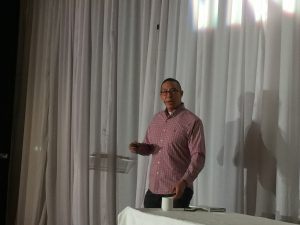 Ng's talk, "Cyber Security: are you hackable or crackable?" spoke about how warranty fraud is an emerging threat vector, as is theft of Starbucks gift card accounts, along with Netflix and Spotify. He also spoke to the dangers of the Dark Web, an "un-google-able" section of the internet where illicit activity occurs.
Cyber security is difficult, and said that everyone thinks cyber security is a business enabler with leadership coming from the top. Then people get comfortable, and now businesses are stuck in the "disillusionment" stage.
There is a term in the cyber security industry called "security fatigue," where users are tired of constantly updating for what they regard as trivial data.
Most cybercrimes are committed by well-funded crime syndicates, despite the outdated hacker image of some kid in a basement.
The reason for the "upper case, lower case, digits and a special character" combo is that it makes it much more difficult but not impossible to crack someone's password.
Malware: don't take attachments you don't know, because malicious code will burrow deep into your computer and infect the network.
Biometrics on an iPhone can be circumvented with a jello mold
Public wifi is something you should be very careful while using. When travelling outside North America, be careful of hotel network connections.
Two step authentication is available on all social networks; enter your phone number and you have an extra level of security.
You never get anything for free
Understand that cyber risk comes from many vectors
Fight through security fatigue
Use a "passphrase"
Turn on 2 step authentication
Below are select tweets from the session using the #CLF2018 hashtag. 
Session – Cyber Security: Are You Hackable or Uncrackable? #CLF2018 pic.twitter.com/gzDBHHosuW

— VRCA (@VanConstruction) May 5, 2018
Up next Cyber Security. Very important issue we all must be aware of. @VanConstruction #clf2018

— BCCSA (@BCCSABeSafe) May 5, 2018
Eugene Ng reveals his security experiment at this years #clf2018 pic.twitter.com/21mmVWciZW

— VRCA (@VanConstruction) May 5, 2018
Thank you to Eugene Ng from @MNP_LLP for a great session! #CLF2018

— VRCA (@VanConstruction) May 5, 2018