Results Canada CEO Tim O'Connor gave the final session at the Vancouver Regional Construction Association's Construction Leadership Forum in Whistler, B.C. on May 5.
O'Connor said 87 per cent of employees in the world are disengaged, which results in $500 billion in lost productivity in the U.S. alone.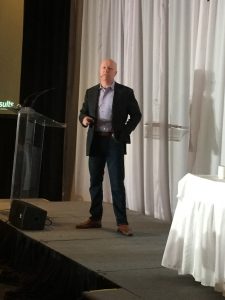 With high employee engagement, "the spiral can go the other way," O'Connor said, allowing organizations to grow and become more profitable.  
What gets less attention is how important leadership is to employee engagement. It's a key factor, he said.
"People don't leave their companies, they leave their manager," O'Connor said.
There is a direct relationship between the skills of leaders relative to employee engagement."That's why leadership matters," O'Connor said.
The purpose of leadership is to "get people moving. Leaders energize and mobilize people towards a desired outcome."
What do people look for in their leaders?
The top things looked for are honesty, forward looking attitude, competence and inspiration
These results have stayed the same from 1987 to 2017
Five behaviors of leadership:
Model the way
Inspire a grand vision
Challenge the process
Enable others to act
Encourage the heart
Model the way:
finding your voice and affirming shared values
hew to your core values
Inspire a shared vision:
Define the exciting and noble future state
Martin Luther King Jr said "I have a dream" not "I have a strategic plan"
60 per cent of their employees don't know their company's vision
"We have to do a better job of communicating our core purpose," O'Connor said.
Challenge the process:
Search for opportunities for innovative ways to improve
Experiment and take risks by finding small wins and learning from them.
By some estimates, collaboration can boost corporate performance by 36 per cent
"innovation is here now, and we need to create an environment where it's ok to experiment," O'Connor said.
Enable others to Act:
Foster collaboration by building trust and facilitating relationships
Also strengthening others by increasing autonomy and developing skills
Above the line behavior is taking steps to accountability, and below the line behavior is "the blame game"
You get what you tolerate: If you tolerate low performance, that's what you'll get.
Encourage the heart: Employees want to be appreciated
Final thoughts:
"The fish rots from the head down" – the way leaders behave each and every day cascades through the organization
The most important leadership tool…is a mirror.