Construction industry stakeholders who attended a recent conference on Community Benefits Agreements (CBAs) in British Columbia gained an international perspective on the contentious topic.
The Building for the Future: Maximizing Community Benefits Agreements conference took place in downtown Vancouver on Jan. 25. The Community Benefits Agreements in Action panel brought several U.S. CBA experts together in a discussion of how the process worked for their large-scale projects.
Mark Hovatter, the director of facilities contracts for the Los Angeles Unified School District, explained how Los Angeles used CBAs to address a swelling student population that the current building inventory couldn't handle.
"In L.A. you don't build anything without tearing anything down but we managed to build new schools without getting rid of old schools and undertook a modernization project on those older schools," Hovatter said.
The initiative was a $28 billion bond funded construction program and it was all done under a project labour agreement (PLA), he said.
Hovatter said the agreement was used "to ensure labour harmony on our jobsites and provide a uniform labour relations framework for the various trades and unions during our construction program."
He added the school building project highlighted several of what he termed "myths" about project labour agreements, including that they limit open competition.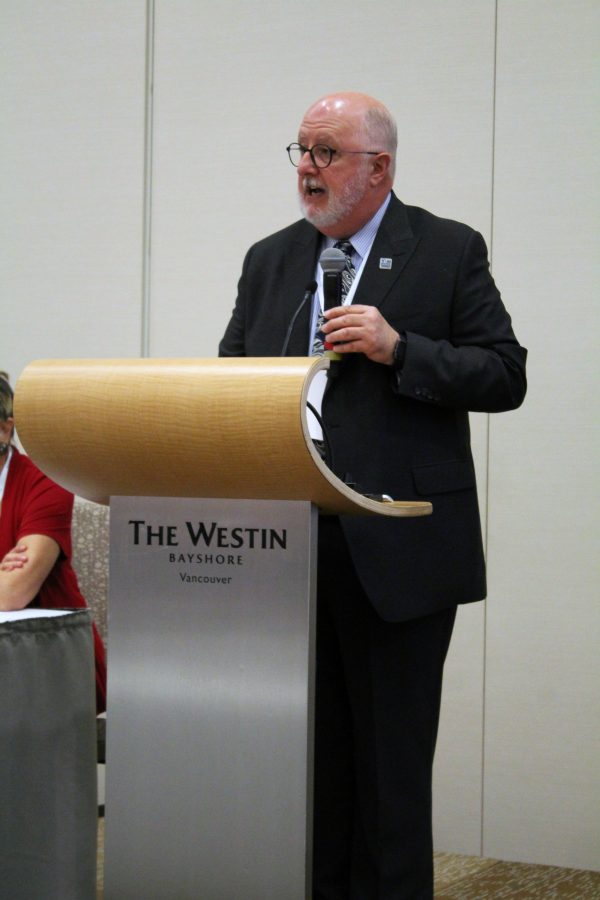 "One half of our repeat contractors are non-union, and they work successfully under the PLA," Hovatter said.
Other myths, Hovatter said, include that PLAs are incompatible with small business programs and that they increase the cost of labour.
"If you're a small business in our program, you don't have to worry about where your labour is coming from," he said, and added the PLA requires employers to hew to State of California prevailing wages.
"It's expensive, but that has nothing to do with our PLA. All contractors are required to pay only the prevailing state wage."
Under California Labor Code (section 1774), contractors are required to pay specific wage rates on public works projects, based on geographic location and the type of work performed.
City of Seattle labour equity program manager Anna Pavlik said the city used a community workforce agreement to create "equitable access to and retention of construction careers" for people living in economically distressed ZIP codes.
"Since we started, we've doubled the number of hours, doubled the share of hours from women from five to 10 per cent, and apprentices of colour went from 32 per cent to 48 per cent," Pavlik said.
"$20 million in wages have been earned on City of Seattle projects, and open shop subcontractors are also working on projects."
Pavlik pointed to Seattle's building of a hockey arena for a soon-to-arrive NHL team as an example of a successful initiative.
"The city owns the site and was able to cover it with their priority hire project, investing $2.8 million in recruitment, training and services," Pavlik said.
Sound Transit is the transit system for Seattle and surrounding areas, and project labour agreement deputy director Mark Wheeler said PLAs were adopted to "ensure work proceeds continuously, efficiently and economically."
"Previously we had 45 grievances, and today we have zero," he said.
Wheeler also said protections of labour standards, wages and working conditions are a key priority and that 40 per cent of the participants in the agreement are non-union.
"It's very important we stay on top of apprentice utilization, because we have to build and train a skilled workforce," Wheeler said. "We need to make sure we have the workforce so we can deliver on the projects going on in the Seattle King County area."
Labour relations professional Mark Johnson has worked on CBA projects in the U.S. and Canada and said CBAs serve a dual purpose.
"It's a risk management tool, in that it monitors labour, standardizes project components and avoids labour disruptions. But it's also a tool to promote public policy," he said, citing the need to open employment opportunities for women, Indigenous workers and others who have not been able to access the construction workforce in large numbers.
BC Building Trades executive director Tom Sigurdson was one of the conference organizers and said the purpose of the conference was to push aside the rhetoric "on all sides, and some of that rhetoric I would describe as misinformed."
"We wanted to try to bring in people from other parts of North America who have worked under CBAs and PLAs to show how these agreements will work in our jurisdiction," Sigurdson added.
British Columbia Minister of Transportation and Infrastructure Claire Trevena said the CBAs in B.C. will ensure people working on projects can be trained through projects.
"We are all very aware of the skills shortage in this province. What we want to do is ensure that skill shortage is addressed, and that there is the opportunity for a cross-section of people to work on projects that the government is funding."
Not everyone in the B.C. construction industry supports the agreement.
"The NDP's current infrastructure framework is a complete fiasco. It is unconstitutional in that it tramples on workers' basic rights to freedom of association, and it needlessly wastes public tax dollars. It's time the B.C. gov't scrapped this cynical backroom deal and came up with a model that benefits all British Columbians," said Progressive Contractors Association of Canada (PCA) president Paul de Jong in a statement to the Journal of Commerce.  
De Jong also said while building trades unions represent 15 per cent of the province's construction workforce, "they now determine which workers can access future public projects. This effectively creates a labour monopoly that ultimately drives up the cost of public infrastructure projects."
"We've been very clear that any company can bid on a project and that when people work on a CBA project it is a union project," Trevena said. "Just like any place where there is a union workforce, people will be expected to be part of the union, but it is open for any contractor to bid that is operating in B.C. if they're eligible."