Ashley Duncan has accomplished a lot at 29.
In an industry that has struggled to increase the number of women workers, Duncan has climbed the ranks. The Coquitlam, B.C. native currently works in Vancouver as vice-president of the International Association of Heat and Frost Insulators and Allied Workers Local 118 — the Insulators' first female VP in Canada.
Her career path started back in high school when many of her friends were preparing to go to university.
"I grew up taking a lot of shop classes, so I had an idea that I wanted to go into the trades, I just didn't know what trade," said Duncan, who was serving in a restaurant after graduating.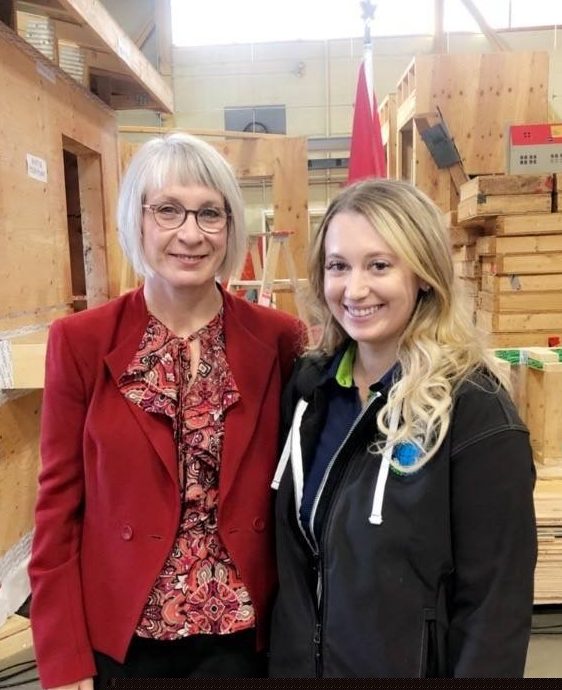 Her father, a plumber, was working alongside pipe insulators who mentioned they were looking to hire apprentices and he told Duncan to give it a shot.
"I started within a week or two and at first I didn't really know what it was," she said.  "Once I actually started doing it, I realized it was really niche and detail-oriented work."
Duncan completed her four-year apprenticeship to earn her Red Seal Journeyperson Insulator certification that included practical training and four weeks of theory and schooling each year at the BC Institute of Technology.
After years of working on jobsites, one of her training mentors, journeyperson Bob Barter, began to encourage her to get more involved in the union by representing it at various events.
"Bob Barter was the recording secretary for our local union, and he asked me several times to come out and participate in a couple of the tradeshows he was doing," said Duncan. "I finally gave in and thought, 'I'll give this a try.' I went, I got to talk to young people about the work I love to do and I really enjoyed it."
Duncan began attending trade shows, conventions and union meetings where she learned about programs like Build Together, a workforce development program focused on the recruitment and retention of workers from underrepresented portions of the population. After serving as secretary treasurer for the Build Together chapter in B.C., she was elected co-chair.
As vice-president of the Insulators' Local 118, Duncan is responsible for developing a women's committee, young workers committee and retirees committee, which involve recruitment and internal organizing. She is also tasked with co-ordinating the Insulators' sustainability campaign. Duncan explained she is passionate about the campaign, as mechanical insulation offers a way to save energy, reduce greenhouse gases and shrink one's carbon footprint.
According to the BC Insulators, if all of B.C.'s buildings with deficiencies were retrofitted, annual energy use in the province would be reduced by 280 Gwh. This is equivalent to $9.7 million in savings and a reduction of 50,000 tonnes of CO2.
Duncan is also passionate about supporting other women in the trades.
"When I was coming up, a lot of trades were not presented as a career option for women," said Duncan.
While she hasn't had any extreme cases of discrimination, Duncan noted a jobsite can be intimidating and uncomfortable for many women.
"You can get guys coming up to you saying you would look prettier if you smiled, not always having a clean washroom, really basic things, it can be kind of irritating," Duncan said.
In her new role she has also noticed that in many meetings and events she isn't assumed to be in a role of leadership because she is a woman.
"There is so much underlying sexism, but it is slowly changing," said Duncan. "But I definitely think it would shift the culture a lot if we had more women in leadership roles."
Duncan said the industry and groups like the BC Centre for Women in the Trades and Build Together are making big strides to support women in the trades, especially with grants. In her case, a huge part of success was mentorship from the union.
"I wouldn't have ended up where I am without my union's support," said Duncan.  "Every union is going to be different, but they have been amazing, very supportive. I've been very lucky to be surrounded by a lot of allies."
Duncan urged other women to consider a trades career and take the plunge.