Vancouver, B.C. – The mortgage stress test and other government policies are hurting the homebuilding industry, a crucial part of the B.C. economy, residential construction experts say.
According to Neil Moody, CEO of the Canadian Homebuilders' Association of B.C., the latest data released by Statistics Canada and the Canada Mortgage and Housing Corporation (CMHC) show growth may be slowing.
"If we go back to 2015 there were 137,000 jobs reported," said Moody. "In 2016 that went up to 158,000 and then it jumped again in 2017. But this past spring there was not as large a jump. It was much more moderate."
The data released for 2018 shows approximately 207,000 residential construction jobs for B.C., a less than 4 per cent increase from 2017 which showed a little more than 199,000 jobs. The data for 2018 also showed $12.6 billion in wages and $28.3 billion in built investment value. Some cities, like Kelowna, Nanaimo and Surrey, saw year-over-year dips in their residential construction jobs numbers.
The data tracks estimated economic impacts of residential activity for the previous year based on Statistics Canada and CMHC data. They include investment, direct and indirect employment, and wages paid. The scope of construction activities addressed includes new dwellings of all types, including both primary residences and cottages; renovation, conversion and repair of existing dwellings; and conversion of non-residential buildings to residential use.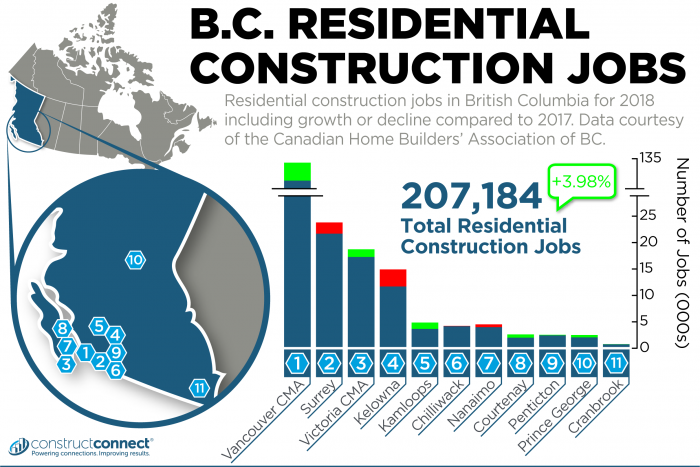 "A lot of discussion gets back to the mortgage stress test," said Moody. "We have been pushing hard along with others for changes in the mortgage stress test. For first time homebuyers, they have the key to unlocking homeownership. With that comes economic growth."
Moody said this has been compounded by B.C.'s speculation tax and amortization issues which have cooled housing demand and weakened consumer confidence.
With the federal election looming, Moody says the association has been in touch with local politicians and its members.
"They are very aware of the negative effects this is having," he said. "There are still people moving because of affordability issues. The key is that is in all parts of the province, residential construction is important to the health of the economy."
Moody said he looks forward to seeing what the data for 2019 will and that it will depend on what moves government makes to get more first-time homebuyers within reach of the market. 
"We don't like to see trades looking for work," he said. "There have been so many years that we have been so busy that there haven't been gaps, so when we see trades looking for jobs that's discomforting. When builders and developers stop building because of costs they are not hiring trades."