The Vancouver Regional Construction Association (VRCA) has cancelled the 2020 Awards of Excellence in response to the COVID-19 pandemic, but all of this year's nominees will still have a chance to shine…twice.
"We decided to stop the process as soon as Phase 2 was announced (in British Columbia) in May because we understood the safety protocols involved would have to be followed for some time," VRCA president Fiona Famulak explained.
Phase 2 of B.C.'s Restart Plan requested that people avoid non-essential travel, stick close to home and placed restrictions on the amount of people who could gather publicly. Although those restrictions have since been lightened, gatherings of more than 50 people are not allowed as of late August.
"Physical distancing and gathering would be in place for some time, and we knew at that point we couldn't bring 700 people to the Vancouver Convention Centre in October," she said. "Rather than delay the decision we cancelled the 2020 awards and set to work to see how we would recognize the nominees from this year."
At the end of the nomination process there were 152 nominations spanning 41 projects and "we wanted to complete that process so we could roll everything into 2021," she said.
In order to accommodate all the nominees from this year, both the 2020 and 2021 nominees will be celebrated together, Famulak said.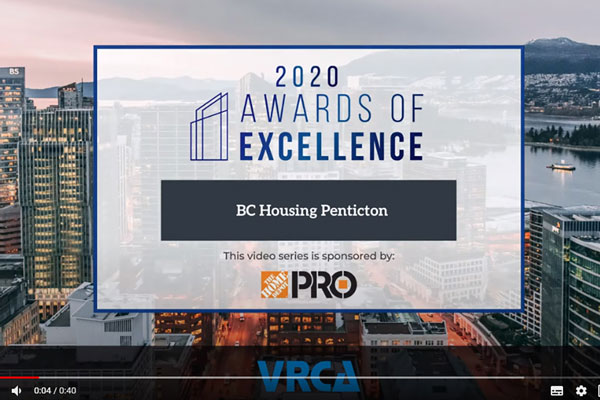 "We haven't decided yet, but the assumption at this point is to have one big event. In years past we've had 200 to 300 nominations, so it would just be a very large competition. We'd roll out the judging process as we normally do, identifying silver and gold as normal and then recognize them on the night," Famulak said.
In the meantime, every single nominee will be recognized online through a variety of channels.
"We started the process five weeks ago. We're showcasing each of the 152 nominees via 90-second video clips, first in our e-newsletter The Connector and then online," Famulak said.
Each video highlights the project name, the owner, the architectural firm and all companies nominated along with a description of the project.
"It's very similar to what you would see at the gala and we're profiling three projects a week culminating on Oct. 23 when the gala would have taken place," she said.
Famulak said the construction industry has responded well to the shift.
"The industry was very understanding and has done an excellent job itself of implementing enhanced safety protocols since the pandemic was declared. It's their due diligence that's prevented outbreaks onsite," she said.
The change to highlight every nominee was also received positively.
"In terms of the nominations being profiled with videos, each of the nominees have been delighted as it's a nice surprise since nominees aren't usually profiled unless they're silver or gold winners. It's something we may continue in future years," she said.
To view the profiled nominees, go to the VRCA's Awards of Excellence nominated projects page or the VRCA's Youtube channel.
The following is a list of the nominated projects:
BCIT Canada Way Electrical
BC Housing Penticton
Empire Landmark Hotel Demolition
BZAM Management
Blink Media Office
First West Credit Union
Fraser Valley Cancer Centre 4&5 Renovation
G3 Terminal Vancouver
Implementation of Photovoltaic Systems
International Trade Centre
Lickman Interchange Design-Build
Maple Ridge Leisure Centre Upgrades
Industrial Alliance Financial Head Office
Air Canada L4 Signature Lounge
Joyce-Collingwood Skytrain Centre
Molson and Coors Brewery Peak Project
Grosvenor Ambleside Phase 1
RCMP E-Division HQ Building D
Subzero Cold Logistics
Vancouver Court House – Main Electrical Service Renewal
Nanaimo Airport – Terminal Expansion Phase One
Peoples Group Tenant Improvement
Harbour Centre – Chiller Replacement
Laurel Street Works Yard: Yard Building
North Surrey Sport and Ice Complex
Open Out Cry Restaurant and Bar
Open Road Toyota-Richmond
Penticton Regional Hospital Phase 1
Phantom Creek Estates Winery
E. Mountain Secondary School
Semiahmoo Shopping Centre – Former Zellers Retro-Fit and Storefront Renovation
Simon Fraser University Goldcorp
Paul's Hospital – Cooling Tower and Chiller 2 Replacement
Stanton Territorial Hospital
Swiss Water Coffee Roaster
The Shipyards – Capilano University
TransLink Bike Parkades
Undergraduate Life Science Teaching Labs Renewal – Biological Sciences Building Project
VGH EP Lab Renovation
WeWork
Willingdon Linear Park Project