VANCOUVER — The Vancouver Regional Construction Association (VRCA) has announced the 2020 and 2021 Awards of Excellence Silver winners. The year's awards combines the last two years due to the COVID-related cancellation of the 2020 event.
A total of 237 entries including 89 projects exceeded $3.5 billion in construction value. For 2020, 43 Silver Award winners were selected in 15 project categories with 92 entries from 36 projects with a total value of over $713 million. For 2021, 50 Silver Award winners were selected in 16 project categories, including 145 entries from 53 projects with a total value of over $2.8 billion.
"Judging the Awards of Excellence this year was an extraordinary experience.  The pandemic brought endless challenges, affecting people and their livelihood, creating an unstable economy and causing the cost of materials to soar. Despite these challenges, our industry prevailed and delivered many remarkable projects," VRCA Awards of Excellence committee chair Bob Proctor said in a statement.
"On behalf of the Association, it is my honour to recognize those in our industry who are going above and beyond for our community. These individuals and companies are passionate leaders committed to making a difference," VRCA president Donna Grant added.
The project award categories recognize general, trade, mechanical and electrical contractors along with manufacturers and suppliers who delivered all or part of a project over the past three years. Criteria for judgment includes financial benchmarks, use of innovative techniques, challenges and resolutions, safety records and exceptional project management.
While the majority of the projects nominated are in the Lower Mainland, entries were also received for projects from Clinton, Fort St. John, Oliver, Kitimat, Midway, Nanaimo, Penticton, Sydney, Victoria and Yellowknife.
The VRCA will also present the Environment and Sustainability Award, Heritage Award, Innovation Award, and Judges Award, along with Outstanding Achievement and a Life Membership.
All Silver Award winners will be recognized at the Awards of Excellence Gala on Oct. 19, which will be held in-person at the Vancouver Convention Centre West. Gold Award winners in their respective category will be selected from Silver Award winners and will be announced at the gala.
Tickets for the gala are available on the VRCA website.
A list of all Silver Awards winners is below:
2020 Awards of Excellence Silver Winners
General Contractors ‐ Tenant Improvement
Chandos Construction Ltd. – Maple Ridge Leisure Centre Upgrades
Chandos Construction Ltd. – Fraser Valley Cancer Centre 4 & 5 Renovation
Graham Construction and Engineering LP – Air Canada L4 Signature Lounge
General Contractors ‐ Up to $20 Million
B.A. Blacktop Ltd. – Lickman Interchange Design‐Build
EllisDon Corporation – BC Housing Penticton
RAM Construction Inc. – Subzero Cold Logistics
General Contractors ‐ $20 Million to $50 Million
Graham Construction and Engineering LP – Joyce‐Collingwood SkyTrain Station
Lark Projects Ltd. – North Surrey Sport and Ice Complex
Stuart Olson Construction Ltd. – R.E. Mountain Secondary School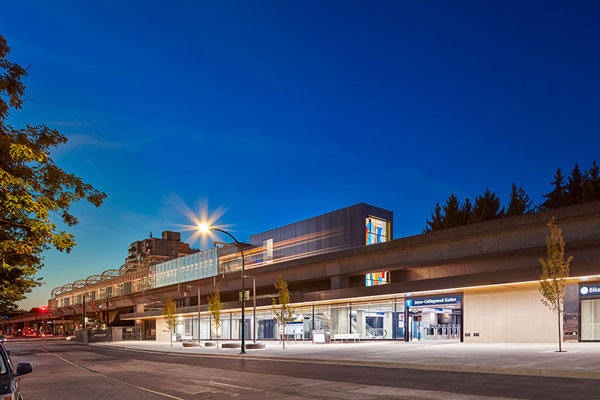 General Contractors ‐ Over $50 Million
EllisDon Corporation – Penticton Regional Hospital Ph 1
Scott Construction Management Ltd. – International Trade Centre
Scott Construction Management Ltd. – Undergraduate Life Science Teaching Labs Renewal – Biological Sciences Building Project
Trade Contractors ‐ Up to $1 Million
Crosstown Metal Industries Ltd. – Air Canada L4 Signature Lounge
Evergreen Demolition – Joyce‐Collingwood SkyTrain Station
Swisslog – Penticton Regional Hospital Ph 1
Trade Contractors ‐ $1 Million to $2 Million
Flynn Canada Ltd. – Semiahmoo Shopping Centre ‐ Former Zellers Retrofit and Storefront Renovation
Gisborne Industrial Construction Ltd. – Stanton Territorial Hospital
Impact Ironworks Ltd. – Semiahmoo Shopping Centre ‐ Former Zellers Retrofit and Storefront Renovation
Trade Contractors ‐ $2 Million to $4 Million
Jack Cewe Construction Ltd. – Joyce‐Collingwood SkyTrain Station
Thermo‐Design Insulation – North Surrey Sport and Ice Complex
Whitemud Ironworks Limited – R.E. Mountain Secondary School
Trade Contractors – Over $4 Million
Flynn Canada Ltd. – First West Credit Union
Gisborne Industrial Construction Ltd. – G3 Terminal Vancouver West Gate Project
StructureCraft Builders Inc. – North Surrey Sport and Ice Complex
Mechanical Contractors ‐ Up to $3 Million
Combined Mechanical Contractors Ltd. – BC Housing Penticton
Core Mechanical Ltd. – Air Canada L4 Signature Lounge
Fred Welsh Ltd. – Semiahmoo Shopping Centre ‐ Former Zellers Retrofit and Storefront Renovation
Mechanical Contractors ‐ $3 Million to $9 Million
Black & McDonald Limited – Harbour Centre ‐ Chiller Replacement
Black & McDonald Limited – St. Paul's Hospital ‐ Cooling Tower and Chiller 2 Replacement
Quadra Mechanical Ltd – North Surrey Sport and Ice Complex
Mechanical Contractors ‐ Over $9 Million
Omega Mechanical Ltd. & Broadway HVAC – Undergraduate Life Science Teaching Labs Renewal – Biological Sciences Building Project
Pitt Meadows Plumbing & Mechanical Systems (2001) Ltd. – Penticton Regional Hospital Care Tower
Electrical Contractors ‐ Up to $2 Million
Black & McDonald Limited – Laurel Street Works Yard: Yard Building
Houle Electric Limited – Nanaimo Airport – Terminal Expansion Phase One
Western Pacific Enterprises Ltd. – BCIT Canada Way Electrical Replacement Project
Electrical Contractors ‐ $2 Million to $8 Million
Houle Electric Limited – BZAM Management ‐ Midway Security Design
Keldon Electric Ltd. – Phantom Creek Estates Winery
Western Pacific Enterprises Ltd. – Swiss Water Coffee Roaster
Electrical Contractors ‐ Over $8 Million
Bridge Electric Corp. – Undergraduate Life Science Teaching Labs Renewal – Biological Sciences Building Project
Western Pacific Enterprises Ltd. – Molson and Coors Brewery Peak Project
Manufacturers and Suppliers
JK Thermal – Subzero Cold Logistics
Kay‐Son Steel Fabricators – TransLink Bike Parkades
View Inc. – International Trade Centre
2021 Awards of Excellence Silver Winners
General Contractors ‐ Tenant Improvement
ETRO Construction Limited – Irish Consulate
Graham Construction and Engineering LP – YVR Remote Stand Operations Transborder Terminal Facility
Jacob Bros. Construction Inc. – East Broadway Building Upgrades and Tenant Improvements
Omicron Architecture Engineering Construction Ltd. – First West Credit Union ‐ Penticton
General Contractors ‐ Up to $20 Million
Naikoon Contracting Ltd. – PH 1
QM Environmental – KEL,SET (Reay) Creek Pond Remediation
Vancouver Pile Driving Ltd. – SeaBus Maintenance Dock Expansion
General Contractors ‐ $20 Million to $50 Million
EllisDon Corporation – Clayton Community Centre
Graham Construction and Engineering LP – Coordinated Skytrain Station Upgrades Project (Expo Line)
Ledcor Construction Limited – SFU Plaza Renewal Phase 2 CM/TC
General Contractors ‐ Over $50 Million
Graham Infrastructure LP a Joint Venture with Aecom Canada Ltd. – McLoughlin Point Wastewater Treatment Plant
Peter Kiewit Sons ULC – G3 Terminal Vancouver West Gate Project
Peter Kiewit Sons ULC – Fraser River Big Bar Landslide Remediation
Trade Contractors ‐ Up to $1 Million
Gallagher Bros. Contractors – Irish Consulate
Tatras Contracting Group Ltd. – Granville Bridge Rehabilitation
Whitemud Ironworks Limited – YVR Remote Stand Operations Transborder Terminal Facility
Trade Contractors ‐ $1 Million to $2 Million
Blackcomb Glass Ltd. – Clayton Community Centre
Gallagher Bros. Contractors – Brentwood Town Centre ‐ Food Court Tenant Improvements
RMT Contracting Ltd – Pier D Expansion ‐ Phase 1
Trade Contractors ‐ $2 Million to $4 Million
Flynn Canada Ltd. – BC Children's & BC Women's Hospital + Health Centre Redevelopment Project Phase 3
Gisborne Industrial Construction Ltd. – Vancouver House
JJM Construction Ltd. – McMillan Dock Removal, Glover Road
M&L Painting Ltd. – Saputo ‐ Project Big
Trade Contractors ‐ $4 Million to $10 Million
Apex Granite & Tile Inc. – SFU Plaza Renewal Phase 2 CM/TC
Keith Panel Systems Co. Ltd. – Brentwood Town Centre Phase 1
Pacific Blasting & Demolition Ltd – Viterra Pacific Terminal PAC3 Demolition
Trade Contractors ‐ Over $10 Million
Flynn Canada Ltd. – Pier D Expansion ‐ Phase 1
LMS Limited Partnership – Vancouver House
Vancouver Pile Driving Ltd. – Centerm Expansion Project ‐ Caissons and Ground Improvement
Mechanical Contractors ‐ Up to $3 Million
Davidson Bros. Mechanical Contractors – YVR Remote Stand Operations Transborder Terminal Facility
Eagle Ridge Mechanical Contracting Ltd. – Qualico New Office Building & Warehouse
Trotter & Morton Building Technologies – North Shore Wastewater Treatment Plant ‐ Conveyance Plant
Mechanical Contractors ‐ $3 Million to $9 Million
Black & McDonald Limited – Clayton Community Centre
Division 15 Mechanical Ltd. – New Westminster Secondary School
Modern Niagara Vancouver Inc. – Surrey Courthouse M&E Upgrade
Mechanical Contractors ‐ Over $9 Million
Division 15 Mechanical Ltd. – Lions Gate Hospital Power Plant Replacement
Modern Niagara Vancouver Inc. – BC Children's & BC Women's Hospital + Health Centre Redevelopment Project
Pitt Meadows Plumbing & Mechanical Systems (2001) Ltd. – Abbotsford Law Courts
Electrical Contractors ‐ Up to $2 Million
Mott Electric General Partnership – Brentwood Town Centre ‐ Food Court Tenant Improvements
Status Electrical Corp. – Eagle Ridge Hospital ED Expansion
Western Pacific Enterprises Ltd. – Emergency Generator Replacement Surrey Pre‐Trial Service Center (Old Build)
Electrical Contractors ‐ $2 Million to $8 Million
Bridge Electric Corp. – Richmond Industrial Centre Building 3
Houle Electric Limited – Clayton Community Centre
Western Pacific Enterprises Ltd. – Delta Hospital Electrical Upgrade
Electrical Contractors ‐ Over $8 Million
Bridge Electric Corp. – Simon Fraser University (SFU) Student Residences Phase I
Houle Electric Limited – VGH Operating Room Renewal Project – Fitout, Roofworks and Chiller
Western Pacific Enterprises Ltd. – McLoughlin Point Wastewater Treatment Plant
Manufacturers and Suppliers
FraserWood Industries Ltd. – Pier D Expansion ‐ Phase 1
Megatech Engineering Ltd. – G3 Terminal Vancouver West Gate Project
Western Archrib – Clayton Community Centre