Women in Construction (WIC) Week is an opportunity to amplify women's voices and show appreciation for one another and all they do to make construction better, says a representative with the National Association of Women in Construction (NAWIC).
WIC Week runs until March 12 and NAWIC and their members are celebrating with a number of events at the national, regional and local levels both virtually and in-person.
The theme this year is Envision Equity, with a focus on raising awareness about the wide range of opportunities and roles available for women including tradeswomen, project managers, administrative positions and business ownership.
"As we know they (women) make up a very small population in the construction industry, so we really want to be able to amplify their voices and raise awareness that women are here, they are a valuable asset to every single construction company, they bring so many great skills," stated Makenzie Plusnick, communications manager with NAWIC. "It's important that construction companies are aware…of the importance of adding women to their team."
NAWIC, headquartered in Fort Worth, Texas will be hosting a DE&I (diversity, equity and inclusion) panel in collaboration with Puget Sound today (March 7) at 11 a.m.
"You're going to hear from women in all sectors of the construction industry and really get a good feel on why DE&I is so important for the industry," Plusnick noted.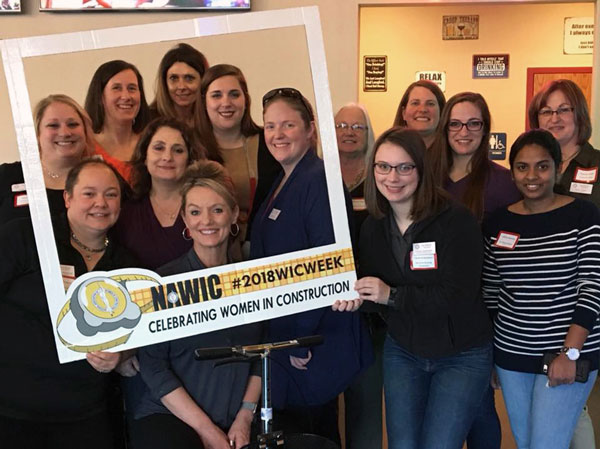 Other events and activities will be happening across the country throughout the week. Events include presentations, jobsite tours, luncheons and virtual events that are open to everyone.
"If you go on our WIC site through nawic.org we have a ton of chapter events happening all over the U.S.," said Plusnick. "There are hundreds of events happening throughout the week both virtually and in person so people are able to find events put on by chapters if they want to attend in person or they can attend an event across the country virtually. We'll continue to add events throughout the week."
WIC Week is a great opportunity to learn about and celebrate the contributions of women in the industry.
"It's a great way to extend your appreciation and expand your knowledge on the topic of women in construction," said Plusnick.
"For companies, it's a really great way to recognize your women employees and it's also a really great way of educating your employees on 'hey, women are here and we need to be treating them equitably and fairly.' "
In 2021, women made up 11 per cent of the construction industry in the U.S.
"That's such a small fraction of the industry as a whole," Plusnick pointed out, adding it's also important to bring to the forefront the challenges that women face. "The educational aspect is so important because they are still being catcalled, there is still sexism, there are still unfair wages, there are still so many things that need progress, that need to be fixed."
WIC week was started by NAWIC in 1998.
NAWIC itself was started in 1953 as the Women in Construction of Fort Worth, Texas. In 1955 it gained its national charter and became the National Association of Women in Construction and since then has continued to grow and expand.
"We are just shy of 5,000 members," said Plusnick. "We have 118 chapters currently across the United States and five global affiliates all over the world. All these chapters are providing support networks, they're providing networking opportunities, they are providing education and professional development events to their members."
The Canadian Association of Women in Construction will be hosting its Winter Social on March 8, International Women's Day, from 6 to 8 p.m. Members and non-members are invited to attend the virtual event which will include networking, raffle prizes, speeches, awards and recognitions.
Reema Zuberi, area manager for Thyssen Mining, will be the guest speaker for the event. She will discuss breaking down barriers as a woman in construction.
For more on the event visit https://cawic.ca/events/#!event/2022/3/8/cawic-2022-winter-social.
For more information on NAWIC visit www.nawic.org.
Follow the author on Twitter @DCN_Angela.