Retrofits are becoming increasingly important to lowering emissions, but according to a trio of British Columbia decarbonization experts there isn't a one-size-fits-all solution.
Three retrofitting experts weighed in at the Vancouver Regional Construction Association's 2022 Construction Leadership Forum, the first in-person event since the pandemic began.
The session, titled The Retrofit Wave: Are You Ready?, featured British Columbia Institute of Technology Zero Energy/Emission Buildings Learning Centre manager Alexandre Hebert and curriculum manager Mary McWilliam along with RDH Building Science Inc. principal and construction specialist James Bourget.
Hebert said 28 per cent of CO2 emissions come from building operations and 11 per cent from building materials.
"What's new isn't retrofits. It's aiming for net-zero and adapting to future climate conditions."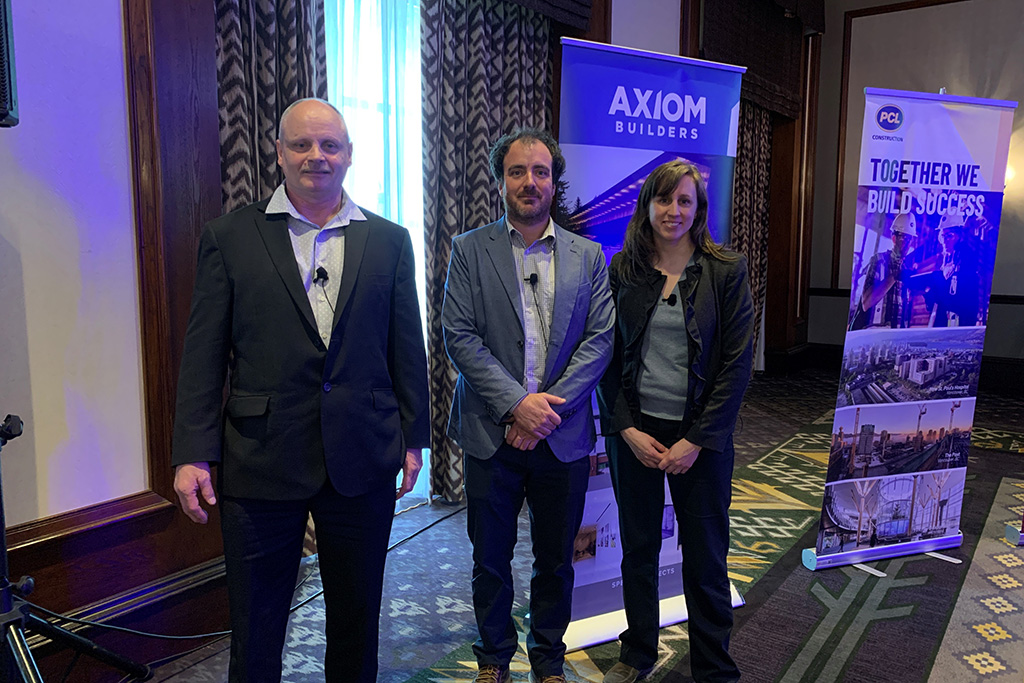 He added he sees an obsession for using the smallest amount of carbon possible, but it's actually more important to concentrate on efficiency.
"If you want to create large-scale electricity (without carbon) other than using reservoirs, you have to use nuclear, or be efficient with what we have," Hebert said.
He pointed out government policy is changing at all levels, with the federal government planning for net-zero ready by 2030 and net-zero CO2 emissions by 2050.
British Columbia's CleanBC initiative is aiming for 40 per cent less CO2 by 2030 as well as a net-zero energy ready BC Building Code by 2032. The City of Vancouver pushing for greenhouse gas limits by 2026, energy limits by 2040 and a 50 per cent GHG reduction by 2030.
McWilliam cited several examples of retrofit solutions where older buildings became significantly more efficient after retrofitting, including the Ken Soble Tower, a social housing highrise in Hamilton, Ont.
The building envelope of the 146-unit tower was renewed and cooling was installed, resulting in a 94 per cent reduction in GHG emissions and 75 per cent reduction in total energy use, she said.
"The building achieved a Passive House standard," McWilliam said.
She also pointed to the renewal of the Guinness Tower in downtown Vancouver as a longer-term, affordable retrofit. Built in 1968, the project included 10 years of sequenced upgrades of heating, cooling, ventilation and lighting, along with updating controls and sub-metering and elevator modernization with regenerative drives.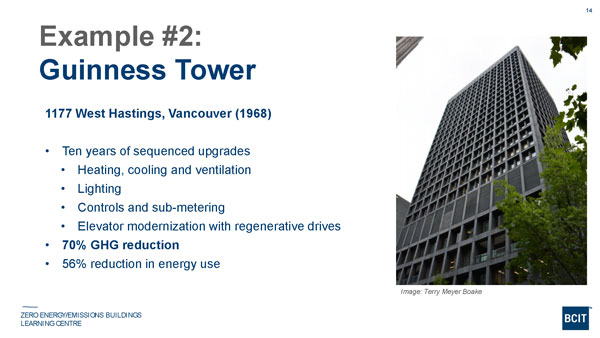 "There are lots of ways to decarbonize," she said.
Bourget struck a more pessimistic note.
"We're not going to reach our targets. How did you feel last year?" he said, referring to the heat dome over the Lower Mainland which sent temperatures skyrocketing in the summer of 2021.
He said in order to push change owners will need incentivization beyond government regulations.
"It's a challenge every time to get an owner group to decide to retrofit a building," Bourget said. "The only way people will move forward is incentives because the common response is 'what's my payback?'"
Bourget recommended future trades training efforts focus less on specialization and more on the entire project.
"Training the trades is one thing, but why train trades on a single discipline? Use a holistic approach to make membranes better. Just understand the responsibilities of other participants," he said.
Bourget echoed McWilliam's point that retrofits can happen in stages.
"You can have a phase approach. You don't have to do it all at once," he said. "There are many pathways to achieve an end result."
Decarbonization through retrofits can be financially viable and attractive, Bourget added, "but there are many rivers, not just carbon reduction."
Follow the author on Twitter @JOCFrey.