Industry leaders say BuildForce Canada's report on construction and labour in British Columbia provides an optimistic view as the industry emerges from a peak and the pressure eases off slightly.
"It paints a hopeful picture that, even though we're expecting 20 per cent of the current labour force to leave the industry or to retire by 2032, we have an optimism that younger people and some of the equity deserving populations are going to be able to fill that void," said British Columbia Construction Association president, Chris Atchison.
Last week, BuildForce Canada released its 2023–2032 Construction and Maintenance Looking Forward report for British Columbia. According to the report, there are multiple factors exacerbating labour shortages.
One of those is an increased section of the labour force retiring. On top of that, there are fewer young people entering, with BuildForce writing the cohort of people aged 15 to 24 set to enter the workforce will have decreased from 13 per cent in 2012 to 11 per cent by 2032.
But the report shows labour challenges are expected to ease over the next decade with several important factors leading the charge.
One is through the currently expanded immigration targets for the province and Canada in general. But the private sector also needs to keep up the pace.
In one sense, we're hearing about an economic recession and on the other hand we're experiencing this need to build more homes,
— Rory Kulmala
Vancouver Island Construction Association
"Recruit, recruit, recruit," said Brynn Bourke, executive director of the BC Building Trades.
"We've been throwing the doors open to a whole bunch of new entrants and looking for new groups to connect with. The next generation of construction workers is not going to look like the last generation."
Bourke said the industry needs to focus on making itself accessible and welcoming for equity groups like women, Indigenous people and new Canadians who have not traditionally made up the lion's share of the construction workforce.
Bourke said improving things like personal protective equipment and sanitation on worksites doesn't just make a career in construction more attractive for diverse groups but is essential in retaining new people who foray into the industry.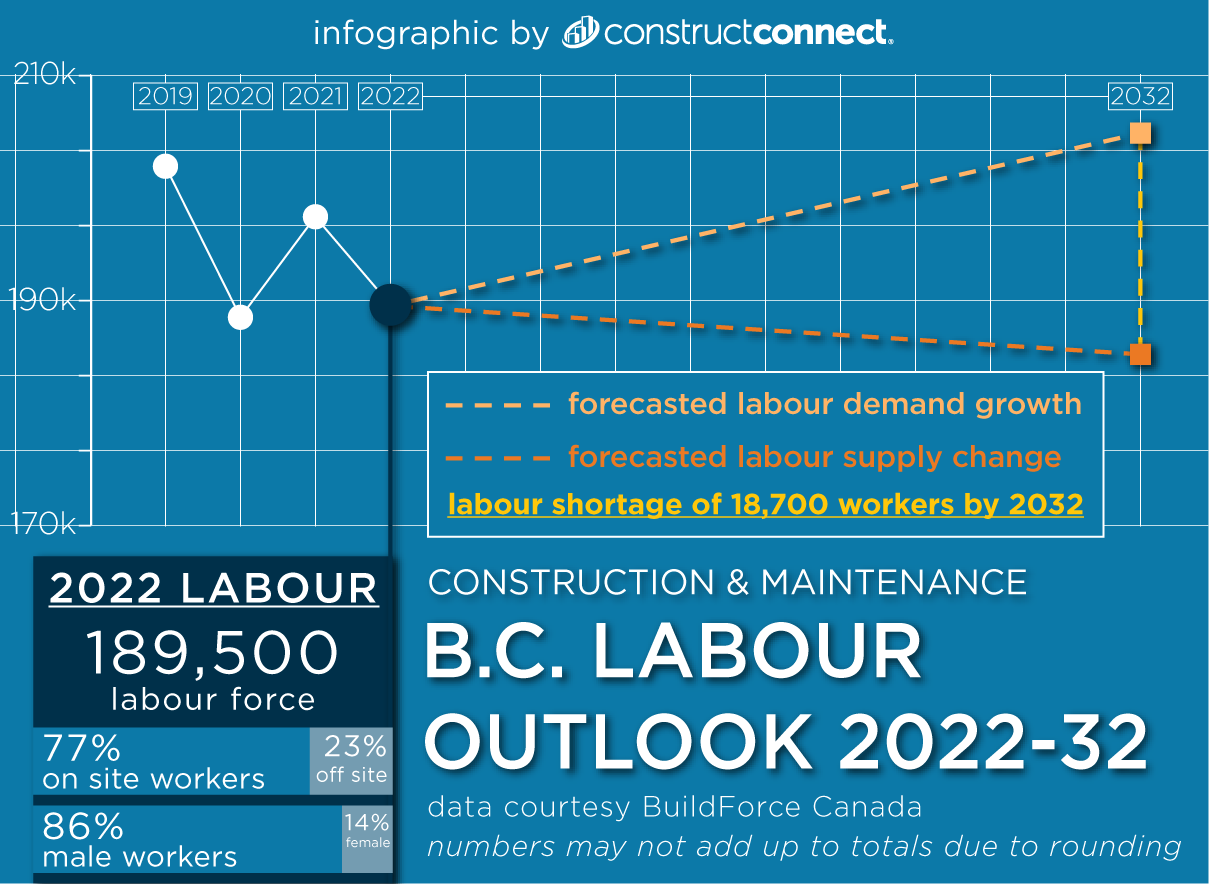 When it comes to retention, Rory Kulmala, chief executive officer of the Vancouver Island Construction Association (VICA), highlighted the need to prioritize employee mental health and the fight against the toxic drug crisis.
"We need all hands on deck to keep them healthy. It's one thing to look at what we are going to need in the future but we have a workforce that we've got to take care of right now," Kulmala, who also runs VICA's Tailgate Toolkit Program, said.
"That is really what's creating the resiliency in our market: a healthy, capable workforce," he said.
Bourke and Atchison both said raising the level of prestige and respectability associated with a career in construction also needs to be an industry priority.
BuildForce also shows the industry as currently emerging from a construction peak, something Bourke said has been predicted for several years.
"The big news is we're in the peak and we have been working through a period of very, very high industrial activity in the province for the last three/four years and we have felt that," said Bourke.
The end of the peak is largely driven by the end of large industrial projects like the Site C Dam.
One of the benefits of leaving an extended period of high activity is that it creates some breathing room for action on labour issues.
But Atchison said the industry has been under such high demand in the past few years that leaving the current peak means the industry is going from overwhelmingly busy to just plain old busy.
"Everyone that can be working is working. So, if anything, this is just sort of taking a little bit of pressure off, but it's still basically full employment out there and people are busy," Atchison said.
"Whether or not it's just not as high pressure as it was in in 2021 and 2022, we're still seeing that people are busy enough to have good livelihoods."
Kulmala said the report illuminated the important dichotomy between residential and industrial building.
"In one sense, we're hearing about an economic recession and on the other hand we're experiencing this need to build more homes," said Kulmala.
Kulmala and Atchison said multi-family home building will be an important driver for the industry over the next decade.
Vancouver Island and the Lower Mainland's lack of new space for building means densification in the form of apartment buildings and condominiums will become more important. As that density is increased, the need for accommodating infrastructure also increases, meaning the multi-family residential growth will have a direct impact on industrial and infrastructure construction.
"Multi-res is really going gangbusters, not just in Vancouver, not just in Victoria, but all throughout Vancouver Island," said Kulmala.
"We're seeing a rethink of investment in our public spaces whether it's malls, whether it's shopping, whether it's our health care system. We've got a big hospital on Vancouver Island in Duncan that's underway. Those are reacting to population growth and the need for bigger and better services."
Kulmala also said increased housing will drive down housing prices, making it easier for B.C. to attract workers and further address labour concerns.