VANCOUVER – The Vancouver Regional Construction Association (VRCA) has announced the 2023 Awards of Excellence Silver Award winners, with a total of 107 entries including 79 projects that in total exceed $2.8 billion in construction value.
Forty-three Silver Ward winners were selected in 15 product categories and featured industrial, commercial, institutional, multi-family residential and special projects.
"Congratulations to this year's Silver Award winners. I've been a fierce competitor in past awards, and I have seen firsthand the pride and excitement participants have when presenting their projects to the judges. Celebrating construction by annually recognizing these achievements and this passion is important to our industry and those who work in it," VRCA president Jeannine Martin said.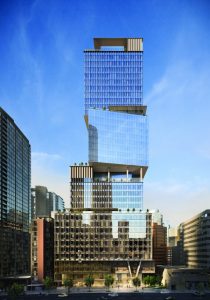 Most of the nominated projects are in the Lower Mainland but some projects included multiple locations. Entries were also received by VRCA member companies in Bowen Island, Oliver, Powell River and Prince George and submissions included include hospital redevelopment and expansions, transit upgrades, public space and park projects, infrastructure enhancements and tenant improvements. 
"VRCA members offered up many difficult, complex, and impressive projects to the awards of excellence judging panel in 2023.  Determining the winners was particularly challenging this year.  The determination of the VRCA members in meeting and exceeding our clients' expectations was evident in every category.  Congratulations to all entrants and to the silver award winners," VRCA Awards of Excellence Committee chair Bob Proctor added.
Registration is now open for the awards of excellence Gala on Oct. 17, where gold award winners will be announced.
A full list of silver award winners is below.
General Contractors – Tenant Improvement – Up to $10 Million
Canadian Turner Construction Company Ltd. – Trulioo M2 Tenant Improvement
PCL Constructors Westcoast Inc. Richmond Olympic Oval – Legacy Lounge Improvement Project
Upward Construction – Alka Pools
General Contractors – Tenant Improvement – Over $10 Million
PCL Constructors Westcoast Inc. – Apple Pacific Centre
Novacom Building Partners Ltd. – Zymeworks Office and Laboratory
Smith Bros. & Wilson (B.C.) Ltd. – Expo Line Escalator Replacement Civil Works
General Contractors – Up to $20 Million
Graham Infrastructure LP – Capilano Substation Upgrade Project
Haebler Construction Projects Inc. – Yaletown Square
Vancouver Pile Driving Ltd. – English Bay Barge
General Contractors – $20 Million to $50 Million
PCL Constructors Westcoast Inc. – Fibreco Silos Repair & Replacement
Peak Construction Ltd. – UBC BCR 8 Evolve
Lark Projects Ltd. In Joint Venture with ICT – Imagining Communities Together – 150 West 4th
General Contractors – Over $50 Million
Fraser River Pile and Dredge plus partners Jacob Brothers and Dragados Canada – Centerm Expansion Project and South Shore Access Project
Ledcor Construction Limited – The Stack
Ledcor Group of Companies – Highway 91/17 Upgrade Project
Trade Contractors – Up to $2 Million
Raicor Contracting Ltd – Apple Pacific Centre
RTI Industrial Ltd. – Gateway Casino Cascades Delta
Sterling Floor & Tile Ltd. – Stemcell Technologies – Advanced Bioreagents Manufacturing Facility
Trade Contractors – $2 Million to $4 Million
Division 2 Contracting Ltd. – District of West Vancouver Municipal Hall Renewal
Flynn Canada Ltd. – Vancouver Center II
Scorpio Masonry BC Inc. – Apple Pacific Centre
Trade Contractors – Over $4 Million
Matcon Underground Utilities Ltd. – Riverbend Business Park – Building 5
Phoenix Glass Inc – The Post
Phoenix Glass Inc – The Workshop
Mechanical Contractors – Up to $1 Million
Modern Niagara Vancouver Inc – Atlas Power TI
Pacific Flo Mechanical – Trulioo M2 Tenant Improvement
Total Energy Systems Ltd – Smithe & Richards Downtown Park
Mechanical Contractors – $1 Million to $5 Million
Black & McDonald Limited – Lions Gate Hospital – High Acuity Unit Renovation
Black & McDonald Limited – MSJ GHG Reduction Project – Phase 3
Modern Niagara Vancouver Inc – VanRX Pharmasystems Inc
Mechanical Contractors – Over $5 Million
Division 15 Mechanical Ltd. – Riverbend Business Park – Building 5
Division 15 Mechanical Ltd. – Vancouver Centre II
True Constructable Solutions Ltd. (True Mechanical) – TRIUMF – The Institute for Advanced Medical Isotopes (IAMI)
Electrical Contractors – Up to $2 Million
Houle Electric Ltd. – Apple Pacific Centre
Sasco Contractors Ltd. – Beban Park Electrical Upgrade
Western Pacific Enterprises Ltd. – Lafarge Emergency Fire Repairs
Electrical Contractors – $2 Million to $8 Million
Bridge Electric Corp. – Riverbend Amazon
Centre Electric Ltd. – Discovery Building – Delta Q Technologies
Centre Electric Ltd. – Zymeworks Office and Laboratory
Electrical Contractors – Over $8 Million
Houle Electric Ltd. – The Stack – Design Assist
Mott Electric GP – Centerm Expansion Project
Western Pacific Enterprises Ltd. Vancouver Post Office Redevelopment
Manufacturers and Suppliers
Wesco Distribution Canada LP – The Post
Heritage Award
Haebler Construction Projects Inc. – Yaletown Square