Prince George is in the midst of a building boom unlike anything the city has ever seen – and indications are that the trend will continue.
Reports show building permits are already at their highest levels ever and there's still a long list of projects awaiting approval or scheduled to be built. Two recently published forecasts – one by the city and another by the Conference Board of Canada – indicate that the growth will continue despite a slump in forestry.
Construction of the 670-kilometre Coastal GasLink pipeline that will deliver natural gas from Dawson Creek to LNG Canada's liquefied natural gas terminal under construction in Kitimat is a big part of the reason.
"Given that Prince George is considered the supply chain hub for major projects in northern B.C., we continue to experience an upside to other economic sectors such as transportation, professional services, banking, and supply services throughout the region," says Scott Bone, CEO of the Northern Regional Construction Association (NRCA).
The $40-billion LNG project, which is expected to employ 2,500 workers during the peak of construction, continues to provide significant opportunities for small- to medium-size contractors and suppliers, he says.
Latest construction sector statistics show $195 billion in projects are proposed in central and northern B.C., with 60 per cent of those in the northern part of the province.
Presently, Bone notes, more than 236,000 people, or 9.2 per cent of the workforce, rely directly on construction for a paycheque – up 17 per cent since 2014. Over the past 12 months, 1,389 new construction companies were established in B.C., bringing the total to 25,736, up 17 per cent over the past five years.
"Steady advances in construction over the last five years in Prince George's construction industry expanded at a strong average annual pace of 4.8 per cent," says Bone. "Although growth is anticipated to ease, a mix of healthy residential and non-residential construction activity supported construction output growth of 2.2 per cent in 2019 and 2.1 per cent expected in 2020, after a gain of 2.7 per cent in 2018."
Melissa Barcellos, manager of economic development for the City of Prince George, says the region is benefitting from significant development because it is the supply hub for the northern part of the province and home to many companies bidding on the new construction work, which affects residents and suppliers.
As of the end of November, there were 595 permits valued at more than $217 million, an all-time high and up from 515 in 2018.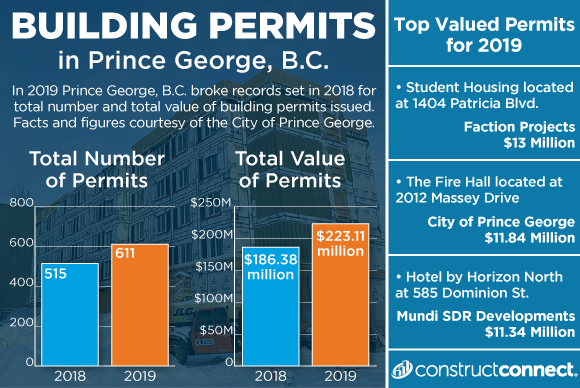 Barcellos says the LNG and Coastal GasLink pipeline projects are driving the boom, as TransCanada has leased land and hired local contractors to support construction.
There are also other factors at play, she notes, namely that Prince George is home to 300 mining suppliers providing more than $252 million worth of materials, goods and services to B.C. mines and smelters.
Prince George is the second largest supply hub in B.C. after Kamloops, according to a report by the Mining Association of B.C., and the city's location at the crossroads of highways 16 and 97, as well as its rail connectivity, make it an ideal location for manufacturing, distribution, transportation and warehousing.
Over the last few years, residential development has increased significantly in Prince George. In 2018 and 2019, there was a large increase in multi-family developments as opposed to single-family homes.
Of the top-10-valued permits for the year in Prince George, nine are for privately-funded projects. The largest is a $13-million student housing development on Patricia Boulevard, followed by an $11.8-million fire hall on Massey Drive, and an $11.3-million hotel on Dominion Street. With many projects still awaiting approval, the trend shows no signs of abating and city officials anticipate the growth will continue.
Barcellos says she's spoken to several developers who have yet to decide about land purchases, and who will likely pursue those projects in 2020.
The Prince George Global Logistics Park and Foreign Trade Zone adjacent to the airport, for example, have seen growing activity over the past several months, and a proposed $5.6-billion West Coast Olefin project, which would recover ethylene from an Enbridge pipeline and convert it into polyethylene pellets, is undergoing environmental assessment. The project, if approved, would be the largest in the city's history.
The building boom, however, also comes with a downfall, as research indicates that the number of industry veterans hanging up their hardhats over the next decade will outnumber projected new recruits.
BuildForce Canada figures there will be a shortage of about 7,900 construction workers in B.C. by 2028.
Bone says industry organizations like the British Columbia Construction Association and NRCA have partnered with LNG Canada to create the Trades Training Fund to support employers that employ, sponsor and train apprentices along with workforce development opportunities for skilled B.C. journeypersons
"Partnerships between industry organizations with public and private organizations with a focus on recruitment and retention of skilled tradespeople is critical to ensure capacity is met to meet current and future construction labour force requirements."