When we took the pulse of the Alberta economy a year ago, its health was starting to improve due to rising oil prices and lower taxes. Well, on July 1, the recently elected United Conservative Party did cut the province's corporate tax rate from 12% to 11%, the lowest in the country. Unfortunately, oil prices did not behave as we expected.
Over the past nine months, the price of Western Canada Select has trended steadily lower from a high of $53.25 US in April of 2019 to below $40 US at the beginning of this year. However, despite the headwind of lower oil and gas prices, production cuts mandated by the provincial government and the hostile-to-energy-investment environmental regulations contained in the federal government's recently enacted Bill 69, the Alberta economy grew by 0.5% last year after posting gains of 4.7% in 2017 and 1.6% in 2018.
After growth of 28% in 2017 and 16% in 2018, exports inched up by just 0.6% in 2019. This slowdown was largely due to the above-mentioned retreat in oil prices and a 33% drop in natural gas prices which together account for 68% of the province's foreign sales. In the near term, we expect uncertainty about the impact of the coronavirus to depress energy prices and depress Alberta energy exports. However, the longer-term prospects for the province's energy exports are brighter following the completion of the Canadian section of Enbridge's Line 3 pipeline, as well as by the Supreme Court of Canada's decision to reject British Columbia's attempt to stop the Trans Mountain Pipeline expansion project and the more recent Federal Court of Appeal's unanimous rejection of efforts by several first nations to further delay the project.
Following a revival in the first half of last year, Alberta's labour market suffered a relapse in the second half due in large part to a 13,000 drop in employment in mining, quarrying and oil and gas production. Looking ahead, the recent retreat in job vacancies in Alberta reported by Statistics Canada and the decline in full-time staffing plans indicated by the Canadian Federation of Independent Business' January Business Barometer suggest that firms will temper their hiring plans for the time being.
Despite weak employment growth and depressed business confidence, Alberta's population increased by 1.7% y/y in the fourth quarter due mainly to stronger net migration. Fuelled by this inflow of individuals from outside the province, Alberta's apartment vacancy rate, at 5.4%, is at a four-year low. Over the past four months, housing starts have risen by 49% y/y due primarily to an outsized 112% increase in apartment starts. Although there is a large inventory of completed and unoccupied dwelling units, the steady improvement in the outlook for the province's energy sector and sustained net migration should underpin housing demand. As a result, we expect housing starts to total in the range of 29,000 to 32,000 units this year and next compared to 27,000 in 2019.
Weighed down by a 22% decline in spending on institutional and government projects, the total value of construction spending contracted by an estimated -14% in 2019 after falling by 6% in 2018. Nevertheless, despite the very hostile investment climate noted above, inflation-adjusted spending on industrial and commercial projects increased by 1.5% in 2019 after a 5% drop in 2018.
The elimination of production limits on new conventional oil wells in late 2019 has brightened the outlook for energy investment in the province later this year and in 2021, as has the recent (Feb. 3) approval of Enbridge's revised Line 3 oil pipeline environmental impact statement by the Minnesota Public Utilities Commission. While Teck Resources Frontier Oil Sands Mine is on the province's energy project horizon, it faces several hurdles. Other major projects that have been recently added to the province's major project list include the May River Oil Sands Project, Phase 2 of the Whitla Wind Power Project and the Terwillegar Drive Expressway.
As noted above, there are plenty of hidden and not so hidden threats to the province's near term outlook. This being said, the positive announcements about the Trans Mountain Pipeline and Enbridge's Line 3 pipeline point to a significant increase in the province's oil export capacity, the lack of which has constrained its growth for the past several years. Given a gradual increase in energy exports and a steady rise in capital investment, we expect growth in the range of 1.5% to 2% this year and by 2% to 2.5% in 2021.
John Clinkard has over 35 years' experience as an economist in international, national and regional research and analysis with leading financial institutions and media outlets in Canada.
Real* Gross Domestic Product (GDP) Growth — Alberta vs Canada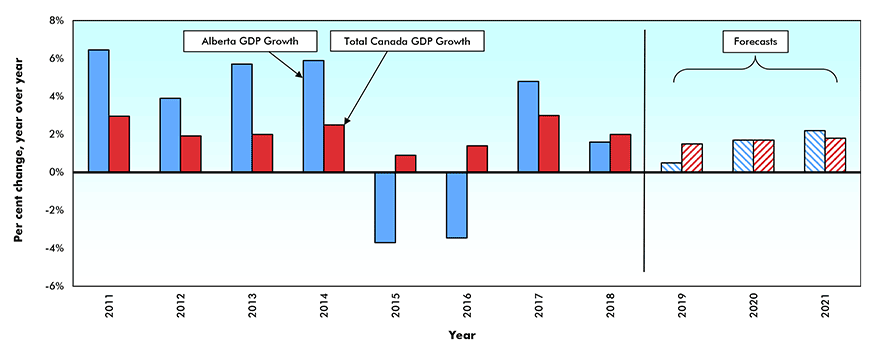 * "Real" is after adjustment for inflation.
Data Sources: Actuals — Statistics Canada; Forecasts — CanaData/Chart: ConstructConnect — CanaData.