A new report says liquified natural gas (LNG) is a key to Canada's economic future, with the president and CEO of the Canadian LNG Alliance emphasizing it applies to various sectors across the country.
The report, titled A Rising Tide: The Economic Impact of B.C.'s Liquified Natural Gas Industry, was put together by the Conference Board of Canada and funded by the Canadian LNG Alliance.
Alliance president and CEO Bryan Cox said the report is a way to discuss LNG with the Canadian public.
"It's a different way of framing LNG as to how it contributes to a growing economy and what that does for various sectors," Cox said.  
The report examines a scenario where 56 million tonnes of LNG is produced per year by 2034 including an expansion of the $40 billion LNG Canada project in Kitimat, B.C. The report predicts the expansion would create 96,550 jobs including 71,000 jobs in B.C. in related employment such as engineering, oil and gas manufacturing, construction engineering and retail. The report also said the LNG industry could increase Canada's gross domestic product by $11 billion per year.  
"The report shows a significant positive impact for the entire country. Obviously for B.C. because that's where the facilities will be and are being built, but also for Ontario and Alberta. It really shows the interconnectivity of the Canadian economy and why growing (the role of) natural resources is still important for the entire country," Cox said.
While proposed LNG projects have fallen by the wayside over the last decade, Cox pointed to LNG Canada in Kitimat, B.C. and Woodfibre LNG near Squamish, B.C. as significant indicators of the sector's economic power.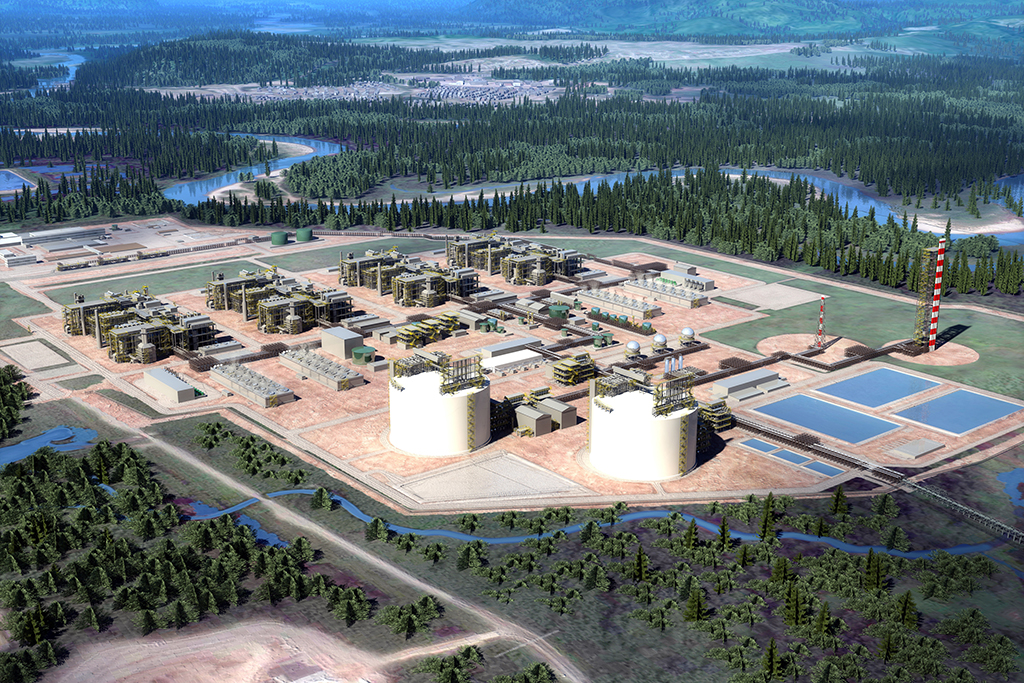 "We have one final investment decision and one project in construction after talking about main projects. But that having been said, the project under construction (LNG Canada) is worth $40 billion, the largest project in Canadian history," Cox said.
Canada needs to discuss energy options and LNG is "an important part of that discussion," he added.
"Projects are ready to go. This is shovel ready infrastructure that can be worked on which is really important for Canada right now," Cox said.
Cox also stated LNG is part of a mix of energy solutions as Canada and the rest of the globe move towards renewables and other alternatives to oil and gas.
"The opportunity is that we can take responsibly produced LNG and get it to parts of the world who are burning coal and are looking to move to cleaner fuels. LNG is a huge reduction in both greenhouse gases (GHG) and particulate matter," he said. "Our natural gas opportunity is huge, both as fuel we use every day and if we can get that responsibly produced fuel to the rest of the world."
Canada's own energy future can also be assisted by further LNG adoption, Cox added.
"All forms of energy will be needed, and there are multiple pathways. Canada's total opportunity as a country is in talking about hydroelectric, LNG, hydrogen and renewables and that's what we're trying to further (with the report)," he said.
Cox emphasized Canada is the best source for natural gas produced at the highest ethical and environmental standards but if LNG can't get to market those in need will look elsewhere.
"We can provide the lowest GHG emissions through our LNG facilities, but to do that we need to ensure we have a competitive industry," he said. "It's going to flow regardless and Canada can be a part of that, but we need a competitive market."
Cox remained confident Canada will have a prominent place in global distribution of LNG as the industry moves forward.
"We'll play an outsized role, as Canada always does," Cox said.