Instead of sitting empty, offices in downtown Calgary, Alta. could and should be repurposed, policy experts say.
Researchers at the University of Calgary's School of Public Policy are looking at ways to overcome the challenges of adaptive reuse and transform one of the hardest hit office markets in the country.
Obsolescence as an opportunity: The Role of Adaptive Reuse in Calgary's Office Market, a new paper by researchers Rylan Graham and Jenna Dutton, explained the reasons for high vacancy and how adaptive reuse could be applied in the city.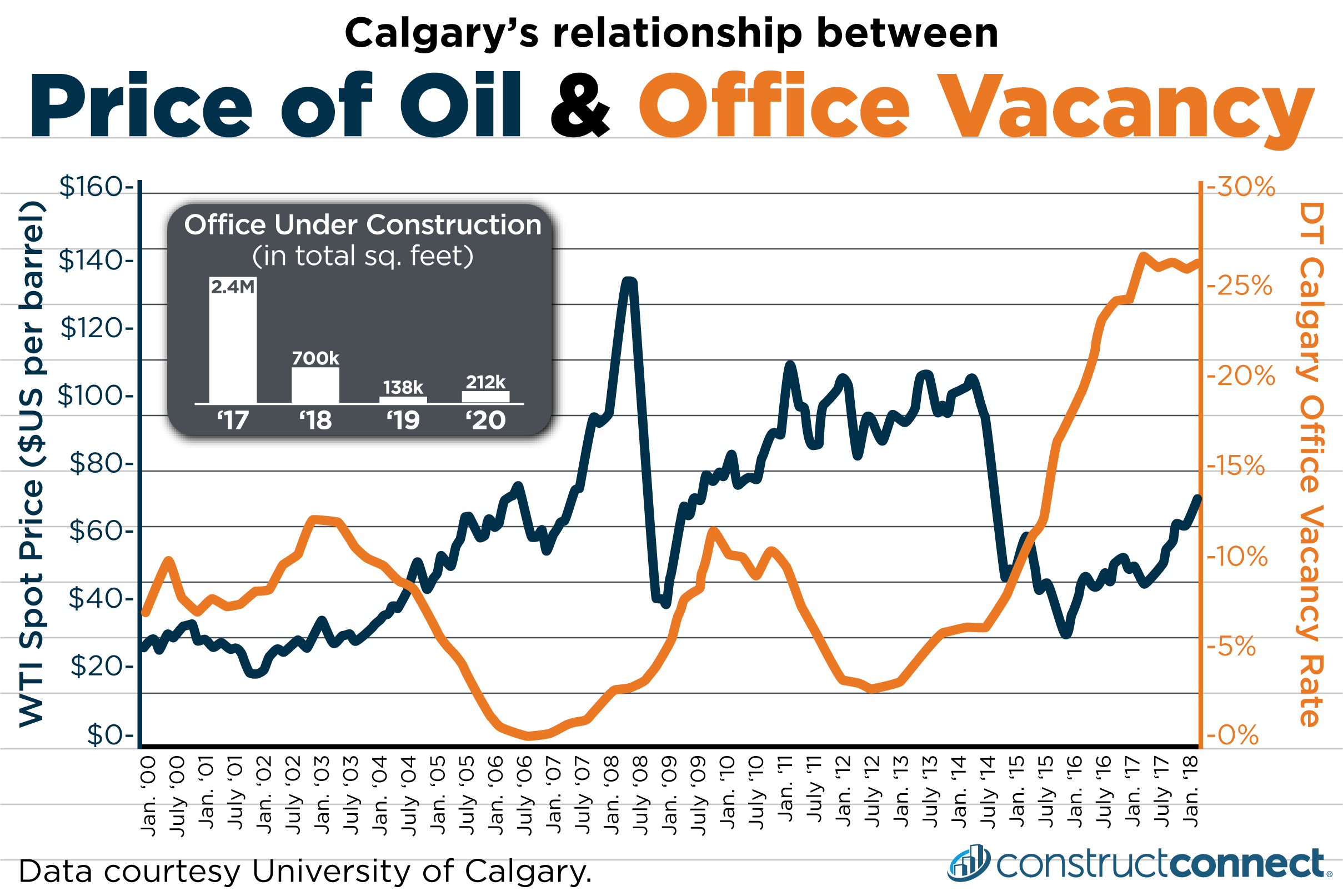 Ripples from the oil
"As the administrative hub for Canada's oil and gas sector, economic conditions have long mirrored the sector's changes and trends and the volatile nature of the industry," write Graham and Dutton. "During boom years, construction activity is high as developers respond to the needs of companies and organizations for additional office space to accommodate their growing workforces."
The paper explained falling oil prices and the economic woes that come with it have hit the city hard, reducing demand for office space.
In the first quarter of 2020, approximately 11.4 million square feet of downtown office space sat vacant. In 2020, the city hit vacancy rates as high as 27 per cent, the highest of any other major Canadian market. Research shows the market could be waiting 10 to 15 years for the economy to recover and office demand to come back to absorb existing stock.
More than just a building
Dutton and Graham explain the deeper impact office vacancy has.
"More broadly, a glut of vacant buildings has broader societal implications, including the potential to create conditions ripe for vandalism, unwanted and illegal occupancy, or cultivating an environment and experience that feels unsafe," they write.
Further, the overall value of office buildings in Calgary has declined by more than $14 billion from 2015 to 2019. This has hollowed out tax revenue.
According to the paper, in 2015, downtown office properties represented 32 per cent of the city's non-residential tax-assessment base, but by 2019 that number had dropped to just 18 per cent. To make up for this, the city has cut tens of millions of dollars' worth of services and jobs.
The upsides of reuse
Rather than tearing the buildings down or waiting more than a decade for office demand to come back, the paper's authors suggested adapting the vacant buildings for other uses.
They noted this is a far greener approach than demolition or new construction. It's often less expensive to repurpose a building and allows for its systems to be upgraded. It also could help create a more vibrant downtown area.
Despite the benefits, it's not always simple.
Older buildings can have complex footprints or configurations – like deep floor plates or partition walls – that don't work for other uses.
Tradespeople may also be reluctant to work on an older building with materials that are less familiar, and owners often prefer the prestige that comes from creating a new structure.
Developers that build office space often don't specialize in other kinds of structures, making a complex adaptive reuse project seem daunting.
The authors also cite the financial reality of not having an appropriate rent gap in the likely revenue generated between commercial and residential rents, making the project unfeasible. As well, dealing with municipalities can often scare away owners.
"The municipal approvals process can be lengthy and complex," write the authors. "Projects that encounter complex negotiations, extended timelines and delayed approvals, can undermine the financial viability of a project."
A path forward
Despite these challenges, Dutton and Graham believe it can be encouraged.
They recommend developing an accessible inventory that identifies buildings that are best suited for conversion.
"This would help more clearly define the possibilities available for involved parties and could highlight larger pockets of vacant buildings that may be limiting activity in certain areas," write the researchers.
The paper also suggests engaging with groups, like tech companies or educational institutions, that would be interested in finding more space in the city's downtown.
While Calgary has worked to streamline its approvals and permitting processes, the authors suggest more could be done, including offering tax incentives for adaptive reuse projects or other programs that make reuse projects financially achievable.
In addition, the city could also create a specialized team to assist with office conversions so the process could be further improved.
Also, more could be done to connect vacant office owners with affordable housing providers to address the region's housing crisis, states the paper.
"Irrespective of the global pandemic, Calgary has been challenged by a surplus of vacant offices without functional mechanisms to address the issue," write Graham and Dutton. "Given that vacant buildings reduce the vibrancy and activity in the downtown and decrease economic activity, it is crucial this be addressed as part of a resilient recovery."
Follow the author on Twitter @RussellReports.