Nearly 30 years ago, Rob Grant of Victoria, B.C., took the plunge, bought an excavator, a Komatsu 200 to be exact, and launched his own construction business.
"I bought one machine," he says matter-of-factly. "I went on my own for a few years and it got busier, and I got another one and it just kind of grew."
Initially, he worked for the Department of Highways on Vancouver Island.
"They did a couple of big projects out here and were hiring people by the hour and they wanted good operators. I worked a lot for highways and then did side stuff too. That's kind of how it all happened."
When that work ended, he began bidding on jobs and got into estimating. The rest, as they say, is history.
"I was a go-getter," explains Grant. "I'd go out and knock on doors and say, 'Here's who I am and here's what I'm doing.' I got in with some pretty good people."
Word of mouth was the best form of advertising in those early days, he says, and one job led to another.
Today, the company known as RG Excavating has 14 employees and a fleet of 13 excavators and one skid steer. They do mostly residential and commercial work, digging foundations for the builds.
Grant met his wife, Kim, while searching for a bookkeeper for the company. They've been together 28 years. Rob ran the day-to-day operations of the business and his wife was in charge of the office.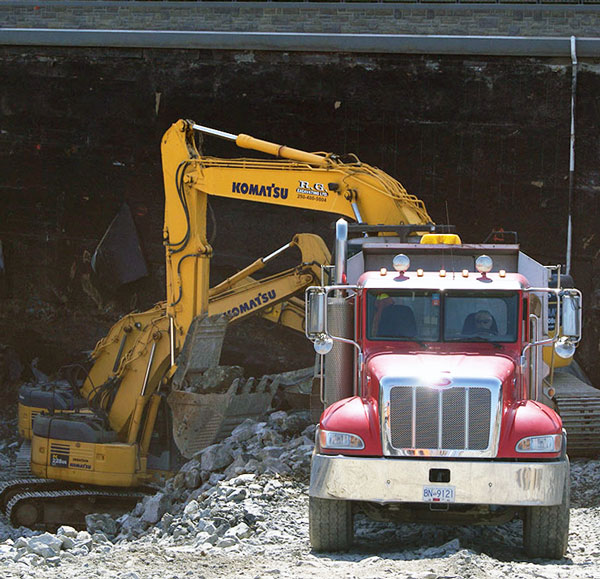 They sold the business to four investors a couple of years ago, but Grant remains as the general manager. His wife is now retired.
"With COVID and everything else I thought, 'What am I going to do?' You can't travel or anything and so I said, 'Well, I'll stay on for a couple of more years.'"
Grant does the estimating and oversees big projects. His son, Jeff, is general superintendent and will eventually take over the helm. Another son, John, is an operator at the company.
For Grant, working in construction was almost pre-ordained. He was born and raised just outside of Winnipeg, Man., and had strong ties to the industry. His dad and family were in excavating or trucking.
"So, it was always kind of in my blood," he says.
Grant began his work life on a farm at 14. He operated equipment and worked with cattle. But it didn't pay as well as construction, so he ended up in the industry.
With the cold winters in Manitoba, though, he would be without work for three or four months.
"I made in the summer and I'd spend in the winter and you'd work long hours in the summer and do nothing in the winter," he says.
Grant left his home province and headed west.
"I looked for a job and ended up getting one out here and I moved here in 1981."
Grant was 21 at the time.
On Vancouver Island, he worked for Seaboard Excavating for five years and also for Peninsula Bulldozing in Victoria for another five.
Eventually, he decided to hang out his own shingle.
"As I got working, the goal I had was I wanted to do big excavations and big fancy houses in the Uplands and stuff like that. Big excavations are what I like doing, digging big holes and doing demolitions."
His company does civil work and installs pipe as well, but Grant is still partial to excavating.
"We dig big holes. We're the main contractor for digging big condo excavations in Victoria. We probably do 75 to 80 per cent of them in Victoria.
"We just finished a hole that was the biggest and deepest excavation ever in Victoria. It was six storeys deep."
The excavation is for a parking structure for Hudson Walk, a new condo building being built in Victoria by Townline. The company is also excavating for the Dockside Green condos being built by Bosa Developments in Victoria.
Though Grant has been in the industry most of his life, he still gets excited talking about the work.
"I like heavy equipment," he says. "You're doing something different all the time. We're demolishing a building right now and tomorrow we'll be building an excavation for something.
"We do a lot of different things. It's financially profitable and you can make a good living off it. Don't get me wrong, though. You've got to put a lot of time in too."
One of his sons recently learned that lesson. Grant says he took a Monday off to go camping but the phone was ringing off the hook and he was back in the office by 11 a.m.
"The commitment to it doesn't stop just because you want some time off," he notes.
Despite COVID-19, business has been very good, says Grant. "We hired a few more employees of late and we've got three great big projects – two we've already started and the third one we're starting in a week or so."
So, retirement may still be a way off for Grant.
"Even where I retire, I may still work a couple of days a week because as long as I'm involved the people will still keep using us."