There's a new set of headwinds buffeting the U.S. construction sector in 2023 but four ICI construction economists assembled for a recent forecast webinar found plenty of reasons for cautious optimism amidst the constraints.
The economists talked of "slowdowns" and "soft spots" in the non-residential sector in the immediate future and beyond, expressing uncertainty whether continuing prospects of a broader economic recession will cause a retrenchment in construction.
The May 9 event, billed as Build Beyond Today/The Construction Economy Outlook, featured Alex Carrick, chief economist at ConstructConnect; Ken Simonson, chief economist with the Associated General Contractors of America; Michael Guckes, senior economist at ConstructConnect; and Kermit Baker, chief economist at the American Institute of Architects (AIA). The webinar was co-hosted by ConstructConnect.
"A lot of economists, I happen not to be one of them, believe we're headed into recession," said Simonson. "That's enough to make developers pull back, knowing that their financing and construction costs are going up and they may not be able to cover that with higher rents."
But even with possible slowdowns in multifamily, warehouses, retail, office and lodging, he said, "I think they'll be outweighed by investment in manufacturing plants and data centres, infrastructure and eventually in power categories."
Baker cited recent results of the AIA architecture firm billings index that indicated a modest improvement in March following a five-month downturn. New design contracts have been almost as soft as billings, he said, suggesting workloads won't accelerate anytime soon.
Meanwhile, architecture firm backlogs — averaging around seven months, a strong figure, Baker said — have stabilized recently.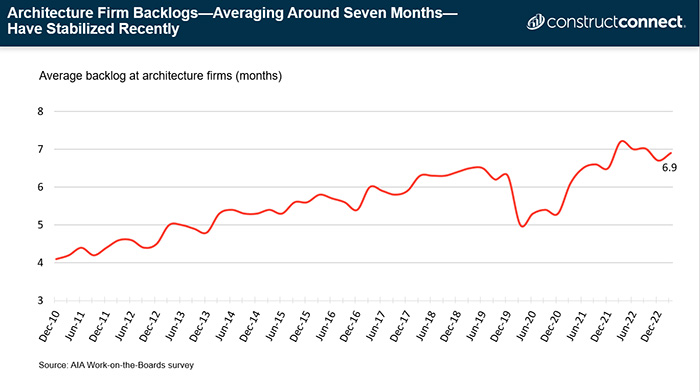 "We're not seeing signs of an impending significant downturn," he said. "But likewise, we're not seeing signs of a significant upturn in our billings index."
Carrick quoted one GDP forecast predicting 0.9 per cent growth this year and 0.4 next year, with possible negative performance in Q3, Q4 or Q1 2024. He said he keeps "waiting for the shoe to drop" on employment figures but the numbers remain solid.
"When I talk about the construction scene, what I focus on most is all these megaprojects," said Carrick. "I've ever seen anything like the proliferation of projects of a billion dollars or more each last year and through the first quarter of this year as well."
Carrick reported in 2022 there were 31 megaprojects with a cumulative value of $105 billion. Q1 2023 continued the trend with a total of seven billion-dollar-plus projects with a total value of $24.7 billion.
Megaprojects are important, Carrick said, because they are a source of solid economic activity locally for years, with follow-up benefits once the project has been commissioned.
Last year, the economists agreed, the biggest constraints affecting the system were gaps in the supply chain, high costs, global geopolitical tensions, workforce shortages and rising interest rates. Supply chain issues have dissipated, costs are all over the map and the spike in interest rates appears to have slowed, but, Simonson said, the labour issue remains prominent.
Added to the list of concerns, Baker said, are regional banking concerns, prospects of a federal debt ceiling crisis and domestic labour unrest.
Assessing supply costs, he said, "While prices have moderated overall, there's still quite a few things that are going up to double digit rates from March of last year to March of this year. Cement went up 17 per cent; typically, that only goes up a few per cent a year."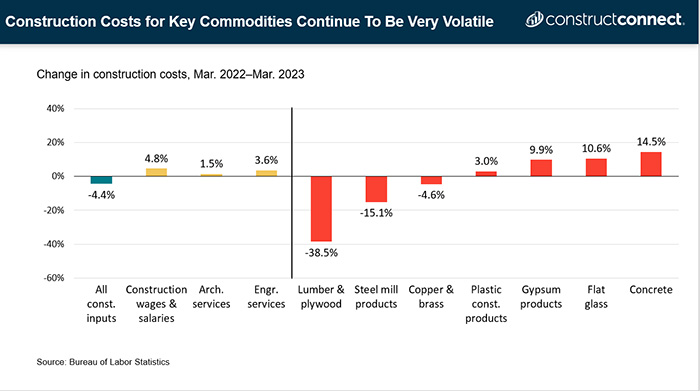 Simonson reported spending in various subsectors varied widely between March 2022 and March 2023. Total construction spending was up four per cent for the period, not adjusted for inflation and seasonally adjusted, with private residential down 10 per cent (with single family dropping 23 per cent) but non-residential up 19 per cent.
Construction in the manufacturing sector led non-residential growth from March to March. Manufacturing rose 62 per cent; commercial was up 20 per cent; roads up 21 per cent; power down three per cent; education up 11 per cent; office up 15 per cent; transportation up 12 per cent; and health care rising 11 per cent.
Medium term, Simonson said, the economic recovery should continue, but there remains the possibility of recession. Homebuilding is likely to fall for several months until prices and interest rates flatten.
Longer term, Simonson said, slower population growth will mean softer demand growth for most construction. He foresees continued demand for wind, solar, battery storage and charging facilities and related manufacturing projects.
Baker noted after declining in 2021, construction spending on buildings made a healthy recovery last year. Total non-residential building construction was up 9.8 per cent, commercial/industrial went up 17.5 per cent and institutional was up 1.9 per cent.
The numbers are even better so far this year, Baker reported. Non-residential spending in the first quarter of 2023 was up 22.3 per cent compared to Q1 2022. Commercial/industrial was up 32 per cent over that period.
Guckes offered advice to the sector on the workforce issue. With such a tight supply, he said, contractors are hiring some workers that "are not particularly well suited to be construction labour, but they're all that you can get your hands on. It's going to hurt your productivity."
He suggested stakeholders address the issue by developing programs to improve construction labour productivity.