At first glance, the fact that total sales of battery electric vehicles (BEVs), which include passenger cars, pickup trucks, multi-purpose vehicles, and vans, have increased by +510% from 6,199 units to 98,589 units over the past five years, suggests that electricity will soon displace gasoline as the primary driver of motor vehicles in Canada. However, lets put some perspective on the relative size of BEV sales versus sales of vehicles powered by internal combustion engines (ICEs). Although sales of gasoline-powered vehicles have shrunk from 1.9 million to 1.2 million over the past five years, they still outnumber sales of BEVs by a factor of twelve. At the same time, sales of diesel-powered vehicles (mostly large transport trucks) have risen by +14%, moving up from 65,000 to 75,000.
Majority of BEV sales in just three provinces
In 2022, the vast majority (93%) of BEV sales occurred in just three provinces: Quebec, British Columbia, and Ontario.  'Fuelled' by a generous incentive of up to $7,000 on vehicles with a maximum  price of $60,000, BEV sales in Quebec jumped from 3,300 in 2017 to 34,000 in 2022. Currently, they account for 35% of the national total. Over the past five years, the number of BEVs sold in Quebec has totaled an estimated 96,153, 41% of the country-wide figure.
In terms of BEV ownership, British Columbia is home to 31% of the country's BEVs making it the second 'greenest' province in the country.  While BC's sales incentives have not been as generous as Quebec's, they did help, in combination with high gasoline prices, to boost the province's BEV sales by an estimated +37% y/y in 2022. 
Ontario is home to just under 69,000 BEVs. Given that Ontario's population (15.4 million) is almost twice that of Quebec's (8.7 million), the percentage of Ontarians owning a BEV (0.4%) is significantly smaller than in La Belle Province (1.1%). This smaller take-up of BEVs in Ontario vs Quebec and British Columbia is in large part due to existence of generous rebate programs in the latter two provinces, while they were canceled in Ontario in June of 2018.
Recent strong growth of charging stations
As of March 1 of this year, Natural Resources Canada (NRC) reported that EV drivers have access to 20,478 charging ports located at 8,732 charging stations across the country. Between December of 2021 and March of this year, the number of charging stations increased by +30%. Most of the new charging sites were Level 2 ports which have a charging speed that provides users with sufficient energy to travel 20 to 130 kilometers after a one-hour charge (i.e., they can charge a BEV to 80% in 4-10 hours).
Level 3 direct current chargers, which are typically located along heavy traffic corridors, are much faster than Level 2 and can charge a BEV from empty in twenty minutes to an hour. One caveat about charging highlighted by several EV blogs is to never let one's battery sit at a 100% charge level. To maximize the life of an EV battery, it is best to avoid overcharging, topping it out at 80% of capacity.  Also, although direct current chargers significantly reduce charging times, both battery life and durability can deteriorate if they are used too frequently. 
Cold weather chills BEV driving range
A recent article by David Berman, investment reporter for the Globe and Mail, highlights some of the pros and cons of driving a BEV from Toronto to Montreal in late winter. Berman noted that not having to pay for gas for the trip would net him a significant saving. However, although he had no problems locating charging stations, the effects of cold weather, winter tires, and driving at 100 km/hr significantly reduced the driving range of his EV (by -25% according to his estimate.) To counter "range anxiety", he included a safety buffer which further cut his actual range, forcing him to stop three times.
Also, actual charging times, on 'fast chargers' were considerably slower than advertised.  Given the frequent charging stops, the slow charging times, and weather-limited BEV range, it took Mr. Berman eight hours to make a trip which Google calculates at five hours and 45 minutes. Canada's cold winters reduce the driving range of all-electric vehicles. Warmer weather will extend BEV driving ranges. However, traffic volumes on major highways will rise, as will lineups at charging stations. As a result, there is a risk that weekend trips could take longer than expected, particularly on holiday weekends.
Interest in BEVs does appear to be picking up
Although they are, on average, more expensive than ICE-powered vehicles, have a limited range, and can take an extended time to recharge, a recent (2022) Canadian Black Book study reported that 39% of Canadians are likely to buy an EV in the next five years, up from 30% a year earlier.  The study also noted that younger Canadians, aged 18-34, were particularly interested.\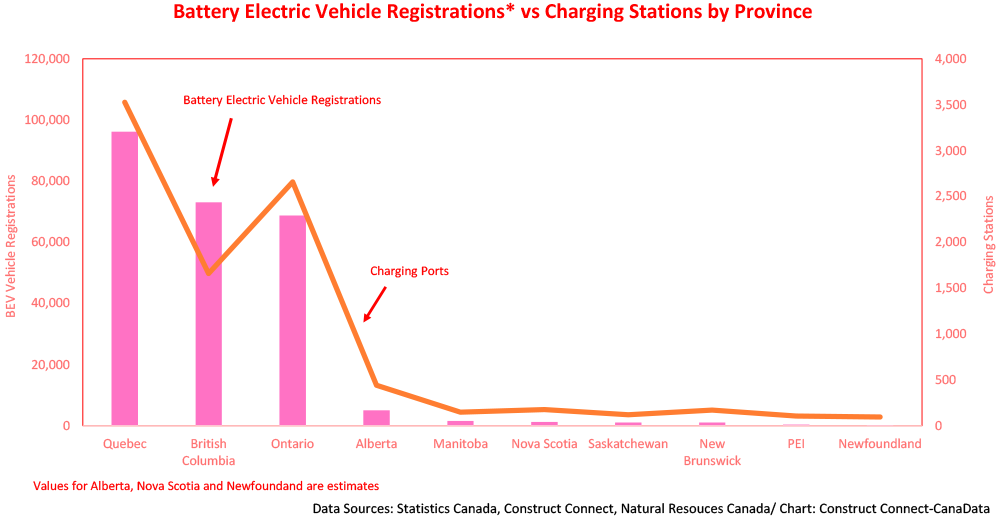 ---
John Clinkard has over 35 years' experience as an economist in international, national and regional research and analysis with leading financial institutions and media outlets in Canada.