Canada's construction sector is in a state of reinvention these days on a number of important fronts from supply chains to productivity, national panellists assembled for a recent state-of-the-industry webinar agreed.
Among newer trends, the post-pandemic drive to keep supply chains local is intersecting with the need to decarbonize, which also encourages contractors to look locally for resources, observed panellist Ken Lancastle, COO at the Mechanical Contractors Association of Canada.
Meanwhile, politicians and developers are realizing that the imperative to cut red tape to get projects underway more quickly is not only a cost issue, given that each month of delay adds to the price tag, but it's also a competitiveness issue, with U.S. legislators pushing hard to create approvals efficiencies.
The recent webinar was convened by Procore to unveil the results of its report titled How We Build Now: Technology and Industry Trends Shaping Construction in 2023.
Other panellists were Independent Contractors and Businesses Association president Chris Gardner and Kenny Leon, a vice-president with the Canadian Construction Association. Procore's Irish Horsey served as moderator.
Procore reported the consensus among economists is Canada's economy will expand by just 0.3 per cent in 2023, with growth improving to 1.5 per cent in 2024. But the construction industry expressed optimism about its prospects — 90 per cent of respondents feel confident about market conditions over the next 12 months, with 44 per cent feeling very confident.
The most recent increase in the base interest rate by the Bank of Canada, however, and the accumulated increase, could have a sobering effect, Gardner said.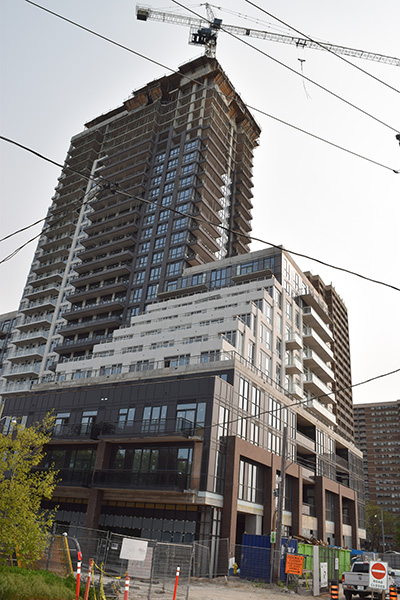 "Interest rates have gone from a quarter point in Canada in February of last year to now they are five per cent," he noted. "That's a fairly significant macro shot. Construction is not immune to that, that will impact financing projects. So what we're seeing is several firms taking a pause to understand the full implications of this."
With new stresses such as the ever-higher interest rates building on older ones such as workforce shortages, Lancastle said, it means all parties must find new ways to work together, and look inwardly to re-examine their own processes.
"We need to recognize that we're all going down the road in the same direction. We need to work together," said Lancastle. "I think government has to build up its own capacity to work on some of this stuff and recognize how they are impacting productivity or negatively impacting economic growth."
He cited federal industrial security clearances as a major strain to contractors in some markets.
The Procore report found performance remains a cause for concern among the business owners, general contractors and subcontractors surveyed with nearly half of all projects going over budget and over schedule. Procore reported the average total project time spent on rework or rectifying issues is 27 per cent.
The tech firm cited the complexity of many projects as one factor and rising costs as another.
Leon suggested growth in the use of technology will address those inefficiency and productivity problems, but the adoption has gaps.
"Needless to say, the large players in the industry have adapted quite well, in terms of having more innovation included," he said. "It's the small and medium-sized players and, as you know, the industry is made of 70 to 80 per cent small and medium-size. So, the more we can actually get them on board in terms of innovation to solve some of these productivity issues (the better)."
Procore believes the housing sector will grow as the country reacts to a large immigration influx and ongoing population growth. January 2022 to January 2023 was the first 12-month period in Canadian history where population grew by over one million, the firm said.
Its survey respondents agreed. Forty-three per cent of those who work in the residential sector expect to build more housing units in 2023 compared to 2022.
Gardner, however, said the housing challenge facing the country remains huge. He noted the CMHC and the Royal Bank said between now and 2030, to meet demand, Canada needs to build 800,000 new homes a year.
"That's nearly four times the amount we've been able to build consistently every year over the last 50 years," said Gardner. "It's hard to see how we're going to get there without a wholesale change in how we're approaching housing construction in Canada.
"I think there will be increased pressures on affordability and I don't see a lot of relief coming for homebuyers in the short term."
Follow the author on Twitter @DonWall_DCN.