The headline number for U.S. jobs growth in August, from today's release of the Employment Situation report, authored by the Bureau of Labor Statistics (BLS), is +187,000, which sounds pretty good at first reading. Upon closer examination, however, it loses some luster.
A month ago, July's U.S. total number of jobs tally was 156.342 million. The new and revised number now being reported for July is 156.232 million. The difference takes a -110,000 bite out of the total jobs figure.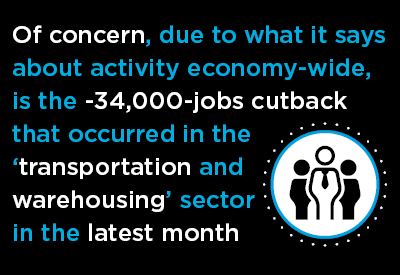 Therefore, total employment presently, for August, is really only +77,000 when compared with the last official number from a month ago.
Almost half of the -110,000 revision to July's number was removed from the staffing count for government, primarily in the field of education at the local level.
The construction sector's employment situation has managed to escape the negativity.
Construction's July number-of-positions remained unchanged, and August advanced by +22,000 jobs. Driving the latest monthly increase was a +12,000-job pickup in nonresidential sub-trade work and a +7,000-job hiring advance carried out by heavy engineering contractors.
The targeting of new and improved infrastructure as the destination for public spending efforts is providing an uplift to hiring in the field.
For the total economy, a higher workforce participation rate of 62.8% versus 62.6% in July and 62.3% in August 2022 has caused a bump in the seasonally adjusted (SA) unemployment rate to 3.8% from 3.5% in July. A year ago, at this time, it had been 3.7%.
Construction's not seasonally adjusted (NSA) unemployment rate in August remained identical to what it was in July of this year and in August of last year, 3.9%.
Of concern, due to what it says about activity economy-wide, is the -34,000-jobs cutback that occurred in the 'transportation and warehousing' sector in the latest month. Clearly, not as many goods are being ordered, nor demanding delivery, as in the recent past. Current dollar retail trade has been on a flat-line path for more than year, and in 'real' terms (i.e., after adjustment for inflation) has been slightly underwater.
The bulk of the +187,000-jobs improvement in August came in health care and social assistance, +97,000 jobs. Leisure and hospitality did next best, +40,000 jobs.
Earnings continued to make significant headway in August. For 'all jobs', including supervisors, the year-over-year climbs were +4.3% hourly and +4.0% weekly. Construction workers did better at +5.2% hourly and +6.2% weekly.
For 'all jobs', not including supervisory personnel, the y/y paycheck increments were +4.5% hourly and +3.9% weekly. Again, construction workers had reason to smile more broadly, with heftier returns of +5.7% hourly and +6.2% weekly.
The Federal Reserve should be generally pleased with August's jobs numbers. There still seem to be good prospects for a 'soft landing' of GDP.
They indicate high interest rates are achieving their objective. They're taking some of the starch out of the economy, but not yet leaving it limp.
---
Alex Carrick is Chief Economist for ConstructConnect. He has delivered presentations throughout North America on the U.S., Canadian and world construction outlooks. Mr. Carrick has been with the company since 1985. Links to his numerous articles are featured on Twitter @ConstructConnx, which has 50,000 followers.