VersaPile Helical Pile Contractors is a small company in a small prairie town that installs helical steel piles in Saskatchewan, Manitoba and northwest Ontario.
Its size and location (Ile des Chenes, Man.) notwithstanding, VersaPile is a very versatile company.
"We specialize in deep foundations for hydro transmission lines, substations, wireless and telecommunication towers, oil and gas facilities and pipelines, industrial structures and municipal and provincial government projects," said Stan Higgins, "founder and disruptor of the status quo."
Helical piles are steel screw-in piling and ground anchoring systems that are used for building deep foundations. They are typically manufactured from high-strength steel using varying sizes of tubular hollow sections for the pile or anchor shaft.
Higgins said using helical piles often saves money.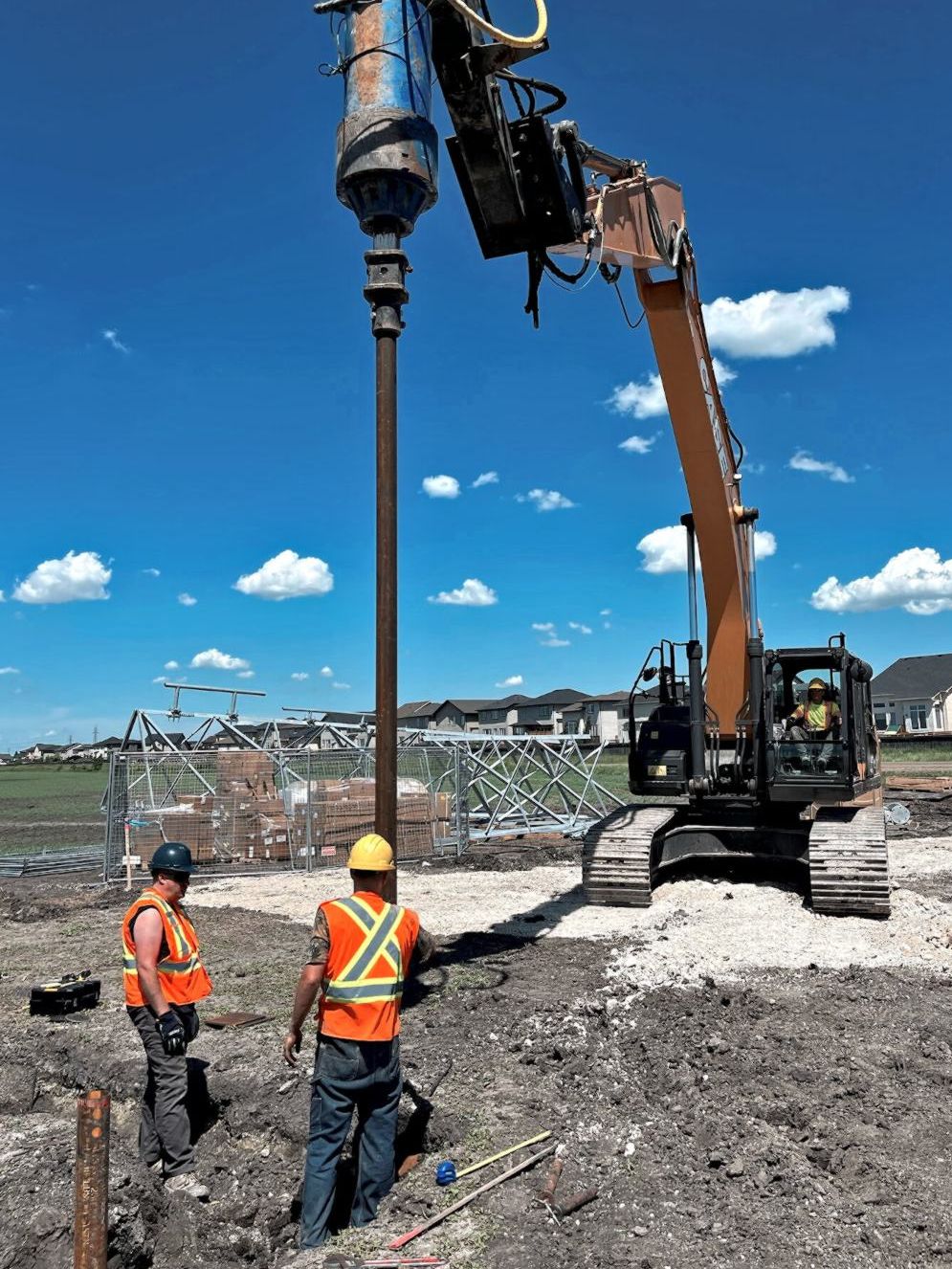 "There is generally less equipment needed to install helical piles compared to concrete piles," he said. "In addition, helical piles can be installed faster than most other piles on the market. Since they don't require curing, they can be built on immediately."
Higgins said helical piles also have less of a negative impact on the environment.
"Helical piles used for communications and transmission towers reduce the carbon footprint of the foundation by more than 90 per cent compared to concrete," he said.
Before he started VersaPile, Higgins was a partner in a Winnipeg recruiting firm that specialized in Indigenous executive search.
"I worked with communities across the country on placements of executives for local economic development corporations," he said. "I found out that Indigenous communities were eager to engage in business so long as it was good business done in a good way."
Higgins also learned about the often sad state of Indigenous housing in Canada.
"It became clear why some of the houses I had seen in First Nations communities had front doors that were shaved down and secured by wire tied around a doorknob and a nail on the door frame," he said. "Some houses even had blankets in place of a front door."
Higgins said the problem with these houses is that they had shallow foundations that were unstable. That put stress on the structure and often led to serious damage of doors and windows, and even structural cracks and gaps. 
"All of this made me think about starting a business in helical piles," said Higgins. "My motivation for starting VersaPile came when I learned that helical piles go below active soil (soil that expands and shifts when it encounters moisture) and the frost line, so that anything built on top of the piles doesn't move."
Higgins said helical piles are a good fit for First Nations communities.
They're easy to transport and they can be stored outside for decades without any problems.
Concrete foundations, on the other hand, are very heavy. In addition, the bags of cement to help make the concrete are often ruined either in transit or shortly after they are delivered to a First Nations community.
"Proper protection for the cement while it is being transported and climate-controlled storage after it has arrived are rarely available," said Higgins.
To help build up First Nations foundation capability, VersaPile started the First Foundations Program for contractors from Indigenous and other remote communities.
"The purpose of the program is to teach them how to install safer, more reliable, higher-performing helical pile foundations for residential housing, community buildings and commercial and industrial projects, using equipment that individuals or their community already owns," said Higgins.
When VersaPile trains installers, it begins with the theory behind installing helical piles.
"Once the trainees have demonstrated their ability, we certify them to install helical piles on our projects," said Higgins. "We meet our collaboration partners where they are and fill in any gaps in capacity until they're up to speed. We also support them with engineering and installation reviews."
In addition to collaborating with First Nations, VersaPile has been working with a Winnipeg geothermal energy designer to enable helical piles to support geothermal energy.
GEOptimize puts a high-density polyethylene pipe down a bore hole that has been dug for the helical pile. The pipe continuously circulates water in the pipe, which heats and cools the structure above it.
Ed Lohrenz, senior vice-president of GEOptimize, said using the helical piles means fewer holes have to be dug, which reduces the cost of installing the pipe. 
"It makes geothermal more cost-effective and also reduces its carbon footprint," said Lohrenz.