The City of Winnipeg is looking to expand its legal action against builders who they allege conspired to drive up costs and participate in bribes during construction of a $214 million police headquarters project.
The city's attorneys filed a notice of motion this month to add new parties to its lawsuit after they collected new evidence from Caspian Construction computer servers provided by the RCMP. The original suit was filed in 2020 after the RCMP conducted a five-year investigation into the project that resulted in no criminal charges. Earlier this year, a judge found the city's then chief administrative officer Phil Sheegl accepted a $327,000 bribe from contractors for favourable treatment on the project.
In his judgment on the civil case, Manitoba Court of Queen's Bench Chief Justice Glenn Joyal noted that extensive records show Sheegl worked to extend deadlines, lower bonding requirements, leak confidential information and sever a design contract to benefit Caspian Construction.
Caspian was awarded the contract. The $214-million purchase-and-renovation project ended up $79 million over budget and was completed in 2016.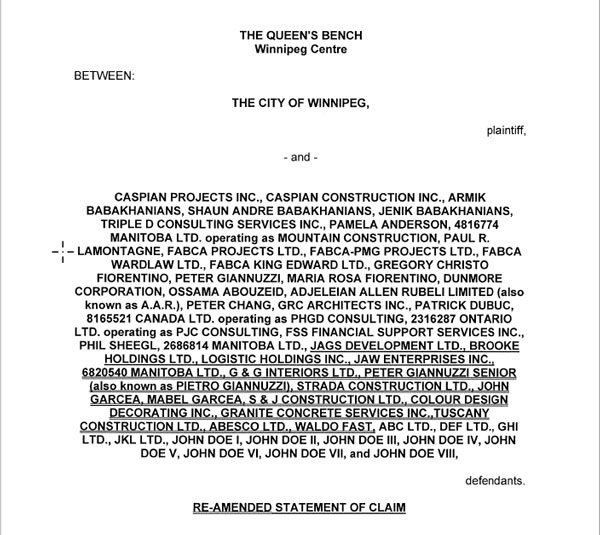 The city is making new allegations in its amended filings, including against Abesco Ltd. and a series of five companies owned by John Garcea that are collectively referred to as Garcea Group. These companies are S&J, Colour Design Decorating Inc., Strada Construction, Granite Concrete Services and Tuscany Construction.
The city alleges Garcea and his wife Mabel extracted money from the city through inflated invoices, billings for work that was not conducted at all, and billings for work that was unrelated to the police HQ project.
One of the city's new allegations is that invoices were submitted by Abesco for non-project expenses, including work done on the Soul Sanctuary project, the Winnipeg Transit Garage and a police K9 facility.
"Of the approximately $2.6 million paid by the city in respect to Abesco's scope of work on the (police headquarters project) Caspian appears to have claimed and the city paid, approximately $1.85 million in excess," stated the city in its amended claim.
Another example of the city's new allegations include the city paying $2.66 million to Strada for berm work and roadwork when the work had already been performed by another contractor for $1.4 million.
None of the companies named in the lawsuit replied to requests for comment.
The amended claim wasn't the only recent development.
Earlier this month, the courts ordered Sheegl to pay the full amount as part of a $1.1 million package of payments to the city. Sheegl argued he shouldn't have to pay back the entire bribe as some of it went to another person who was not named.
Joyal ruled the amount should be treated as damages for breach of trust and is now payable to the city.
Follow the author on Twitter @RussellReports.