Calgary is taking the lead in North America on a solution to its downtown office space glut through a novel program that helps owners/developers rethink what to do with that empty space.
The Downtown Development Incentive Program (DDIP) was launched in 2021 with the objective of overseeing the conversion of six million square feet of vacant office space largely to residential by 2031, raising the downtown population by up to 20 per cent.
Since its inception, the program has seen about 1.3 million square feet of approved or announced projects and another three conversion projects are set to be unveiled by next month.
Other projects under review will bring the total conversion to more than two million square feet, says Sheryl McMullen, manager of investment and marketing with Calgary's Downtown Strategy.
The DDIP was born in desperate times. 
Calgary's downtown office vacancies had soared and are now about 14 million square feet. The office core's vacancy rate has eclipsed 30 per cent.
The office migration wasn't all because of the work-from-home model resulting from the pandemic that many other cities have felt.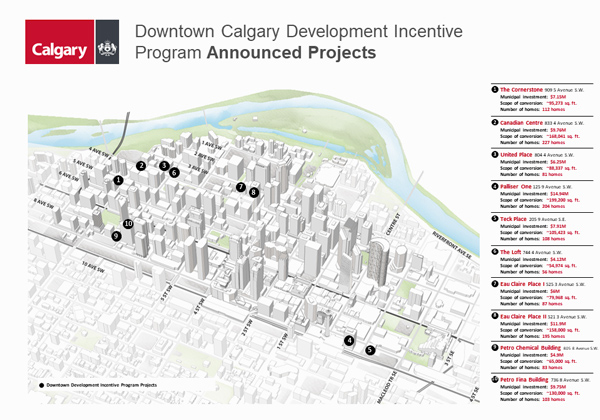 Calgary had "a head start on the rest of North America at looking for solutions for office vacancies" when the energy sector hit a downturn in 2014, explains McMullen.
The first of its kind in North America, the DDIP provides grants of $75 per square foot (up to 15 million) for space converted from office to residential. Grants of $60 a foot are available for hotel conversions and $50 a foot for post-secondary institutions.
A "demolition incentive" is offered for some "non-office" new builds, she says.
In addition, development permits are waived to qualifying recipients, eliminating about six months off a development's timeline. 
Skirting the permit process can save a developer up to $500,000 on the cost of drawings, professional and other fees, adds McMullen.
The 10 projects in various stages of development or construction to date will add more than 1,200 housing units, ranging from studios to three-bedroom apartments, including affordable units.
The first development to be completed will be a 10-storey office building converted to 112 family rental units. It includes "a high percentage" of below market affordable suites, she says.
The 5th Ave. SW project by Peoplefirst Developments is called Cornerstone and will open in January.
The Alberta-based developer will also start construction on the office conversion of the Petro Fina Building on 8th Ave. SW into 105 two- and three-bedroom units next year, McMullen adds.  
Four other residential conversions will add 350 units to downtown by the end of 2024 and five more will open in 2025, she says.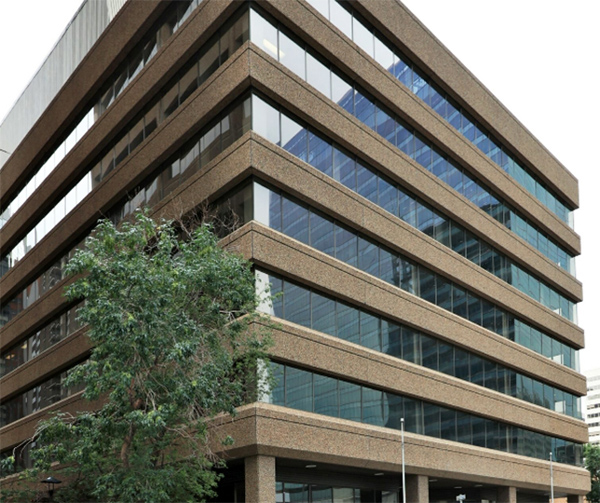 Along with residential conversions, office building makeovers include a hotel in the works and the University of Calgary's School of Architecture, Planning and Landscape is looking to secure 180,000 square feet of space in the core, says McMullen. 
Other conversions could include K-12 schools, performance space and other post-secondary institutes.
McMullen says most of the conversions are Class B and C buildings, many in the downtown west area. 
She says architectural firm Gensler was retained by the city to develop a model to evaluate the complexity and economic viability of office-to-residential conversions.
That model identifies many factors such as a building's core ratio (distance from elevator core to windows) the total square footage and floor plate size.
"It is the first filter for someone who is considering making a conversion," McMullen says.
The city of Calgary has received many enquiries about the DDIP from municipalities across Canada and the U.S.
"They are just trying to figure how we came up with the numbers, what support is needed, what's our process, all those kinds of things."
McMullen says downtown Calgary's assessed property value had dropped from a high of $25 billion to only $9 billion in the core by 2021, shifting the property tax burden to businesses and residences outside of downtown.
While the city started giving rebates in 2017 to property owners facing soaring tax hikes, it wasn't seen as "a sustainable solution."
McMullen says Calgary's evolving downtown is resulting in a consolidation of the city's Class A and AA office core.