Some of a city's heritage can be found underground.
During recent construction on 17th Avenue SW in Calgary, Alta., construction workers discovered a century-old wooden pipe made of cedar.
The pipe was found onsite while workers were moving ductile iron pipe.
"This pipe was exposed below it," said City of Calgary transportation infrastructure senior project engineer Logan Tolsma. "The pipe is built to function like a wine or water barrel, so when it soaks, it creates a seal."
Wooden pipes were commonly used in Calgary until 1910 when the city replaced most wooden pipes with cast iron, used until the late 1960s. From the middle 1970s onward, PVC is the standard material for city water pipes.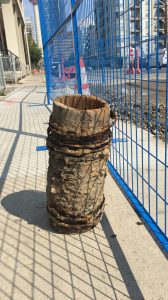 The line was abandoned 100 years ago, he added, and did not need to be replaced since there was already more recent water infrastructure in place.
"There is a procedure for abandonment and replacement of lines; in some cases, you have to remove and replace in situ," Tolsma said.
These discoveries don't happen very often given Calgary's relatively short history, he said, but when they do occur, they tend to be in older areas such as the interior of the city. Other artifacts discovered through construction projects, he said, include wooden rail ties and rail spikes as well as scraps of steel rail.
Preservation of historical infrastructure is on a "case by case basis," Tolsma added, and said when more work is deemed necessary, "we have a city archeologist to preserve what we've found."
Alberta's Historical Resources Act, established in the 1970s, "provides for the use, designation and protection of moveable and immoveable historic resources," according to a statement on the Alberta government's website. Recently, the City of Calgary brought its historical expertise in-house.
"Construction is one avenue where you can encounter heritage artifacts and with the Historical Resources Act, there's a requirement to do pre-construction planning," said City of Calgary cultural landscape planner and archeologist Laureen Bryant.
In this particular case, she said, the most important factor in preserving the pipe was to make sure it didn't dry out. By the time her department was able to work with the artifact, "it had dried out a little bit, and we spoke with a conservator at the Royal Alberta Museum to see how to preserve it. Given the state it was in, polyethylene wax was used."
While the pipe won't go on display in a museum, Bryant said, the city's water department would like to put it on display in its office.
There are numerous historic sites across the city where initial plans are available, but "as built doesn't always match plans," Bryant said.
The lack of records and knowledge of early infrastructure stems from the technology available at the time, she said. Photography and other methods of recording weren't widely available or easy to use whereas today such technology is ubiquitous.
"If we record properly now, future generations will be aware of what we've built," she added.