The first solar roadway in Canada is up and running at Thompson Rivers University campus in Kamloops and proponents hope it's the first in a trend to bring the technology into the mainstream.
It's more of a walkway than a road since it doesn't bear vehicular traffic but moving solar roads move from the conceptual and laboratory stage into the real world will require many such demonstration projects.
Brian H. Johnson, general counsel and managing director of Solar Earth Technologies in Vancouver says there are 64 modules, each just under a square metre, installed at the TRU campus which will generate about 5.3 watts in an area which gets about 2,000 hours a year of sunshine.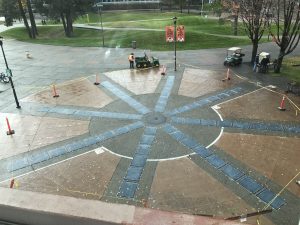 "It's still early yet since the modules were just installed in July and we had the official opening in October," he says.
"And then of course it was winter and there was snow (which blocked the sun)."
Initial data, however, shows the modules are producing power consistently with projections, some used in the university and the unneeded power sold back into the grid.
Projects like the TRU Compass are important demonstrations not just of the concept in-ground solar — as solar roads are called — but also of the manufacturing process, design and other components that make up a roadway.
Not only must the modules be robust enough to withstand the design load, whether that's pedestrians, bicycles, cars or trucks, it must also stand up against the weather cycle and provide traction. Clearly, a glass surface with a low coefficient of friction would be deadly on a highway during a rainstorm.
"So there's a surface coating which creates traction which is one of the areas in-ground solar companies are going to compete, each is different," says Johnson.
"And in engineering the cells and modules to be cheaper and more robust as the technology develops."
The anti-skid layer is an optical quality material designed to minimize or eliminate reflected light while still adding a coefficient of friction through glass polymers particles which give a gritting effect.
It's the critical layer because solar cells are only about 43 per cent efficient and anything which obstructs sunlight reduces that further.
The irony of solar roads for vehicular traffic is that each passing car or truck shades the cells, reducing electrical generation potential. The busier the road during sunlight hours, the less generation possible.
It's the same for snow or ice, pedestrians and cyclist but that hasn't stopped the interest in solar roads. Solar Earth is working on its second generation of modules for vehicular traffic and has two subsidiaries in China where it sees vast opportunities.
In May 2017 Solar Earth installed China's first solar sidewalk with Hua Sheng Xing Science and Technologies and Chongqing Jiaotong University.
China also opened the world's first highway pavement test section in Jinan City. It is 1,080 metres and two lanes have PV modules capable of generating 812.1 kilowatts. Since then some four million vehicles have travelled over it and initial results are good with the power going to streetlights, digital signboards, tunnels and toll stations.
They are planning to upgrade the technology onto more lanes with a goal of offering road to electric vehicle touchless charging, thermal ice melting, internet connectivity all with big data aggregation and mining.
"One of the biggest challenges is that there no international standard for in-ground solar yet," says Johnson.
There are also issues around connecting to the modules and ensuring the cabling is robust and impervious to moisture. Adding battery storage is useful, but extremely expensive as that technology continues to develop so the power currently generated tends to be used on site in the moment or sent to the grid for revenue.
Global roadbuilder Colas of France, which this year closed their acquisition of Canadian pavers, the Miller and McAsphalt group, also sees solar roads as a key part of their offerings through their subsidiary, Wattway. They've been installing in-ground solar in France for four years as demonstration projects, their most recent being a patch to power toll gates on a highway on a concrete surface.
The first was developed in 2014 in Normandy where they installed 2,800 square meters which they hoped would 280 kilowatts at peak, enough to power lighting in public places in the town of 5,000.
They also installed a pilot roadway with 50 square metres in Georgia two years ago and have explored similar installations in Canada but cost remains the big challenge with the added drawback of snow and ice which limit electricity production.
Initially a square metre of in-ground solar cost US$2,126 with the related support required such as monitoring and grid access, Wattway says and while it is coming down it's a long way from being a practical solution for municipalities.
The potential is there, however, the company insists, roads are only occupied by vehicles 10 per cent of the day and that 20 square meters of in ground could supply power for a single family home.