Westcoast Cutting and Coring Ltd. likes its concrete projects big and complex. Its crews are as comfortable working on underwater drilling on a Russian oil rig in the Sea of Okhotsk as they are completing major infrastructure projects at home. Working on the $800-million upgrade of BC Hydro's Ruskin Dam Spillway was right up the company's alley.
The dam measures 110 metres long and 59 metres tall and is located in Mission, B.C. It was built in the 1930s, long before the development of modern seismic building standards. Westcoast's main mission: cut and remove existing piers, the bridge deck and sections of the spillway. Other tasks included: working on the old powerhouse; cutting out old generators, intakes, gate slots and draft tubes; and carving out steps on the spillway for new pier forms.
In all, the Ruskin Dam project included the removal of 20 million pounds of concrete, both above and below water and coring 5,000 holes to depths of up to 12 metres. The work supported not only a seismic upgrade of the facility, but an overall renewal, including installation of updated equipment.
"It was huge concrete cutting job," says founding partner Brian Wnuk who started the company in 1976. "Certainly it's the biggest job of its kind in British Columbia and perhaps Canada as well. It was also challenging. For example, some of the concrete contained huge chunks of aggregate, including boulders up to 10 inches in diameter."
The project began in 2012, but Westcoast was awarded its contract by general contractors Flatiron/Dragados Joint Venture & Voith Hydro in January 2015. Crews of up to 30 people worked six-day weeks in alternating shifts for almost three years to complete Westcoast's work.
The contractor worked to cut and carve the largest and heaviest concrete blocks that could be moved by the 275-ton crane already located on a barge at the dam. The crane was limited to loads of 50,000 lbs.
"In most cases, we had to use wire saws," says business partner Dario Babic. "Nothing else could cut concrete blocks the size we were cutting. Wire saws can cut to any dimension that you can loop a wire around."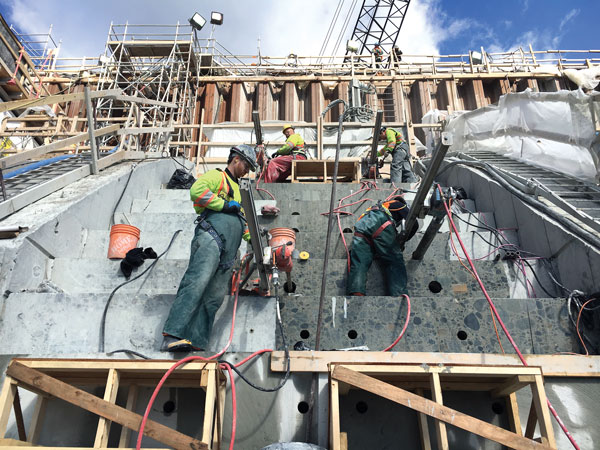 The project environment presented a significant challenge. Much of the work was completed on the 60-degree slope of the dam wall with workers performing their tasks on specialized work platforms while using harnesses and fall arrest equipment. At times, work was suspended during cold weather, due to black ice coating the concrete work surface.
The dam remained operational at all times, so by necessity a significant portion of concrete was cut underwater. Salmon living in the dam reservoir were protected by a three-tier slurry containment system and other environmental protections. Some project highlights:
Three of four free-standing piers were cut into 48 pieces, each weighing approximately 35,000 pounds. One larger pier was poured against a rock face. With no access to the rear face, crews cut it into 58 pieces using a grid pattern of 12-metre-deep intersecting core holes to allow sections to be cut by wire saw.
Reducing the dam's seven existing gates to five required new construction. Using a combination of wall sawing and wire sawing, the contractor cut a series of massive steps into the dam slope to allow the installation of new steel form work.
On the reservoir side of the dam, the contractor used underwater wall sawing techniques to cut slots for a coffer dam. Each slot took seven days to complete with a crew working in 12-hour shifts.
Work on the dam's powerhouse was completed alongside the other aspects of the project. It included restoring the heritage façade of the powerhouse building, cutting a steel pipe nine metres in diameter, dissecting a stator into six pieces, and creating openings measuring 1.5 metres by 7.5 metres between the three levels of the powerhouse to aid in the cooling of the new dam generators.
"The work was completed ahead of schedule and within budget," says Babic.
"Our workers were particularly proud of all they had achieved under challenging conditions — and the more challenging it is, the better we like it."