SewerVUE Technology, based in Coquitlam, B.C., has added a new tool to its arsenal of non-destructive pipe testing methods with pipe penetrating radar (PPR), a radar technology that identifies sewer and water pipe defects and also assesses the condition of soil supporting and surrounding the pipe.
Nicholas Goertz, vice-president, sales and marketing with SewerVUE, notes that the technology employs frequencies different from ground penetrating radar, in that the resulting scan provides higher resolution for the pipe itself, but limits the depth of penetration into the surrounding soil.
Typically, clients look for multi-sensory probes that perform several functions simultaneously. For example, among other technologies, the SewerVUE Surveyor model currently provides closed-circuit television (CCTV), LiDAR to collect geometric information about the pipe wall, and PPR in pipes from 525 mm to 1500 mm in diameter. Its Asbestos Cement Pipe Scanner (ACPS) offers CCTV and PPR for inspection of 250 mm pipes. PPR can also be offered in larger pipes via human operators.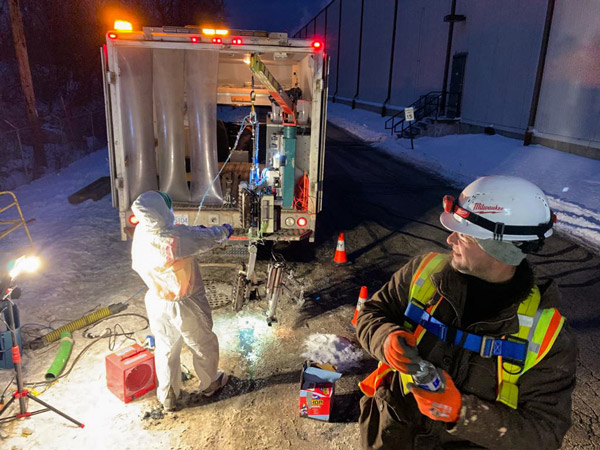 Both the Surveyor and ACPS are self-propelled robotic crawlers outfitted with tank-like treads. Inserted into a pipe they can travel about a kilometre when outfitted with a copper wire tether and even farther when outfitted with fibre optic cable. The tethers are used to control the units, while data is saved on board the crawlers.
"PPR excels in its ability to provide information about pipe integrity" says Goertz. "You can determine the remaining wall thickness of concrete or concrete-reinforced pipes to the point where you can identify a concern about the structural integrity of that pipe. It also detect voids developing outside the pipe before they become sinkholes or cause the pipe or road surface above to collapse."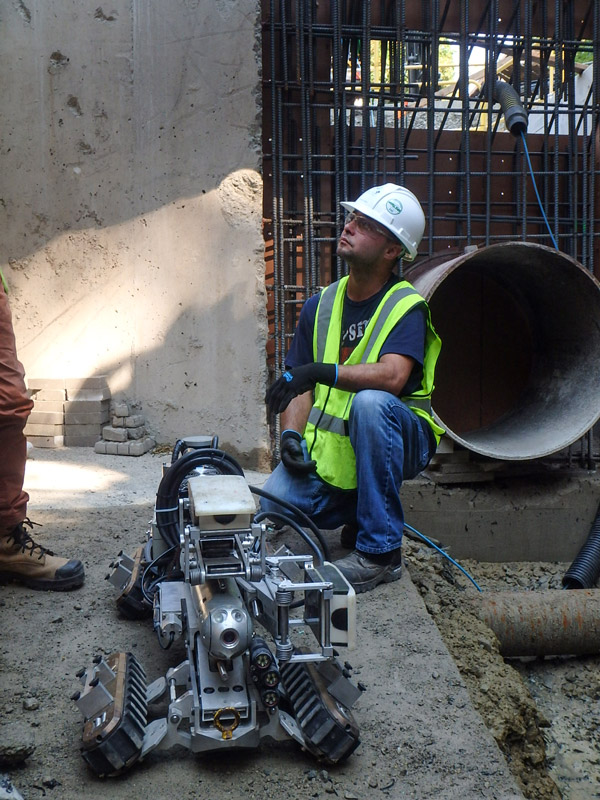 PPR can also determine the location of rebar within the pipe. If rebar is located too close to the pipe's inner wall, the thin remaining cover may be all that stands in the way of significant corrosion.
Goertz notes that assessing the integrity of asbestos-cement (AC) pipe is becoming a significant concern for utilities. It was used heavily from the 1930s to the 1960s for both sewer and water applications, on the west coast in particular. While some AC pipe has reached the end of its estimated 50-year-service life, most often due to delamination and pockmarking, it's also exceeded its service life in many applications. PPR allows utilities to make intelligent decisions about whether to devote their budgets to preventive maintenance, rehabilitation, or replacement.
"Typically, the condition of AC pipe has been performed using destructive testing methods," says Goertz. "That could include crush testing or dye testing or couponing on sections of pipe. Having a non-destructive option for testing allows you to screen the condition of that pipe more widely."
Assessing pipe condition is only part of the challenge. The effectiveness of GPS data is limited below ground, so SewerVUE robotic crawlers rely on odometry and inertial measurements to identify their position, ensuring that pipe defects can be matched to their locations from the surface above.
While SewerVUE products are offered for sale to service providers, the company also continues to provide clients with service contracts. To date, SewerVUE technologies have been used across the world including Canada, the US, Europe, Asia and Australia.
However, no matter where in the world the crawlers are deployed, Goertz notes that CCTV cameras continue to find one common object lodged inside sewer pipes. 
"We find toy boats stuck on something," he says. "You can imagine a child had this wonderful vision of sending that boat on a great adventure."