Two elementary schools in Metro Vancouver are being built of mass timber as part of a pilot project that is underway to test whether the material can make the buildings safer and more resistant to earthquakes.
Bayview Elementary and Sir Matthew Begbie Elementary schools will each be two storeys tall and are being built by the Vancouver School Board with $46.9 million in funding from the province and $1.48 million from the federal Green Construction through Wood Program that encourages use of the material.
The projects are important because they will test innovations that are presently not covered in the B.C. Building Code and, because they are made of wood, will result in storage of tonnes of carbon dioxide.
Lynn Embury-Williams, executive director of Wood WORKS! BC, an industry-led program that promotes the use of wood for buildings, says the projects may result in a shift in how future schools are built.
"Wood has been used in schools before, particularly for two-storey schools," she says. "It's allowed for under the B.C. Building Code and the National Building Code but usually it's just in components, so you'll have a roof system or a few different parts of the school made of wood. For these two schools, the whole school is going to be of mass timber, the whole structure, everything, and that is quite unique.
"It definitely pushes the envelope and it demonstrates the willingness from the Vancouver School Board and the City of Vancouver. The City of Vancouver has been pushing hard on reducing embodied energy for all of the buildings. They have a really strong green building component that they've been pushing."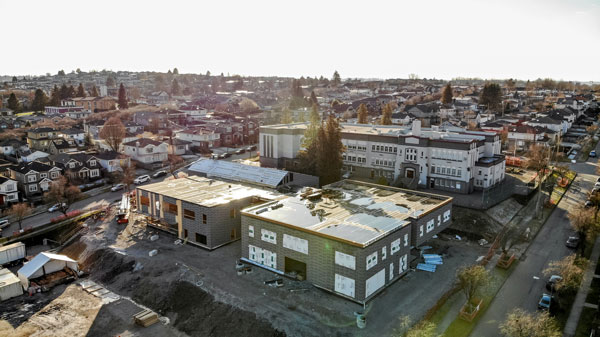 Construction is underway on both schools. The original structure of Bayview has been demolished, making way for the new school to be built over the existing footprint. The foundation for the building is now in place and crews are preparing to put up the timber walls. The school will have classrooms and teaching areas, as well as a gymnasium and Neighbourhood Learning Centre.
Sir Matthew Begbie will be a 34,000-square-foot structure with open learning spaces. Much of the wood for the school has now been erected. With the use of mass timber, the total carbon benefit is approximately 1,400 tonnes of carbon dioxide, the equivalent of removing hundreds of cars from the road for a year.
The two schools were chosen for the pilot because elementary structures are smaller and can be erected faster.
Embury-Williams says the projects are inspiring and illustrate the benefits of using wood to make schools more earthquake-resistant and also for capturing carbon.
"Designing with wood is favourable to concrete and steel because wood results in lighter structures which means that the weight on the foundations is less and, of course, they can design shear walls and lateral systems out of CLT that are designed to take the resisting forces. Wood is light and flexible, so the buildings move well with the seismic forces."
Concrete would be more likely to crack if the ground shifts, she says, and though it might withstand a seismic event, it likely would require significant repair. Using wood also reduces the carbon impacts of a building and supports jobs in B.C. via a renewable resource.
"It can be designed and utilized in many different ways," Embury-Williams notes. "It can be changed throughout. If something gets done incorrectly on the site it can easily be changed whereas you can't do that with concrete. Wood is very lightweight but it's also very strong. It is the ultimate construction material."
Most schools in the past have been built with steel, she says, but the material comes from China and the U.S. and does not support B.C. jobs.
Wood WORKS! BC is hoping that construction of Bayview and Sir Matthew Begbie will pave the way for taller schools to be built using wood.
The organization has completed several reports related to the use of mass timber or wood-frame construction in taller schools in anticipation that they will inspire school boards to use the material for such builds. Some school boards in the province have identified the need for larger three- and four-storey schools.
"There just isn't enough space and many of them have day cares on the top floor so they need to account for that. That's why we developed this design study that showed that very easily wood could be used."
Both Bayview and Sir Matthew Begbie schools will have cross-laminated wood exposed on the ceilings and in some of the walls. Many studies have shown there are benefits to learning in such natural environments.
Nick Bevilacqua, principal at Fast + Epp, says the two schools are a great example of the potential that can be realized with mass timber construction.
"In addition to meeting the demands of the seismic mitigation program, the timber framing systems used in these buildings provide warm, inviting spaces for the school community as well as help the school board meet their sustainability objectives."