AECOM and EllisDon want to get Alberta moving.
The pair have formed Prairie Link, a partnership to advance the development of high-speed rail between Edmonton, Red Deer and Calgary.
"We had a look at the state of affairs in Alberta and the world and what the trends are and asked if this is the right time. We realized quickly that it is the right time," said Jeffrey Hansen-Carlson, director with EllisDon Capital and project director for Prairie Link.
The project has already made headway with government.
Prairie Link has secured a Memorandum of Understanding from Alberta Transportation laying the foundation for co-operatively advancing project development.
At the same time, Prairie Link has proposed the project within the Government of Alberta's Unsolicited Proposal Guidelines and Framework.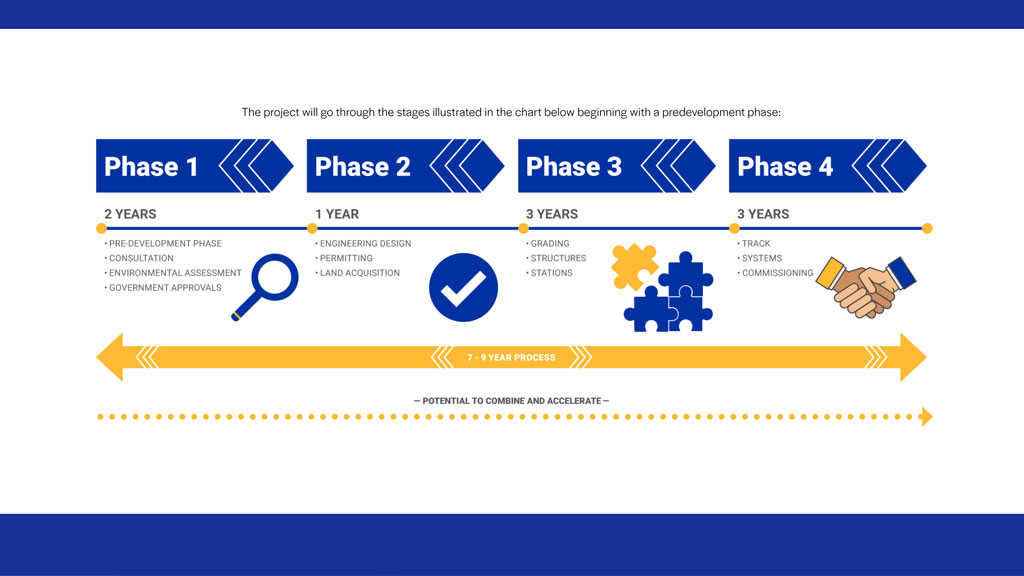 "This is a private sector proposal," said Hansen-Carlson. "We are not asking for any direct financial support from the province and our proposal was well received."
The rail line has an estimated capital cost of $9 billion which would make it one of the largest transportation projects in Alberta's history.
"Something like this would create a lot of jobs and create a centre of excellence in Alberta for high-speed rail," said Hansen-Carlson. "It will contribute to diversifying the economy by creating a new sector."
He added it would also be a huge win for the environment by cutting down on flights and car trips.
Missing from the announcement were details about alignments or stations. But Hansen-Carlson explained that is by design.
"Our approach to the project is very unique," he said. "We didn't announce any alignments or station locations. Over the past year the team has been going over all the options that might be available and we are engaging with key stakeholders. This is a major piece of infrastructure that will change the province and how people will move. Those key stakeholders have fantastic ideas that this project can support."
The Prairie Link team has already commenced Indigenous engagement and established an advisory committee to guide project development.
He estimates there is roughly 50,000 kilometres of high-speed rail track around the world, making it a proven concept that AECOM has experience delivering.
"We have a remarkable team of people that is more than capable of doing this from a development, capital and technical standpoint," he said.
One of the major pieces of the project will be working with government to develop a regulatory framework for high-speed rail.
Over the next few months, the team intends to further define the project concept and modernize the business case.
Follow the author on Twitter @RussellReports.