Work on an $837-million highway widening project that includes construction of new bridges is underway along a number of sections of the Trans-Canada Highway between Kamloops, B.C., and the Alberta border.
Crews are working at seven separate locations along the 430 kilometre stretch of roadway, the primary east-west connection through B.C., where the thoroughfare is being widened to four lanes from two.
An eighth project that includes widening 4.3 kilometres of the highway from Ford Road to Tappen Valley Road, is slated to start next year. The work will include replacement of the existing Tappen Overhead Bridge.
Early works such as tree clearing and relocation of hydro infrastructure has started in preparation for the $243 million project.
"We're really excited about this project because it gives us an opportunity to address an incredibly high-use area of the Trans-Canada Highway," says Jennifer Fraser, director of the Trans-Canada Highway program, Southern Interior Region, for the B.C. Ministry of Transportation and Infrastructure (MTI). "It's very much an area for people who are vacationing in the Shuswap and for them it's going to improve access.
"We've had a number of severe incidents in this section that relate to people getting on and off the highway and dangerous passing manoeuvres. It is going to have an impact on the safety and reliability of the Trans-Canada Highway. There's so many people in this area who commute to work in Salmon Arm and it's going to make it one less thing to worry about because this section is going to be so much safer."
The project runs through Little Shuswap Lake Band.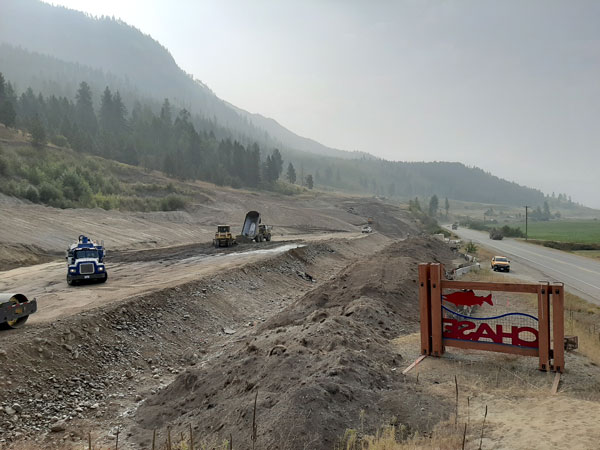 New frontage roads will consolidate highway access and acceleration and deceleration lanes will greatly reduce the likelihood of collision when entering or exiting the highway. Improved highway geometrics will allow vehicles to safely travel at an increased speed.
A new eastbound commercial carrier pullout will also be built, which will enable authorities to safely perform checks on commercial vehicles. It will provide commercial drivers with a safe location to pull off the highway to rest. Wider shoulders along frontage roads will enable cyclists and pedestrians to use the route.
The project involves widening the current footprint of the highway to accommodate four lanes. In most areas, the new lanes will be built alongside the existing ones.
"We may shift the highway slightly to get a better horizontal alignment," explains Fraser. "We might add a lane and three quarters on one side and a quarter lane on the other side. But by and large, in this case, we intend to stay on line with the current construction and just make some minor tweaks."
The plan is to build a new structure to replace the aging Tappen bridge. Once completed traffic will be rerouted onto the new bridge and the old one will be dismantled. The entire project will take about four years.
An analysis done by the province estimates the project will create 1,200 direct jobs and nearly 800 indirect jobs.
Other projects along the highway corridor include two in the works near Chase, one in Salmon Arm, another in Illecillewaet, 42 kilometres east of Revelstoke, one in Quartz Creek west of Golden, and also at Kicking Horse Canyon.
In Chase, 1.6 kilometres of highway is being widened through the village and work on another 3.3 kilometres is underway on the western end of the village. The work includes median and roadside barriers, active transportation and municipal infrastructure improvements.
In Salmon Arm, a 2.2-kilometre section of the highway is being widened from 1st Ave. SW to 10th Ave. SW.
Construction at Illecillewaet includes widening a two-kilometre stretch of the highway, improving the geometrics, expanding an existing brake check area and adding acceleration and deceleration lanes. The project is expected to be completed in 2022.
At Quartz Creek, 40 kilometres west of Golden, crews are replacing a two-lane bridge crossing with a new four-lane bridge, making improvements to forest service roads and widening 4.4 kilometres of the highway.
Meanwhile, construction on the fourth phase of work at Kicking Horse Canyon is proceeding. Three phases of work have already transformed 21 kilometres of narrow, winding two-lane highway into a four-lane, 100-kilometre-per-hour standard. Construction of the fourth and final phase to complete the remaining – and most difficult – 4.8 kilometres is expected to be substantially complete in winter 2023.
In addition to the Ford to Tappen Valley Road project, designs are also being finalized for others in Salmon Arm and Sicamous.
In Salmon Arm, one kilometre of the highway is to be widened between 10th Ave. SW and 10th Street SW, and in Sicamous, 1.9 kilometres of highway is being widened and the R.W. Bruhn Bridge will be replaced with a new four-lane bridge.
Like any construction project, widening of the Trans-Canada has been affected by COVID-19, but the province put in place measures that included holding meetings outdoors to ensure physical distancing throughout the workday and imposing strict daily cleaning and sanitization requirements, according to the MTI. Masks also had to be worn by workers in all shared spaces and fewer workers were allowed in high-traffic areas.